Parineeti Chopra and Sidharth Malhotra are paired together in an upcoming film, Jabariya Jodi which promises to offer a funny, vibrant and engaging story. Yes, this is how the co-presenters Balaji Telefilms and Karma Media Entertainment are projecting their subject.
Directed by first timer Prashant Singh, Jabariya Jodi is based on the practice of abduction of grooms (Pakadwa Vivah) rampant in Bihar. The grooms used to be kidnapped by the bride's family and forced into marriage in order to avoid dowry.
One can choose to present a subject in any manner, under the freedom of creativity, however, we are referring here to the hypocrisy of society at large. Would we be equally casual if someone made a similar comedy movie on the practice of taking dowry and justifying it.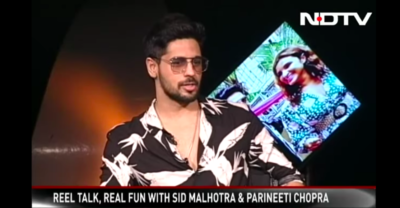 Now coming to the interview the lead actors shot with NDTV's Managing Editor, Manika Raikwar, which was telecasted on Saturday evening. If you are not into Gender Equality in it's real sense, you would definitely find no wrong in this interview as many of the comments on the atrocity of the man were casually laughed off. To point out a few of such instances during the show:
1.14 Min:  The editor laughs and says,
While both are Dowry and Kidnapping are illegal, kidnapping of the groom here could be seen as a Social Cause
We must mention that both Sidharth and Parineeti do not agree to this, and Chopra even goes to the extent of saying that while she is a feminist she does not support kidnapping of the groom either.
At 2.29 Min: The editor is seen pushing her one sided extreme feminist views, by in a way encouraging Parineeti for doing 'a one up and kidnapping the man'. To this, Parineeti says Jabariya Jodi is 'sexism reversed' and once again does not give into the interviewers leading questions.
18.45 Min: A married man narrates his own real life incident of getting kidnapped at the age when he was just 16-17. He speaks about being abducted by unknown persons, taken into a room and married off forcefully. (Hearing this, you hear some women laughing in the background as well). The man also says that he did not even know the girl or her family.
22.00 Min: The editor laughs and says,
We are very glad ki inka successful hua
WATCH VIDEO –
With this story, we just want to highlight a few points:
Why is misery of a man justified and mocked at?
Can we do the same for women?
In fact NDTV themselves covered the story of Vinod Kumar, the kidnapped groom, in 2017, where he was seen constantly crying through his forced wedding
Why are sensitivities forgotten when it comes to a wrong being done to a man?
Surely, dowry could be the reason for this illegal practice, however, it is equally wrong promoting and lauding such injustice in the name of 'women empowerment'
If you stand for Equality, please stand up even when a wrong is done to a man
Gender Equality is about Human Rights and not just Women Rights
READ BIHAR BOY'S STORY IN DETAIL –
http://voiceformenindia.com/in-the-news/bihar-engineer-marriage-annulled-by-patna-court/
Join our Facebook Group or follow us on social media by clicking on the icons below
Donate to Voice For Men India
Blogging about Equal Rights for Men or writing about Gender Biased Laws is often looked upon as controversial, as many 'perceive' it Anti-Women. Due to this grey area - where we demand Equality in the true sense for all genders - most brands distance themselves from advertising on a portal like ours.
We, therefore, look forward to your support as donors who understand our work and are willing to partner in this endeavour to spread this cause. Do support our work to counter one sided gender biased narratives in the media.
To make an instant donation, click on the "Donate Now" button above. For information regarding donation via Bank Transfer, click here.
Alternately, you can also donate to us via our UPI ID: voiceformenindia@hdfcbank