A 35-year-old woman was arrested from her home in Phoolbagan, Kolkata on Monday for allegedly strangling her two-month-old daughter after she said the baby was kidnapped by an unidentified man. Police recovered the infant's body late on Sunday from a manhole behind the family's apartment in Beliaghata in east Kolkata.
According to the police, the woman has confessed to having killed the child.
Case:
Sandhya Maloo (accused), a commerce graduate from Kolkata University, married Sudarshan Maloo in 2009 and soon the two had their first child (son)
The accused woman is a housewife and a mother of two
She had claimed that a man had barged into her second floor-flat when she was alone
The woman said she fell unconscious after he pushed her and later found her daughter missing
The family raised a hue and cry and a search was initiated
According to the officials, when the police interrogated Sandhya, they found some inconsistencies in her statements and later she confessed to the crime after sustained questioning
Mother said she strangled the two-month-old baby to death because "she was tired of her"
She allegedly strangled the infant with a tape
ALSO READ –
Confirming the incident police said,
We have arrested the woman Sandhya Malo on charges of killing her baby Sanaya Maloo. She claimed that she was tired of the baby and killed her. Further investigation is on.
Another officer said,
Preliminary investigations revealed that the woman killed the child because of post-natal depression. We could be taking the help of a psychiatrist if necessary. Investigation into the case was ongoing.
Sandhya's Confession
The mother said she was planning to kill her baby around two-weeks ago because she was angry at being unable to get rest or sleep. On Republic Day morning, her husband and mother-in-law left for the temple and Sandhya made sure she sent her nine-year-old son with them as well. Her father-in-law Hemant Maloo too had gone out for some work at the same time.
She then sent her maid, Tumpa Das to the balcony on pretext of some work. At around 12.40pm on Sunday, Sandhya swaddled little Sanaya's face tightly in adhesive tape and then strangled her. She then took the body down and dumped it in a dry manhole.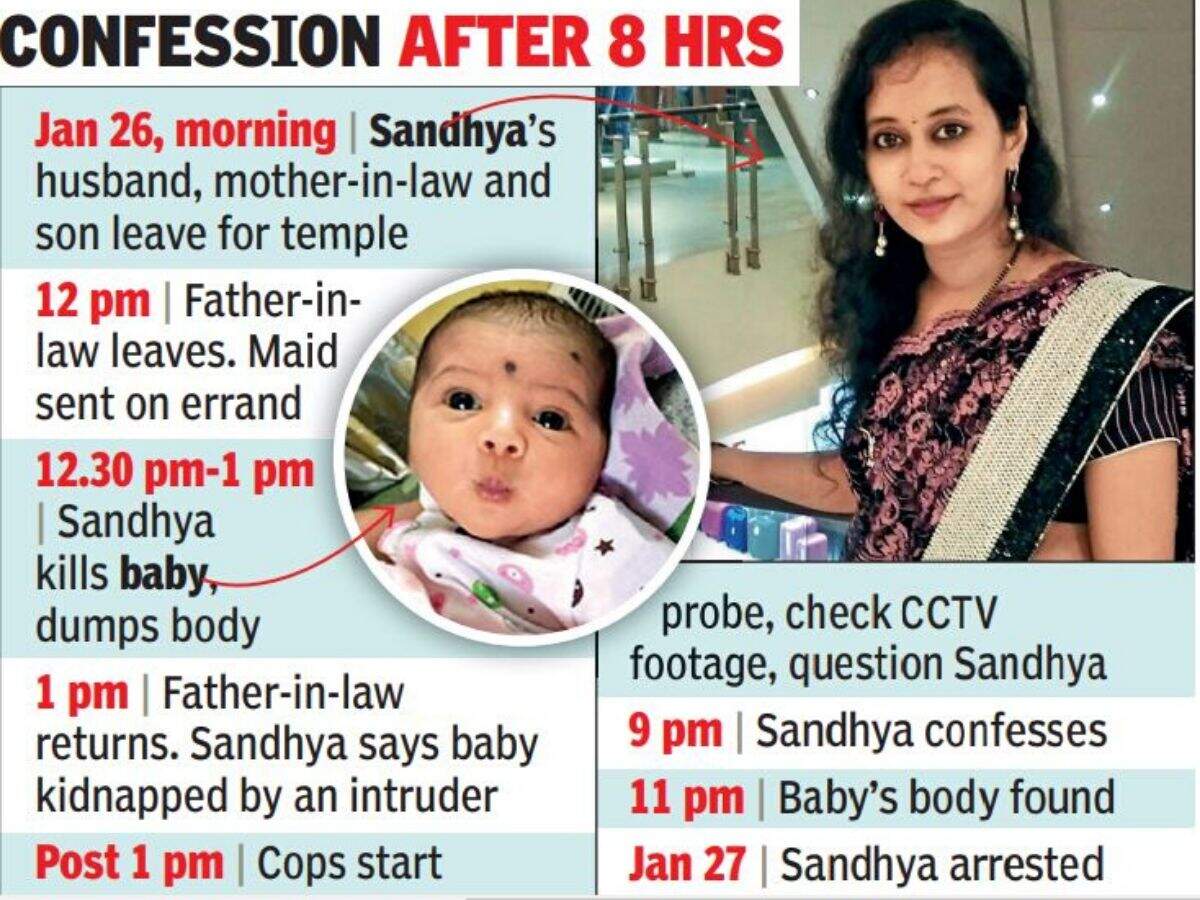 Investigation
Ajoy Prasad, Deputy Commissioner (Eastern Division) said the lady was produced in court and remanded in police custody for four days. Despite Sandhya claiming that she was 'too tired' of the child that forced her to kill her, police are also investigating the angle of female foeticide or any other planned motive. Her social media posts are also being scanned to understand her mental psyche.
ALSO READ –
Husband Sudarshan is in a state of shock and said,
We had gone to the temple to invite priests for naming our new born daughter. She is our Lakshmi. I have nothing to say at the moment. I don't know what will happen to my son now. 
ALSO READ –
http://voiceformenindia.com/in-the-news/punjab-mother-stuffs-son-in-bed-box-and-elopes-with-lover/
Follow www.mensdayout.com on Facebook, Twitter and Instagram
Join our Facebook Group or follow us on social media by clicking on the icons below
Donate to Voice For Men India
Blogging about Equal Rights for Men or writing about Gender Biased Laws is often looked upon as controversial, as many 'perceive' it Anti-Women. Due to this grey area - where we demand Equality in the true sense for all genders - most brands distance themselves from advertising on a portal like ours.
We, therefore, look forward to your support as donors who understand our work and are willing to partner in this endeavour to spread this cause. Do support our work to counter one sided gender biased narratives in the media.
To make an instant donation, click on the "Donate Now" button above. For information regarding donation via Bank Transfer, click here.
Alternately, you can also donate to us via our UPI ID: voiceformenindia@hdfcbank