The Supreme Court on Wednesday made a sweeping remark saying "most divorces arise from love marriages."
A bench of Justices BR Gavai and Sanjay Karol, made this observation while hearing a transfer petition arising out of a matrimonial dispute.
Case:
The court was hearing a batch of petitions relating to the exercise of its powers under Article 142 to dissolve marriages between consenting couples without referring them to family courts for protracted judicial proceedings.
In this matter, the Court proposed a mediation, which was opposed by the husband.
When the counsel in this case informed the bench that this was a love marriage, Justice Gavai said,
Most divorces are arising from love marriages only.
The bench, however, said that in view of a recent judgment on Irretrievable Breakdown in Marriage, it could grant a divorce without his consent.
Irretrievable Breakdown in Marriage
On May 01, 2023, a five-judge Constitution bench headed by Justice SK Kaul affirmed that it can dissolve a marriage on the ground of "irretrievable breakdown" between the parties. The same can be done exercising their powers under Article 142 of the Constitution in both mutual consent as well as contested divorce cases (with riders).
Article 142 of the Constitution deals with the enforcement of decrees and orders of the apex court to do "complete justice" in any matter pending before it.
"Most Divorces Arise From Love Marriages": Supreme Court | Social Media Reacts

▪️Top Comment: "All divorces are because of marriage only, what to do!"#VoiceForMen https://t.co/RVB3sXpa1s

— Voice For Men India (@voiceformenind) May 18, 2023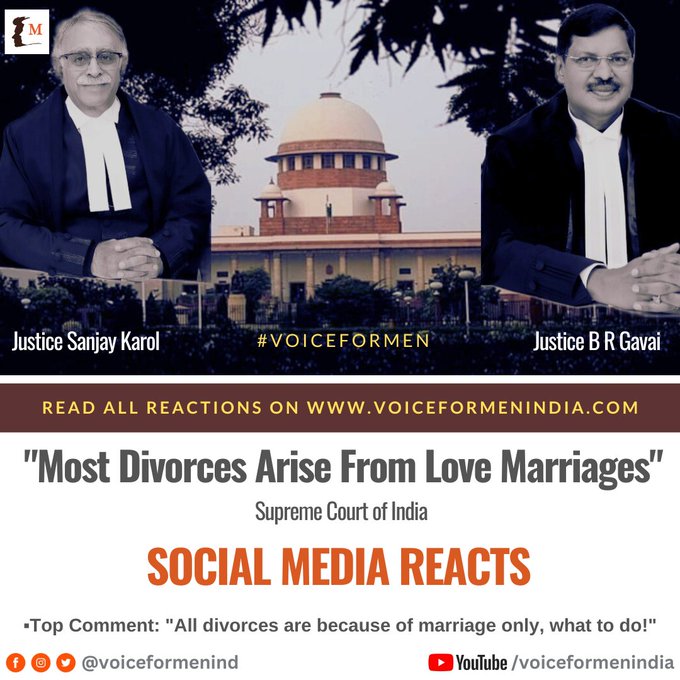 HERE'S HOW SOCIAL MEDIA REACTED TO THE TOP COURT'S STATEMENT ON LOVE MARRIAGES:
"Most divorces are arising from love marriages only"
—based on:
a. actual data? or,
b. WhatsApp forward(ed many times)? https://t.co/tZmW3HiW9r

— Karthik 🇮🇳 (@beastoftraal) May 17, 2023
All divorces are bcos of marriage only. What to do?

— 𝕮𝖍𝖊𝖙𝖆𝖓 𝕾𝖍𝖆𝖍 (@chetansha_) May 17, 2023
What a stupid conclusion without basis or facts on record. https://t.co/Osg2fdIyBv

— Bun maska (@extraharsh) May 17, 2023
https://twitter.com/gursharan3/status/1658704163239522304?s=20
Most divorces arise because people have had their right of choice since childhood and will continue to do so. Judicial activism should have some limits too. https://t.co/GATE5FI25a

— ViVi (@RodolsiiviV) May 17, 2023
Well.. Adaptability quotient is highest in couples in #ArrangedMarriage hence its obvious that there are more chances of successful marriage..

But yes, quoted comment from SC remarks looks distasteful.. 🤐🤐 https://t.co/s6NJDsHJKY

— Sourabh Mishra (@iSourabhMishra) May 17, 2023
Maybe the judges should look at statistics where they would find that divorces happen just as much in arranged marriages as love marriages!

— Stephen B Billings (@StephenBBilling) May 17, 2023
Wow. So it's come to this now.

Good thought to convince people though. https://t.co/iMVzXvyA6g

— Vidhi (@vidhi2508) May 17, 2023
Now, a marriage counselor and psychotherapist wrapped into one. The Great Supreme Court of India. https://t.co/CvBRr1vqpv

— Raymond Luxury Yacht (@Ray_luxuryyacht) May 18, 2023
Marriage mein pyaar rahega to expectations rahegi ,
And may leads to divorce..
Ban love marriage..
Arrange marriage mein 90% love hota hi nahi ..
Aur 10% mein love ho gaya to divorce pukka https://t.co/prXenw3RSt

— Ivaan ❤️ (@lyfis_memories) May 17, 2023
Hope they have proper data and statistics before making an off the cuff remark like this. Frog in a well type of response. https://t.co/HfaRANgJ2z

— AJKumar (@AJK_TX) May 17, 2023
Atleast divorce is filed on mutual agreement. Sadly in Arrange Marriages either girl is harassed, tortured for dowry or boy is harassed, tortured for his money / to save her extra marital affair. At times killed too but Who cares?
"Men are from Mars & Women are from Venus". https://t.co/L4l4GgSpyp

— Vipin Kalra🔗🇮🇳 (@hppy_vipin) May 17, 2023
https://twitter.com/rachitmittal84/status/1658781897521082372?s=20
Thats a very uncalled for remark . Does the Hon SC think , " Not your choice so no escape"? Goes against logic , and is there any statistical proof? https://t.co/XW1fSF0a8W

— jaya jaitly (@JaitlyJaya) May 17, 2023
My office uncles had same level of bigotry. https://t.co/6PgFTiAToz

— Amit (@Radical_Amit) May 17, 2023
Means??? Now couples should stop falling in love???

Instead of lectures, just accept that couples are no longer ready to adjust or have patience

Stop forcing them to co-habit with each other https://t.co/MQ7HdbM2kr pic.twitter.com/SymK1m1VXw

— Arnaz Hathiram (@ArnazHathiram) May 17, 2023
Join our Facebook Group or follow us on social media by clicking on the icons below
Donate to Voice For Men India
Blogging about Equal Rights for Men or writing about Gender Biased Laws is often looked upon as controversial, as many 'perceive' it Anti-Women. Due to this grey area - where we demand Equality in the true sense for all genders - most brands distance themselves from advertising on a portal like ours.
We, therefore, look forward to your support as donors who understand our work and are willing to partner in this endeavour to spread this cause. Do support our work to counter one sided gender biased narratives in the media.
To make an instant donation, click on the "Donate Now" button above. For information regarding donation via Bank Transfer, click here.
Alternately, you can also donate to us via our UPI ID: voiceformenindia@hdfcbank