Neha Dhupia, one of the host of the popular/notorious show Roadies, had recently slammed a male contestant for hitting his girlfriend. The actor abused the man on National TV instructing him how it was the girl's choice to date one or five men at a time, if she wishes to, and that the man had no right to slap her.
This statement sparked controversy as netizens called her out using 'fake feminist' promoting adultery and infidelity. While Dhupia's statement about violence against women was not rejected, netizens exposed her several Roadies videos where she was seen smiling and cheering when a woman narrated her story of slapping a man.
On March 14, Neha broke her silence on her stance at the Roadies show. She posted a long note where she expressed herself by giving her opinion that adultery was a 'moral choice' and that her concern in the matter had only been women's safety. She revealed the harassment that her family, friends, and co-workers had been subjected to, after the Roadies episode hit the internet.
— Neha Dhupia (@NehaDhupia) March 14, 2020
While Neha played the woman card well with no remorse whatsoever, another feminist who has been actively promoting her recently released movie Thappad jumped into the fray. Pannu slammed the abusive critics who had been harassing actor Dhupia and her family with their comments and messages.
ALSO READ –
On Saturday, Taapse tweeted,
For all the ppl writing abusive and harassing messages to you and your family should know, they aren't on the right side of the moral compass they r acting to be the torch bearers of. Adultery is wrong morally n so is violence. One can't be the response to the other.
Deepika Bhardwaj, who is a Men's Rights Activist and a documentary filmmaker, instantly rebutted saying,
This is u just in case u forgot. Characters u play in reel is how normal humans also behave in real. When u are hurt by ur partner, u react. Slap is wrong but to call a partners cheating a "choice" is bonkers. U & she both need 2 check ur double standards on gender based violence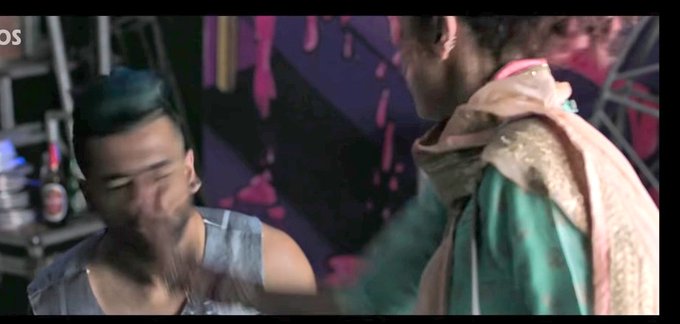 While Deepika also posted the above image from Taapse's earlier movie Manmarziyaan (2018), the above tweet fetched nearly 1000 Retweets and 5k plus Likes. The image exposed the hypocrisy of Taapse where she was seen slapping her co-star Vicky Kaushal several times in the movie.
The #Thappad actor was almost compelled to clear her stance how a slap by a woman to a man was justifiable! On March 15, she wrote,
ALSO READ –
Go watch the film again u will understand the difference in context. N while u r at it, re read my tweet n considering your prolific bio I hope u will understand English. If not u can contact a more sensible person to translate. Regards
Not convincing enough, only 21 people retweeted this shallow response with merely 200+ likes. Deepika reverted today with another sarcasm exposing Pannu yet again. She quoted,
ALSO READ –
When a man slaps a woman, focus on slap & not the reason. When a woman slaps a man hard multiple times, focus on the reason & not the slap. Gyaan from Shri Shri Feminist 1001 @taapsee
Today's response from the documentary filmmaker garnered 1000+ Retweets and Nearly 3k Likes, once again forcing Taapse or her supposed PR team to come back with a rebuttal. The 'No Means No' Pink movie actor asked Bhardwaj to focus on the 'reason' when a man slaps a woman and vice versa. Pannu quoted,
Kindly focus on the reason both the times. N if u can't see the difference contact sri sri 'any regular sane human being' for help. N next time , try other ways to sound reasonable, this one isn't working anymore 🙂 
In her concluding tweet, Deepika said,
Stop making a terrible excuse of yourself Taapsee. You've exposed your unreasonable self enough. If you can't see what's not working for whom based on reactions here, I advice you go see an eye doctor. While you're at it, kindly explain situations in which a

#Thappad

is okay.

Also, I don't have to "try" to sound reasonable because I am reasonable. However, next time, you can definitely try to sound more equal in your perspectives on gender based violence, because you're failing terribly this time 🙂
ALSO READ –
Well, we don't know if Taapse is still going to revert with her explanation trying her best to convince how a woman slapping a man is Alright! However, sometimes when feminists choose to ride the wave of feminism in a blind manner, often they get exposed with their pretence of adopting a character and promoting the same by hook or by crook before and after the release.
The readers and movie goers must understand that practical life is very different from what is projected on screen. Actors and artists change their characters by the role. Spouses and marriage largely happen only once in your lifetime and the same should not be dissolved overnight by getting carried away with a fly by night film.
Do read review of #Thappad movie – From A Husband's Side
http://voiceformenindia.com/in-the-social/thappad-movie-review-from-a-husbands-side/
http://voiceformenindia.com/in-the-social/neha-dhupia-on-roadies-justifies-girlfriend-having-five-boyfriends-at-a-time/
Follow www.mensdayout.com on Facebook, Twitter & Instagram
We are now on Telegram. Follow Us For More Updates
Join our Facebook Group or follow us on social media by clicking on the icons below
Donate to Voice For Men India
Blogging about Equal Rights for Men or writing about Gender Biased Laws is often looked upon as controversial, as many 'perceive' it Anti-Women. Due to this grey area - where we demand Equality in the true sense for all genders - most brands distance themselves from advertising on a portal like ours.
We, therefore, look forward to your support as donors who understand our work and are willing to partner in this endeavour to spread this cause. Do support our work to counter one sided gender biased narratives in the media.
To make an instant donation, click on the "Donate Now" button above. For information regarding donation via Bank Transfer, click here.