Marriage is a gamble in India, especially when couples do not spend enough time with each other before marriage and in some cases do not even meet each other when the alliance is fixed. In a recent case reported from Mathura in Uttar Pradesh, a marriage was dissolved the very next day after the couple and groom's family landed up at the police station.
In this matter, the groom was lucky enough to escape the lifelong trap by the woman.
Kanpur Bride Refuses To Marry Because In-Laws Did Not Gift Her Real Ornaments | DowryFreeIndia?
Case:
Anand Aggarwal got married to Rekha, a resident of Haryana on May 10. All wedding rituals were performed well and the next day, the groom's family happily welcomed the newly married bride into their home with joy and fanfare.
However, shockingly the very next day, the bride and groom reached police station, where the man demanded to dissolve the marriage.
Telangana: Groom Leaves Mandap & Files Police Complaint After Bride Demands More Dowry
What Went Wrong?
Everyone in the home were waiting to welcome the bride the next morning after the couple spent their first night together. The family were chatting and having a good time together. Then suddenly, the newly married bride woke up and started abusing everyone present in the house.
This left everyone disturbed and they tried to reason out as to what had happened. When the daughter-in-law did not calm down, the matter reached police station. 
Ladka Kaala Hai | Bride Walks Off From Her Marriage After Two Pheras In Uttar Pradesh; Groom's Family Registers FIR
Anand informed the officers that Rekha was mentally unstable and immediately demanded to dissolve the marriage, claiming that he was cheated. Initially, Rekha's brother did not accept these allegations, however, when he too was unable to calm his sister down, he admitted that his sibling was indeed suffering from mental imbalance. He also accepted that the alliance was fixed with Anand by keeping him in the dark.
While Anand's family insisted on taking action against Rekha and her family for cheating them, later both parties agreed to a compromise by ending the marriage.
LEAVE YOUR COMMENTS BELOW:
#Mathura: Man Demands Divorce After Newly Married Bride's Family Accepts She Is "Mentally Unstable"

▪️VFMI: Its time couples in India spend good amt of time knowing each other before marriage (no guarantee, but can save u from surprises)#VoiceForMenhttps://t.co/L042hWRtrj

— Voice For Men India (@voiceformenind) May 15, 2023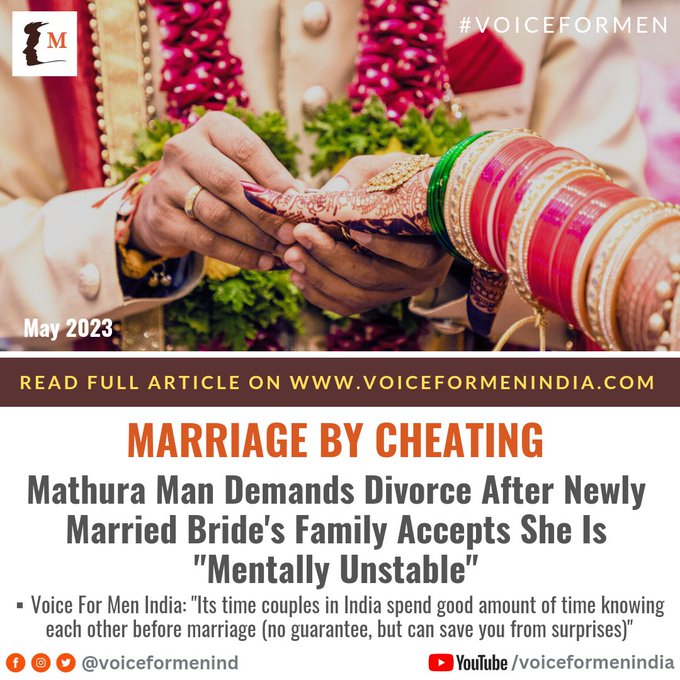 DO WATCH:
How To Overcome Mental Challenges While Going Through Divorce
Join our Facebook Group or follow us on social media by clicking on the icons below
Donate to Voice For Men India
Blogging about Equal Rights for Men or writing about Gender Biased Laws is often looked upon as controversial, as many 'perceive' it Anti-Women. Due to this grey area - where we demand Equality in the true sense for all genders - most brands distance themselves from advertising on a portal like ours.
We, therefore, look forward to your support as donors who understand our work and are willing to partner in this endeavour to spread this cause. Do support our work to counter one sided gender biased narratives in the media.
To make an instant donation, click on the "Donate Now" button above. For information regarding donation via Bank Transfer, click here.
Alternately, you can also donate to us via our UPI ID: voiceformenindia@hdfcbank