In India, laws are unequal for Men, however, several laws are also not pro mother-in-laws who are women and can also be victims. Infinite cases of domestic abuse by daughter-in-laws are reported, however, there are very few senior citizens who actually get justice, because subsequently the bahus (daughter-in-laws) end up filing false 498A charges on the victim mother of the husband herself — which overpowers all other accusations from other end.
Yet another case of harassment and violence by daughter-in-law has come to the fore, wherein, the husband has posted shocking images and his side of the story on social media platform. Manu Bali took to Twitter last evening and posted the below via his account @bali_manu:
In 2012, I had an intercaste love marriage, however, since 2016 my in-laws are torturing me. Me and my family is being threatened to death and on May 25, 2020, they have beaten me and my senior citizen widow mother with iron bars. I am posting the pictures of the same. 

We complained about this to the local authorities, however, the Ladwa police station in Haryana built pressure instructing us to resolve the matter since it was a domestic dispute. Thus, they kept our complaint on hold.  Nonetheless, since we were still getting threats, we got the FIR registered on May 26, 2020.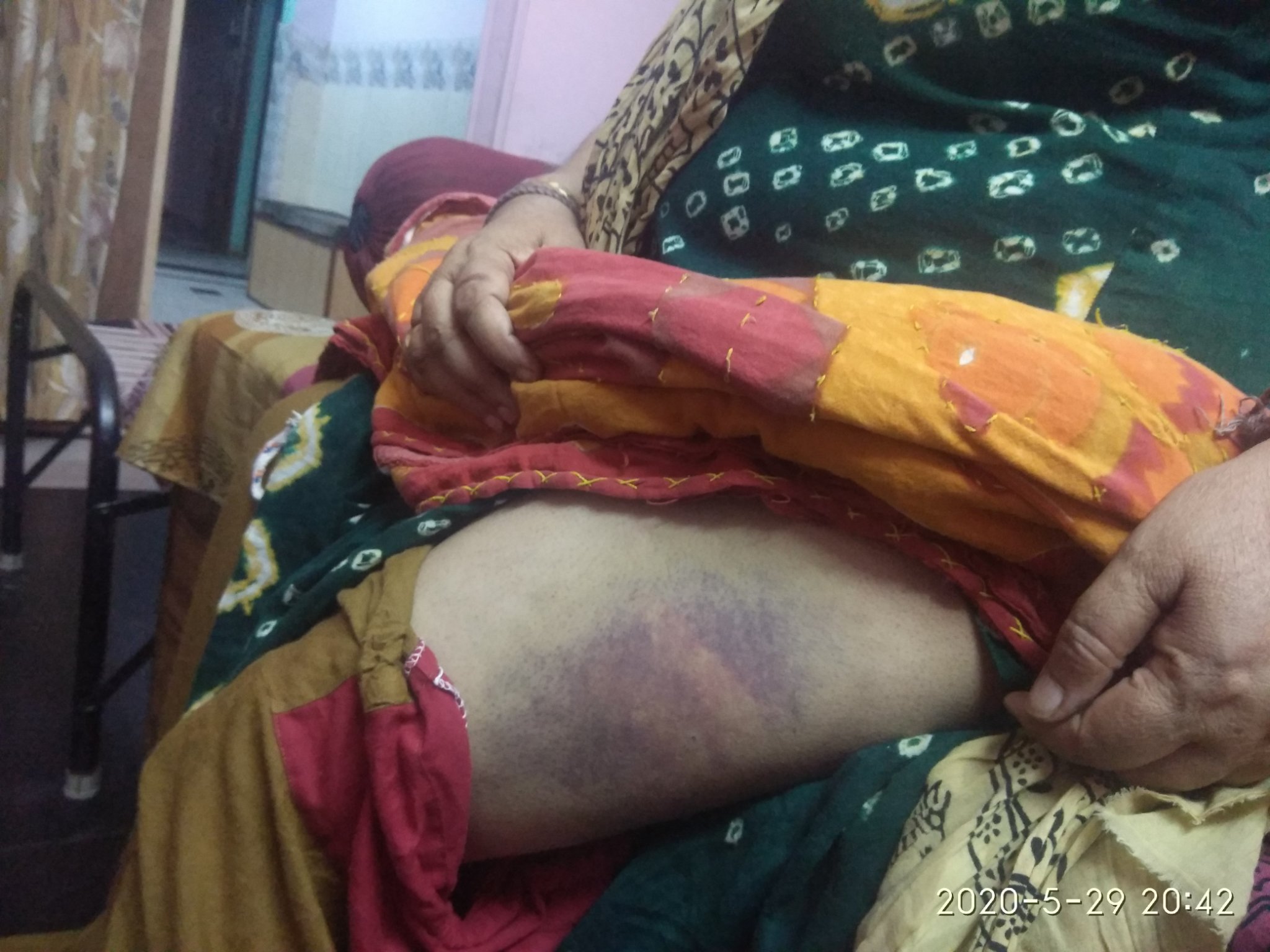 Even after the FIR, there was no news of anyone's arrest till date. Later, on June 3, my wife's family registered a false FIR against us in the Mahila Police Station, Hisar, from where, we were constantly getting threats of withdrawing our case or they will get us arrested. 

Our FIR number 178/2020 was registered at Ladwa police station. However, to delay the matter further, my wife's family influenced the DSP. The DSP later started scaring us to either compromise and withdraw the case, else there can be action on us.

Until now, they did not make any arrests from my wife's family, on the contrary they police came to arrest me in their false case. I am pleading for justice as there is immense pressure on me. 

If I don't get justice, I shall have no option but to end my life to save my honour. 
Men's Day Out forwarded the same and tagged NCW requesting them to intervene and assist the senior citizen lady in the matter. On July 5, we wrote,
Where can husband's family report abuse and violence by in-laws?? Please wake up @narendramodi @AmitShah @rsprasad @smritiirani

Tagging @NCWIndia @sharmarekha for senior citizen mother
Where can husband's family report abuse and violence by in-laws??

Please wake up @narendramodi @AmitShah @rsprasad @smritiirani

Tagging @NCWIndia @sharmarekha for senior citizen mother https://t.co/p5bisodTeX

— Men's Day Out (@MensDayOutIndia) July 5, 2020
After the same went viral, NCW India has responded to the complainant husband asking him to register the matter online and alternately send them a direct message. NCW Wrote,
Please register a complaint with @NCWIndia on behalf of your mother. http://ncwapps.nic.in/onlinecomplaintsv2/frmPubRegistration.aspx… You can also DM us your case details.
Husband has reverted publicly sharing his FIR number. He also said, that in fact his wife has registered an alleged false counter complaint on the NCW link against his mother. Bali wrote,
Case Details :- Fir No. 178/2020 at Police Station Ladwa District Kurukshetra, State Haryana. Even After 40 days they haven't been arrested. Will file a complaint on my mother's behalf on given Link.
According to sources, wife has filed many cases on the husband. The couple has two children – currently daughter is with father and son is with wife. The man encouraged his wife to prepare for further studies and also got her a government job. It is after getting employed, woman became aggressive and started throwing tantrums.
ALSO READ –
http://voiceformenindia.com/his-story/false-498a-cases-senior-citizen/
We are now on Telegram. You can also join us on our Facebook Group
Join our Facebook Group or follow us on social media by clicking on the icons below
Donate to Voice For Men India
Blogging about Equal Rights for Men or writing about Gender Biased Laws is often looked upon as controversial, as many 'perceive' it Anti-Women. Due to this grey area - where we demand Equality in the true sense for all genders - most brands distance themselves from advertising on a portal like ours.
We, therefore, look forward to your support as donors who understand our work and are willing to partner in this endeavour to spread this cause. Do support our work to counter one sided gender biased narratives in the media.
To make an instant donation, click on the "Donate Now" button above. For information regarding donation via Bank Transfer, click here.
Alternately, you can also donate to us via our UPI ID: voiceformenindia@hdfcbank