Members of MyNation Hope Foundation have been helping the needy for free, over 12 years and having more than 10,000 Families registered with the NGO. With a massive presence over social media, the group has taken this opportunity to suggest few modifications in Guidelines to be issued by Honourable Supreme Court of India on the issue of payment of maintenance in matrimonial matters.
With reference to the Case of Rajesh Vs. Neha & Others, in Wrt Special Leave to Appeal (Crl.) No(s) 9503/2018 in a Wrt order of the Honourable Supreme Court to Appoint Mr. Gopal Sankaranarayanan, Sr. Advocate and Ms. Anitha Shenoy, Sr.Advocate as amicus curiae to assist the court for framing guidelines on payment of maintenance in matrimonial matters.
Supreme Court to frame guidelines to govern payment of maintenance in matrimonial matters. Will they check:

▪️Earning capacity of wife
▪️Timelines to complete arguments once maintenance meter begins
▪️Reject maintenance to wives who lie and hide their income sources #MenToo pic.twitter.com/hcFHilCiCt

— Men's Day Out (@MensDayOutIndia) September 17, 2019
Below facts and suggestions are being sent to the Committee, with a hope that they will look into the following while outlining new guidelines:
Facts:
In A. Shanmugam v. Ariya Kshatriya, (2012) 6 SCC 430, the Supreme Court held that the entire journey of a judge is to discern the truth from the pleadings, documents and arguments of the parties. Truth is the basis of justice delivery system. The Supreme Court laid down the following principles:
It is the bounden duty of the Court to uphold the truth and do justice
Every litigant is expected to state truth before the law court whether it is pleadings, affidavits or evidence
Dishonest and unscrupulous litigants have no place in law courts
The ultimate object of the judicial proceedings is to discern the truth and do justice
It is imperative that pleadings and all other presentations before the court should be truthful
Once the court discovers falsehood, concealment, distortion, obstruction or confusion in pleadings and documents, the court should in addition to full restitution impose appropriate costs
The court must ensure that there is no incentive for wrong doer in the temple of justice
Truth is the foundation of justice and it has to be the common endeavour of all to uphold the truth and no one should be permitted to pollute the stream of justice
It is the bounden obligation of the Court to neutralize any unjust and/or undeserved benefit or advantage obtained by abusing the judicial process
The fact is that, most of the complainants / petitioners misuse the law, once made to protect the innocents, by filing false cases under:
IPC 498A
Domestic Violence Act
Dowry Prohibition Act
CrPC 125
HMA 24, 25
In several apex court judgement, the judiciary has cited: women falsely accuse and criminalize the family and then try to arm twist to make the husband and their families to yield to their unlawful demands
In almost every petition/claims made before the respective Hon'ble Courts, the claimer deliberately and dishonestly takes an oath and sign a false affidavit with bunch of false allegations
Court is a Temple Of Justice, which is polluted with a bunch of lies and falsehood making exorbitantly false story of husband's earnings stating he earns in lakhs and have various sources of income
False projections of non existent properties are made, misleading the court into thinking that the husband is enjoying a super lavish lifestyle
Such false claims without any evidence, are deliberate either to extort maximum amount or drag a case endlessly
There have been cases, wherein, the wife has deserted the husband wilfully, and then implicated his entire family into a false case, by making false claim and allegations
Women leave the matrimonial house without any valid reason, and even when the husband begs for a reconciliation, the courts overlook the same and pass interim maintenance orders
As per the SC order, maintenance of 1/3rd i.e. 30% of husband's income is granted to the wife
The husband is also responsible to maintain his parents and other dependents if any
So technically, a husband who toils the most, is left with just nothing after parting with his hard earned income
On the other hand, a woman, whether working or not working is entitled to maintenance by default
With a highly unbalanced system which is being exploited as means of free lifelong income by women, the Foundation has laid down certain suggestions which may be considered by Supreme Court.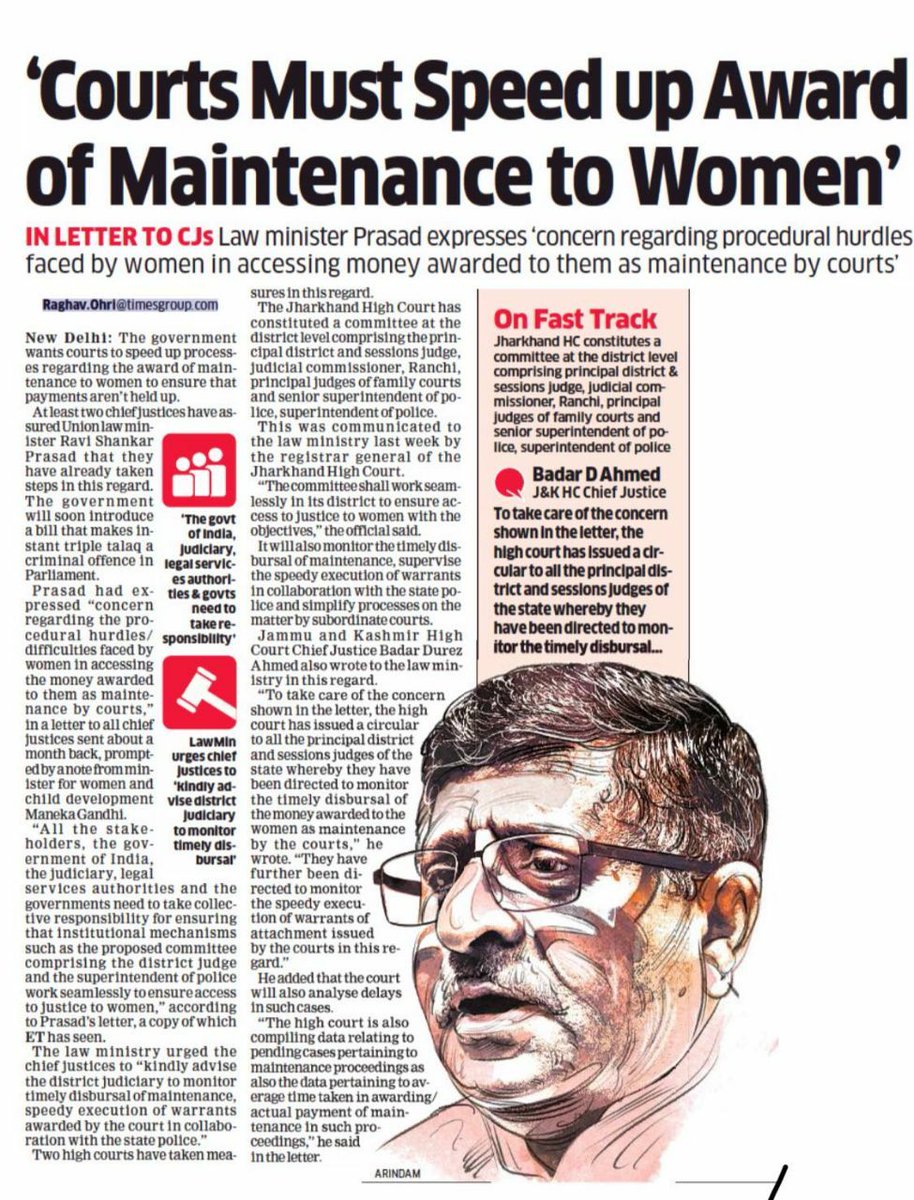 Suggestions:
Maintenance should not be a prerequisite to matrimonial disputes. Merits of the cases should be heard first. No maintenance should be encouraged, if either of the parties want to cohabit back together.
Interim Maintenance should be only an advisory, not a mandated approach. If case found to be false, interim maintenance must be recoverable with applicable costs
Maintenance should be decided within time limited as framed, else women who do not want to cohabit again with the husband and neither want to grant him divorce, misuse this right as free income for life
Maintenance should be decided in a gender neutral manner to the deserving and/or poorer spouse. Maintenance should factor the net savings of the maintainer
All cases should be clubbed in one court. Multiple maintenance should not be granted (example HMA 24/CrPc 125/DV). Often woman file as many cases, trying their luck for maximum legal extortion from various avenues of judiciary
Maintenance should be dealt as a commercial matter as part of Family matter and not criminal dispute. Unless in exceptional cases where it has been found that the "Maintainer" has sufficient income and finds after clearing all his/her dues. If the maintainer does not have funds, then the government should support to provide appropriate income to such persons. There have been cases of disabled husbands too asked to provide for a fully abled wife, just because he is the man
All cases need to be first heard and maintenance must be awarded on merits and not on mere assumptions. Complete case hearings including any pending hearings have to be completed for such an award. Any interim maintenance order shall be treated more as an advisory, rather than a mandatory payment. If the case is found false, then any interim maintenance awarded shall be recoverable with appropriate interests.
Maintenance to be decided on merits and gender neutral approach, and not based on just the Man's capacity to earn or his assets. The courts must factor the contribution of Women to the marriage and family, and discourage maintenance if the tenure of the marriage has barely lasted for few months or a year.
It is highly unfair, if a woman spends few months in the man's home and then insists on getting half his share on the mere pretext of being his wife
Women should not be entitled to claim husband's money just because she was married to him. Marriage should not become a valid certificate for legal extortion without partnering with equal responsibilities
Maintenance should be taxed for women and all original authenticated expenses of maintenance amount should be provided to the maintainer
All family matters to be dealt through the NALSA in a gender neutral manner, unless parties prove to have sufficient funds in net savings otherwise throughout the case hearings
No Maintenance to an able bodied or Educated Women, if she chooses sits idle just to claim maintenance,
Ministry of Women or the Government should have a mechanism where educated women should find a job and become self dependent, instead of getting free income from estranged husband as a birth right
Maintenance support must be fixed for a limited period of time, else many women have no incentive to ever become independent or free the harassed husband from the knots of a dead marriage
Maintenance must be denied to all women who leave their jobs just to claim maintenance
No Maintenance to Women who have deserted husband without any valid reason. Several women walk out of marriages within few months if the husband is unwilling to leave his parents and live separately. This is nothing short of blackmail and a price the man has to pay to buy his peace of mind
No Maintenance to women if the custody of children are with Father
No Maintenance to women if children are with mother and she is denying access to the father
No maintenance if Women who come to court with falsehood and unclean hands – false claim should attract IPC 209
Maintenance should be awarded in only grave incidents wherein any physical abuse or financial abuse has taken place or wife has been abandoned husband house without valid justifiable grounds
If husband has been abused, met with cruelty and forced leave his own home, and then husband has the right to claim maintenance from wife
Only when courts are satisfied that there is absolute danger to life of wife in husband's home, they should grant maintenance, else courts should order women to rejoin her marital life back and if not end the marriage without any commercial compensation
Working spouse should be expected to pay proportionate towards their income for child support. Spouse who is being denied child access, must not be pressurised to pay. Most often fathers are used only as ATM on 1st of the month without any rights over their own children
If any spouse is a victim of false case or cruelty, then they should be provided maintenance
Maintainer should have complete access to the maintained, so that he/she can supervise on the expenses and verify whether the costs paid for are being spent to the satisfactory levels. In many cases, it has been found that women demand maintenance on pretext of child's development and then use the money is building assets under their name

With passing times, women today are educated and fully aware of their rights. However, rights cannot be in isolation and factors such as tenure of marriage, capacity to earn, own income/assets, time limit for receiving maintenance, and others should be strictly considered. Child support must be dealt with separately so that spouses cannot misuse the quantum of amount awarded.
Follow www.mensdayout.com on Facebook, Twitter and Instagram
ALSO READ –
http://voiceformenindia.com/his-story/maintenance-laws/
Join our Facebook Group or follow us on social media by clicking on the icons below
Donate to Voice For Men India
Blogging about Equal Rights for Men or writing about Gender Biased Laws is often looked upon as controversial, as many 'perceive' it Anti-Women. Due to this grey area - where we demand Equality in the true sense for all genders - most brands distance themselves from advertising on a portal like ours.
We, therefore, look forward to your support as donors who understand our work and are willing to partner in this endeavour to spread this cause. Do support our work to counter one sided gender biased narratives in the media.
To make an instant donation, click on the "Donate Now" button above. For information regarding donation via Bank Transfer, click here.
Alternately, you can also donate to us via our UPI ID: voiceformenindia@hdfcbank