God could not be everywhere, so he made mothers. A commonly used phrase with which most of us grew up. Sadly, in times where society is almost normalising adultery and extra-marital affairs, a horrific incident gets reported from Madhya Pradesh.
Case:
Jyoti Rathore lived in Gwalior along with her husband Dhyan Singh, a police constable by profession, and their 3-year-old son Jatin. Jyoti was in an extra-marital relationship with one person named Uday Indolia, who happened to be their neighbour.
On April 28 this year, Dhyan Singh had organised an inauguration function of his plastic shop. He had invited many people to the event including his neighbour Uday Indolia. Infact, it was on the insistence of Jyoti that her husband got a shop opened for her as she would get bored at home.
Rae Bareli: Adult Sister Murders Minor Brother After He Caught Her In Compromising Position With Boyfriend | CRIME HAS NO GENDER
While the inauguration programme of the new shop was underway, Jyoti and Uday went up to the terrace and got physically intimate with each other.
Unfortunately, Jatin too also followed his mother to the terrace where he saw her and the other man (Uday) in a compromising position. The mother got frightened when she saw her son there, and in nervousness, threw Jatin from the terrace in order to keep her extra-marital affair under wraps.
The boy suffered serious head injuries after falling from the second floor and despite being treated for a day at Jayarogya Hospital, he died on the next day.
8-Year-Old Son Murdered By Mother's Cook Lover After Child Revealed Affair To Father
No One Knew Truth
Jyoti informed everyone that Jatin slipped and fell off the stairs while playing. Everyone, including the boy's father, thought that Jatin might have fallen down from the terrace while being careless.
Gujarat Woman Plans Murder Of Third Child As Paramour Could Afford Only Two In Their Live-in Relationship
Mother's Confession
Jyoti started hallucinating after few days where her dead son would appear in her dreams.
Since she could not bear this any longer, after almost four months, she opened up and confessed to her husband about the crime committed by her. Her husband Dhyan Singh listened to her confession, made her audio and video recordings and handed them over to Thatipur Police along with the application.
Meerut Twin Murder: Woman Arrested For Murdering Minor Son & Daughter With Help Of Lover
The police have arrested Jyoti Rathore along with her lover Uday Indolia, who was also present on the terrace at the time of the incident.
Voice For Men India Note: These incidents don't make every mother a monster. But this dark side of humanity also exists, irrespective of the gender.
DO WATCH:
My In-Laws Supported My Wife's Adultery, My Son Calls Me A Failure | His Story | Voice For Men India
LEAVE YOUR COMMENTS BELOW:
#MadhyaPradesh: "I Pushed My Son": Woman Confesses To Killing Her Child After Being Caught With Lover

▪️Since the mother was hallucinating dead son in her dreams, she confessed to her crime after four months#CrimeHasNoGender#VoiceForMen https://t.co/TFdwvSYR5q

— Voice For Men India (@voiceformenind) September 6, 2023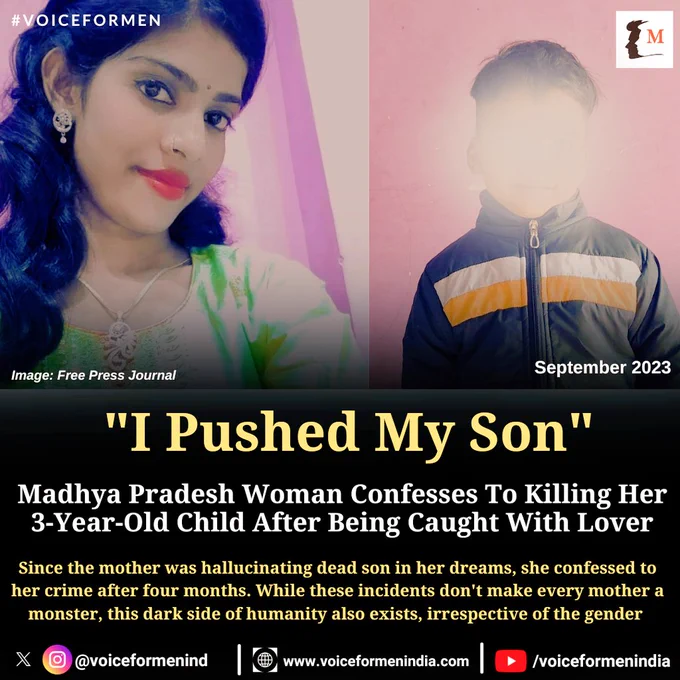 Join our Facebook Group or follow us on social media by clicking on the icons below
Donate to Voice For Men India
Blogging about Equal Rights for Men or writing about Gender Biased Laws is often looked upon as controversial, as many 'perceive' it Anti-Women. Due to this grey area - where we demand Equality in the true sense for all genders - most brands distance themselves from advertising on a portal like ours.
We, therefore, look forward to your support as donors who understand our work and are willing to partner in this endeavour to spread this cause. Do support our work to counter one sided gender biased narratives in the media.
To make an instant donation, click on the "Donate Now" button above. For information regarding donation via Bank Transfer, click here.
Alternately, you can also donate to us via our UPI ID: voiceformenindia@hdfcbank