You will constantly hear and read how numbers of rape cases filed in India are ever increasing. But always remember these are cases 'filed' and need not necessarily be true everytime. (Disclaimer: That does not dilute seriousness of such heinous crimes in anyway).
Once again, a woman has been nabbed by police for blackmailing an industrialist's son in a false rape case.
Haryana Court Acquits Man, Disabled Brother, In Motivated False Molestation Case
Case:
Pushpa, a middle aged woman, met Suraj (son of an industrialist) multiple times and then introduced him to Santosh, who she claimed was the personal secretary of an IAS officer.
When Suraj was talking to Pushpa one day, the other accused barged inside the room and told him that he will be released only after the payment of Rs 4 crore.
Suraj was taken to Pushpa's residence and she threatened that if he does not give money she would lodge a rape case against him.
Extortion
Suraj paid Rs 25 lakh to the accused and was released. Pushpa also threatened that if he revealed anything about her, she would get his whole family killed.
However, Suraj approached the police after being released.
Police Statement
Karnataka police on Wednesday arrested Pushpa and three of her associates – Ayyappa aka Arjun, Rakesh and Santosh – on charges of threatening Suraj and trying to extort Rs 4 crore from him.
The gang led by the woman had trapped Suraj by assuring that she would get a government tender for him, the police said.
https://twitter.com/voiceformenind/status/1562733467443789826?s=20&t=q4o8SSIv9IZGVdLIjEJrVA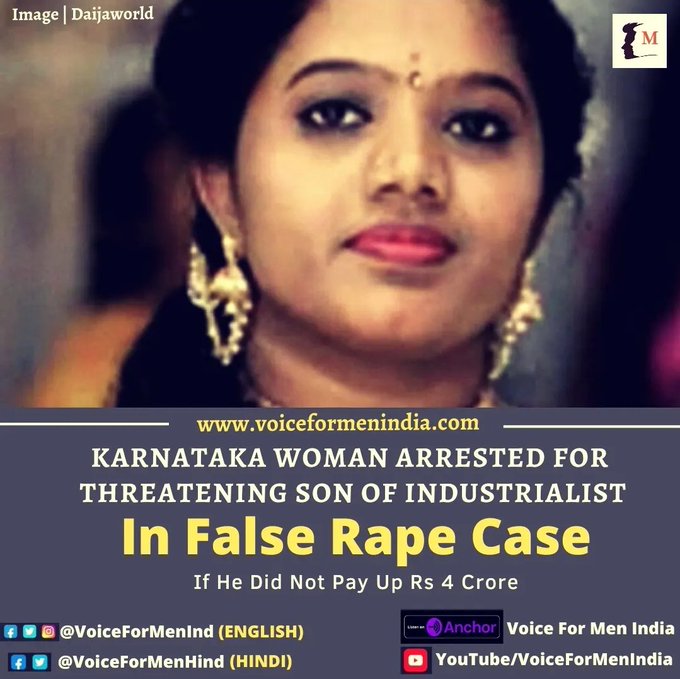 MUST WATCH:
September 2020 Bengaluru | When bankers visited customer's home for payment recovery, woman in the house threatens them with

#FalseRape

case
September 2020 Bengaluru | When bankers visited customer's home for payment recovery, woman in the house threatens them with #FalseRape case

Why should Men not discuss false cases when feminists want yet another one sided law?#MaritalRape #MarriageStrike #SpeakUpMen pic.twitter.com/o6Uru1qpr3

— Voice For Men India (@voiceformenind) January 20, 2022
.
Join our Facebook Group or follow us on social media by clicking on the icons below
Donate to Voice For Men India
Blogging about Equal Rights for Men or writing about Gender Biased Laws is often looked upon as controversial, as many 'perceive' it Anti-Women. Due to this grey area - where we demand Equality in the true sense for all genders - most brands distance themselves from advertising on a portal like ours.
We, therefore, look forward to your support as donors who understand our work and are willing to partner in this endeavour to spread this cause. Do support our work to counter one sided gender biased narratives in the media.
To make an instant donation, click on the "Donate Now" button above. For information regarding donation via Bank Transfer, click here.