First screening of feature documentary film India's Sons was organized on December 11, 2021, at Sirifort Auditorium in Delhi. The event was graced by the august presence of our distinguished chief guests Sonal Manshingh, Member of Rajya Sabha, Anubhav Mohanty, Member of Lok Sabha, Preeti Bhardwaj Dalal, Chairperson – Haryana State Commission for Women, Raman Malik, Spokesperson – BJP Haryana, Anuraag Batra, Founder – Exchange4Media Group & Chairman and Editor-in-Chief BW Businessworld.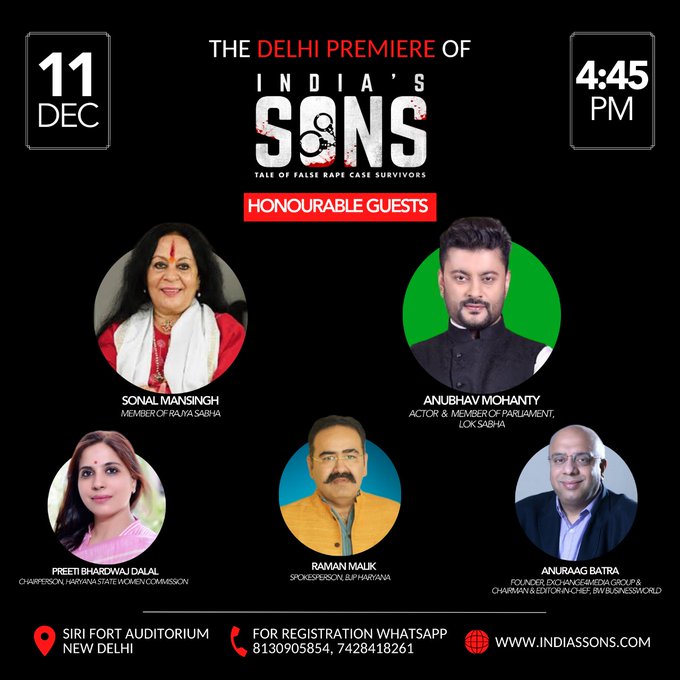 The documentary film throws light on the lives that have been destroyed because of false accusations of rape. From an 18 year old who spent 5 years in prison before being honorably acquitted to an IPS officer who became a victim of a false rape accusation due to politics, a man who got falsely accused of gangrape twice by the same woman to a man who thought ending life was easier than fighting system that doesn't listen to men, the film exposes deep flaws in the system, absolute disregard of rights of one gender in order to protect the other, unbelievable lies that are told with elan in courts and hopelessness that looms over people who are falsely accused.
The documentary is a first person account of men and their families who bore the brunt of being called a rapist and a rapist's family, only to be eventually honorably acquitted of the said crime after years of trial on the basis of credible evidence proving beyond doubt that they were falsely accused.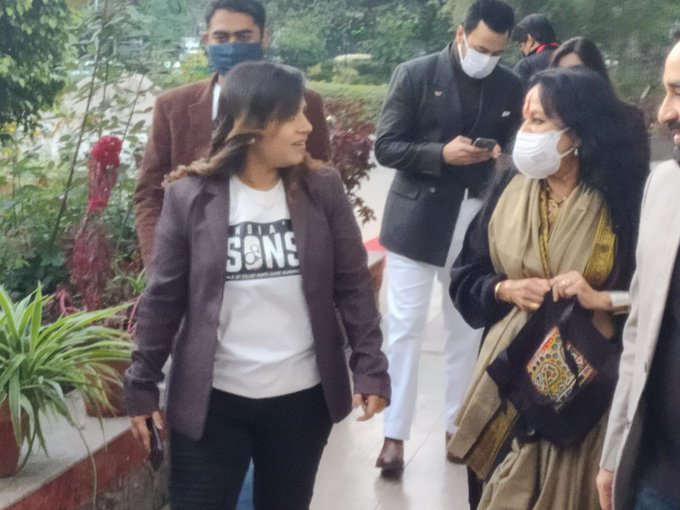 Deepika Narayan Bhardwaj, one of the directors of the documentary, emphasized on the misuse of rape laws that have been destroying several innocent lives in India. She quoted,
While we are all raising our voice for our daughters, its time we also stand up for India's Sons as well. Each life matters and every individual deserves fair justice and fair hearing by our legal system. We cannot permit constitutional rights of any gender to be violated and the idea behind making this documentary was to start a conversation around false accusations of rape which are not only an injustice to falsely accused men, but also women who become victims of rape in this country.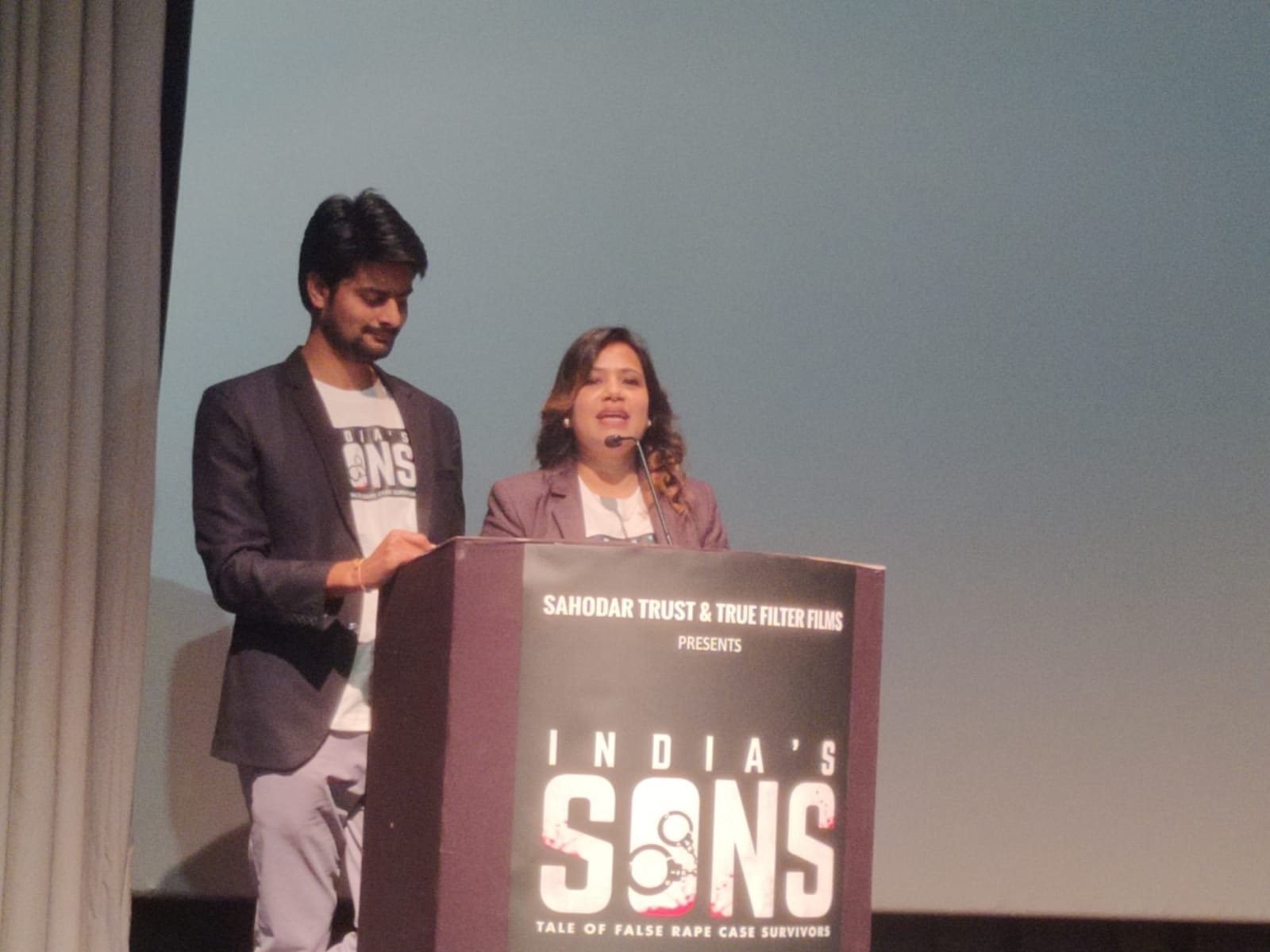 Producer Shonee Kapoor spoke about the various scenarios under which false rape cases get filed. He said,
Failed consensual relationships turn into motivated rape cases to save face, extort money, seek revenge, gain attention and sympathy – These are some of the motives that make up for majority of false rape cases in India. It is a dangerous trend as it leads to skepticism about genuine victims too. What happened with Dowry Cases in late 90s is now happening with Rape cases. If the same goes unchecked, in few years from now, sadly we may start doubting every woman who files a case of rape. False cases trivializes the real crime which is hazardous for the society.

Our documentary is an effort to raise awareness and start a debale about false rape cases, so that such victims of false accusation also get justice, while society at large should benefit. Genuine victims must get justice, but that should not make men scapegoats if the cases are false. No innocent, irrespective of the gender, should be punished or go through the rigormole.
Neeraj Kumar, the other half of the director duo of India's Sons, said,
The film is finally ready for viewers. We overcame several challenges while making this film and Covid was one of them. At a point of time where women voices are being heard, it is time that we stand for the wrongful acts being done against men too. 

I would say, equality starts from home. India's sons showcases the other side of men who are mostly ignored or don't get the attention from society. We need to be progressive, yet inclusive in every aspect.  I hope that the documentary will act as a strong piece of work to spread awareness around the misuse of rape laws in India.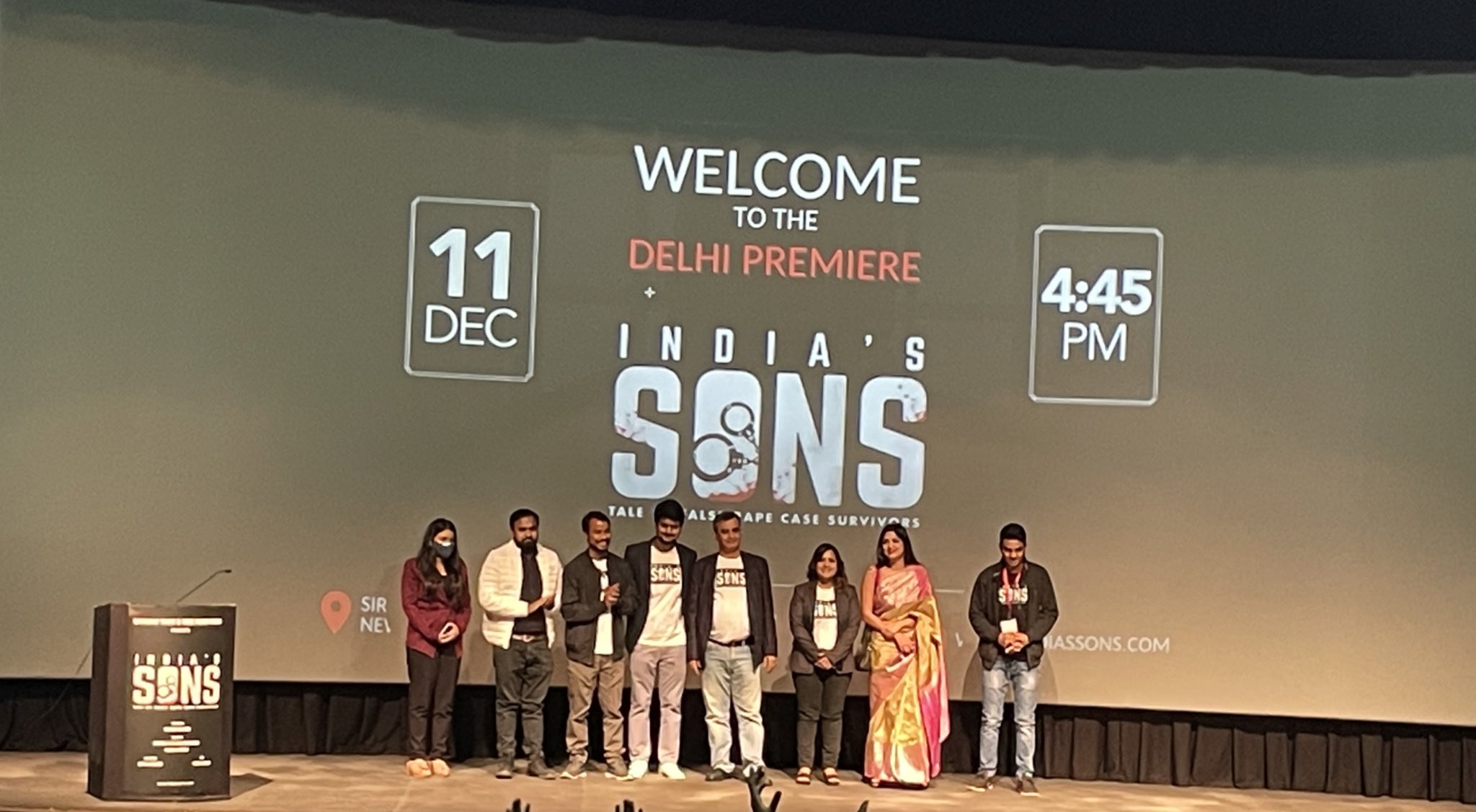 The premiere also witnessed victims of false rape cases coming personally and sharing their accounts of trauma with the audience. 
The documentary releases a day after World Human Rights Day and strives to bring out the other side of human rights violations to society at large. The event, which was a full house, was attended by several prominent faces from different walks of life, particularly from the judiciary, police, politics and civil society. 
Once the screening of the documentary has been concluded at few select cities, the same will be made avaiable on one of the OTT platforms. Keep following www.mensdayout.com to know the screening schedule of India's Sons coming to your city soon.
MUST WATCH –
India's Sons | Tale of False Rape Case Survivors | First Trailer | 2021 Release
ALSO READ –
Join our Facebook Group or follow us on social media by clicking on the icons below 
Join our Facebook Group or follow us on social media by clicking on the icons below
Donate to Voice For Men India
Blogging about Equal Rights for Men or writing about Gender Biased Laws is often looked upon as controversial, as many 'perceive' it Anti-Women. Due to this grey area - where we demand Equality in the true sense for all genders - most brands distance themselves from advertising on a portal like ours.
We, therefore, look forward to your support as donors who understand our work and are willing to partner in this endeavour to spread this cause. Do support our work to counter one sided gender biased narratives in the media.
To make an instant donation, click on the "Donate Now" button above. For information regarding donation via Bank Transfer, click here.