Senior IPS officer, Inspector General (IG) of Home Guards and Fire Services, Vikas Vaibhav, has been issued a show-cause notice by his boss, director general Shobha Ohatkar, after Vikas tweeted and accused Ohatkar of hurling abuses at him.
While the tweet was deleted within minutes, DG Shobha Ohatkar, in a show-cause notice, asked the IPS officer why she should not recommend the termination of services to the state government.
Here's What Happened
Vikas Vaibhav is a 2003 batch IPS officer who joined the civil services after passing out from IIT Kanpur. The IPS officer holds the distinction of working with the National Investigation Agency (NIA) and involved in social work with his hashtag #LetsInspireBihar.
On February 09, 2022, Vikas Vaibhav tweeted the below:
I was appointed as IG home guard and fire services on 18/10/22 and since then I have been taking all necessary steps to discharge my duty but every day, I am unnecessarily being abused by DG madam of which I have recording. I am completely heartbroken today.
Action Against Vikas Vaibhav
Though the tweet was deleted, a show-cause notice has been issued against Vikas, for trying to tarnish the image of Shobha Ohatkar by making baseless allegations on social media. The notice also states that the conduct of Vikas Vaibhav violated the provision of the All India Service Conduct Rules 1968.
According to a CNN-News18 report, on February 12, Vaibhav received a 65-page show-cause notice from the home department of Bihar, to which he has to answer within seven days. CNN-News18 in its exclusive report published excerpts of the notice as below:
Shri Vaibhav is an irresponsible and negligent officer. Most of the time of his departmental work is spent in conducting meetings and social media related to Let's Inspire Bihar.

He is not complying with the instructions given by the senior officials. Because of his activities, inaction, indiscipline, violation of orders, dereliction of duty, and the said conduct of Mr. Vaibhav is a gross violation of the relevant provisions of the All India Service Conduct Rules, 1968.
Exclusive story by CNN-News18
Speaking exclusively to CNN-News18, a confidant from the Fire Services department said that Ohatkar had been rude from day one since Vaibhav took charge in October 2022. She hurled invectives at him and other officers during closed-door meetings and questioned the role of Vaibhav in 'Let's Inspire Bihar' campaign.
On the condition of anonymity, another source said that Ohatkar had spoken badly to DIG once and he fell unconscious. He also added that Vaibhav had been served multiple show-cause notices within a period of less than four months of taking the charge of Homeguards and Fire Services to which CNN-News18 has also access.
Soon after the matter became a topic of discussion of netizens and people around the corner, the chief minister replied to the controversy and said:
You should know this very well, anyone working in a job, an officer, their job is not to tweet. This is the worst thing. If they have a problem, they should inform their department, or seniors.

They should convey it personally, not declare it publicly. This is the law. I have directed senior officials to investigate and understand the issue, and report it to me.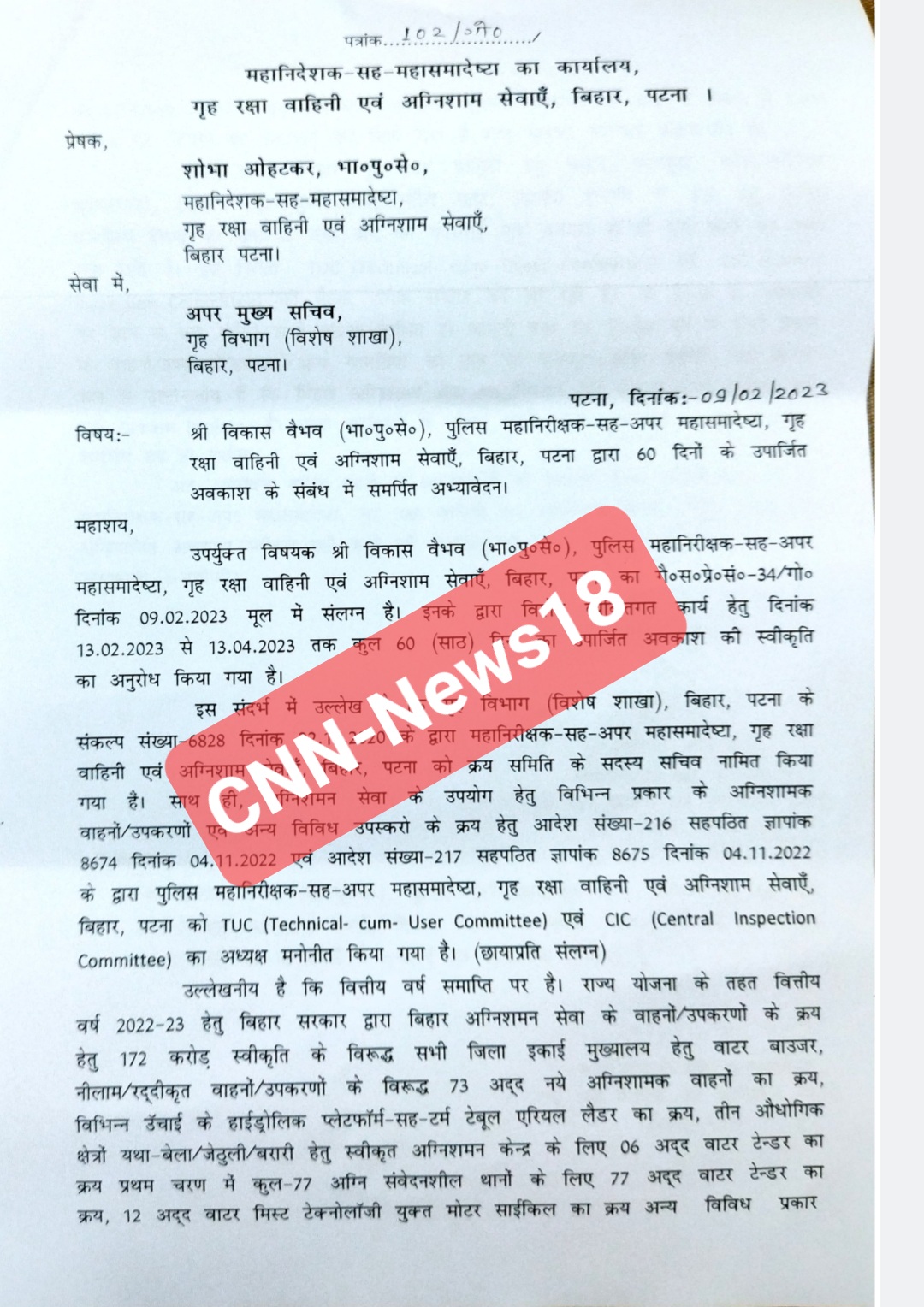 An investigation carried out by CNN-News18 found that Vaibhav on December 8, 2022 went to ACS (Home) Chaitanya Prasad and told him that Ohatkar abused him in the name of his wife and her behaviour was indecent towards a serving officer. After further investigation, it was also found that on January 23, 2023, IG Vikas Vaibhav, DIG Vinod, Commandent Rajeev Ranjan went to meet ACS (home) and complained about the misbehaviour of the DG.
Subsequently, Vinod and Commandent Rajeev Ranjan also met Chief Secretary Amir Subhani on January 24. Vinod supposedly collapsed on January 20, after he was reprimanded by Ohatkar.
Although Vaibhav refused to say anything officially, he said that he had received the notice, to which he will reply soon. However, Ohatkar preferred not to answer any call.
Leave your comments on this case below:
"I Am Unnecessarily Being Abused By DG Madam": IPS @vikasvaibhavips Gets Show-Cause Notice For Accusing Boss On Social Media

▪️"Confidant said DG was rude from Day 1. She hurled invectives at him, other officers during closed-door meetings"#VoiceForMenhttps://t.co/HCtJ09JWo7

— Voice For Men India (@voiceformenind) February 13, 2023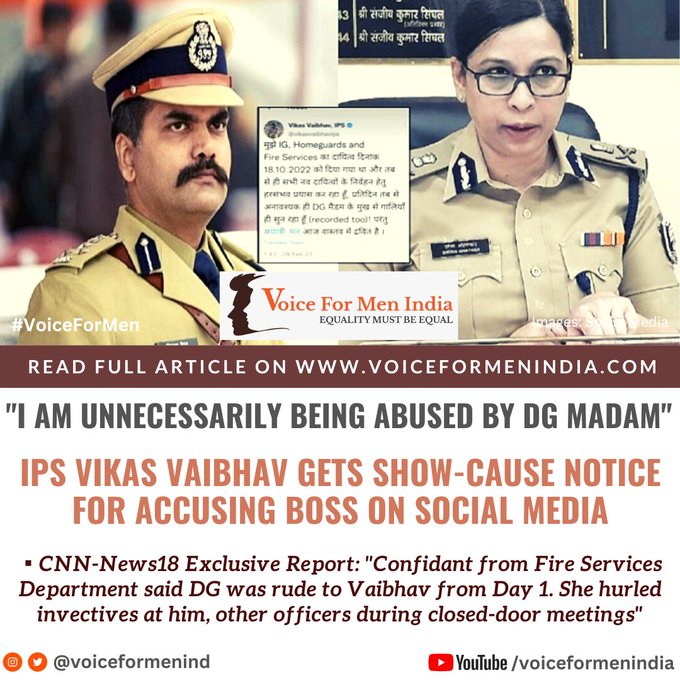 DO WATCH:
Chandigarh University Case | Peepoye Akassh Gupta | Rankaj Verma Was Never Involved | Voice For Men
ALSO READ –
READ ORDER | Telangana High Court Sentences IPS Officers To Four-Weeks Jail For Their Overbearing Attitude In Dowry Harassment & Domestic Violence Case
Punjab High Court Dismisses Divorce Plea Of IPS Husband & IFS Wife Who Got Separated In 3-Days Of Marriage
B. Tech in Electronics (IIT-Kharagpur) & IPS Kanpur Husband Ends Life Within 15-Months Of Marriage
Join our Facebook Group or follow us on social media by clicking on the icons below
Donate to Voice For Men India
Blogging about Equal Rights for Men or writing about Gender Biased Laws is often looked upon as controversial, as many 'perceive' it Anti-Women. Due to this grey area - where we demand Equality in the true sense for all genders - most brands distance themselves from advertising on a portal like ours.
We, therefore, look forward to your support as donors who understand our work and are willing to partner in this endeavour to spread this cause. Do support our work to counter one sided gender biased narratives in the media.
To make an instant donation, click on the "Donate Now" button above. For information regarding donation via Bank Transfer, click here.
Alternately, you can also donate to us via our UPI ID: [email protected]