A man from Punjab ended his life to get rid of the mentally tiring situation he was undergoing due to alleged harassment from his wife and her family. . The cops have also recovered a suicide note from the dead body of the deceased Gurdeep Singh alias Raj.
Case:
The man in his last note, has blamed his wife, her mother, and his two brothers-in-law, for ending his life. According to Hardeep Singh, younger brother of the deceased, the in-laws of the man used to verbally abuse him very often. The victim was the nephew of the SSP Punjab Vigilance, Pritam Singh, who hanged himself in his uncle's vacant home.
ALSO READ – 
Hardeep informed cops that his brother Gurdeep married to Roshni Devi, a resident of Bhutal Kala, around a year ago without any exchange of dowry. Whenever the victim used to visit his in-laws, his mother-in- law, Beyant Kaur, brothers-in-law, Harbhagwan Singh and Gulabbagh Singh, and his wife, Roshni use to harass him verbally. They would never leave any chance of insulting Gurdeep, and also without any reason, the man was constantly humiliated by his wife's family.
Husband Decided To End Life
Gurdeep was immensely disturbed for the last few days, and Hardeep even recalls his brother telling him that he will kill himself as he was not able to tolerate the insults anymore. However, both the brother, and father of the deceased, Nath Singh, advised and explained to him to refrain from taking any such step.
Hardeep went for work on Saturday, however, during noon time on the same day, Nath Singh called him and informed that Gurdeep had gone somewhere without informing the family. The brother immediately returned home and commenced search for him.
Unfortunately, Hardeep found his brother's body hanging from a ceiling in a vacant home of their uncle Pritam Singh. The suicide note read that he was "ending his life because of his wife, and two brothers- in-law."
ALSO READ – 
Hardeep told media that their uncle who is an SSP in Punjab Vigilance used to live close by. His house was lying vacant and Gurdeep had the keys in case of emergency.
As shared by Hardeep, his brother used to work at Vishal Mall. He would daily leave for work after noon and even on Saturday, both the brothers had lunch together. However, Gurdeep was mum all through the lunch.
Later, the victim suddenly switched off his phone and went away somewhere. His family tried contacting him, but he was nowhere to be found. SHO of Sangroor, Vinod Kumar said,
Based on the suicide note and the statement of the deceased's brother, the wife, along with her mother and two brothers have been arrested after registering a case against them.
This article has been re-published from Bhaskar.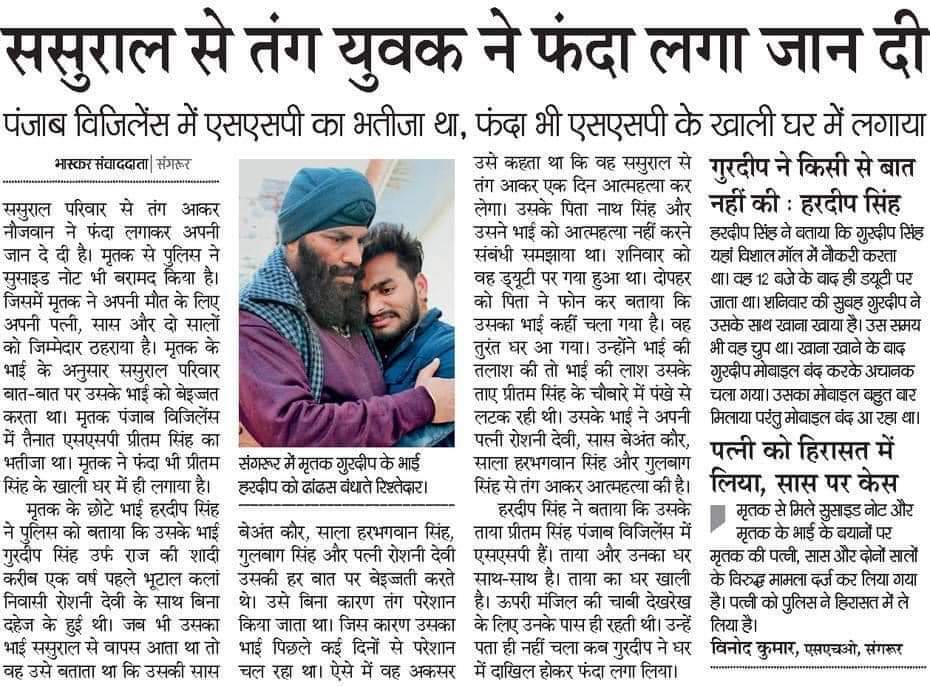 Suicide Prevention Contact Details:
Men in distress due to family problems and threats of false cases can contact either of the NGOs listed here: Men Welfare Trust, MyNation Hope Foundation, Save Indian Family Foundation, Vaastav Foundation
ALSO READ – 
http://voiceformenindia.com/in-the-news/anuj-tripathi-suicide-bhabha-atomic-research-centre/
http://voiceformenindia.com/in-the-news/husband-suicide-india-4-punjab/
http://voiceformenindia.com/in-the-news/husband-suicide-10/
We are now on Telegram. You can also join us on our Facebook Group
Join our Facebook Group or follow us on social media by clicking on the icons below
Donate to Voice For Men India
Blogging about Equal Rights for Men or writing about Gender Biased Laws is often looked upon as controversial, as many 'perceive' it Anti-Women. Due to this grey area - where we demand Equality in the true sense for all genders - most brands distance themselves from advertising on a portal like ours.
We, therefore, look forward to your support as donors who understand our work and are willing to partner in this endeavour to spread this cause. Do support our work to counter one sided gender biased narratives in the media.
To make an instant donation, click on the "Donate Now" button above. For information regarding donation via Bank Transfer, click here.