Rajajinagar police on Monday arrested a 15-year-old girl and her 19-year-old boyfriend for allegedly killing the girl's father, after he took away her mobile phone and restricted her movements. According to Deputy Commissioner of Police (North) N Shashikumar, the girl was angry with the 41-year-old father because he had allegedly beaten her up a few days ago over her "friendship" with the co-accused.
The boy Praveen, who has been now arrested, is a resident of  Subramanyanagar and first-year B.Com student at a private college. The girl is a Class 10 student at a private school. The deceased, Jai Kumar Jain, lived with his wife and children on Vatal Nagaraj Road in Rajajinagar.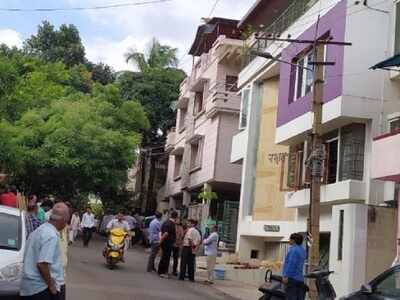 Case :
Praveen was friends with the girl ever since they were studying in an international school in the city, and both were into a relationship since then
The father had found out that his daughter was always talking to Praveen and even went shopping with him; he had repeatedly warned her to stay away from the youngster
Recently, Jain had allegedly confiscated her mobile and also locked her up in the house
The girl was very upset with her father for this punishment
It is then that Praveen and the girl discussed ways to finish off Kumar and gain their freedom
She planned the murder when her mother, Pooja Devi, and her brother left the city on August 17 to attend a family function at Puducherry
When Jain, who runs an apparel store, came home for dinner, the daughter gave him milk laced with sleeping pills after he had his meal
Once he had fallen asleep, she called Praveen
The duo stabbed him and dragged the body to the bathroom
There, they set Jain ablaze to make it appear like an accidental death
The next morning, they claimed there was an electric short-circuit when he was having a bath
Neighbours, who noticed the fire on the third floor of the house, alerted fire and emergency personnel, who rushed in and found Jain lying half-burnt and the body was shifted to Victoria Hospital for postmortem
The alleged attempt to destroy the evidence, however, went in vain
Pooja Devi, who returned to the city on Sunday night, told police that her daughter was innocent and requested them not to take any legal action. Meanwhile, Praveen's parents said that they were not aware of his affair with the girl, however, have reportedly told police that they are law-abiding citizens and if Praveen had committed a crime, action should be taken against him.
Praveen was remanded in judicial custody, while the girl was sent to a juvenile home.
ALSO READ –
http://voiceformenindia.com/in-the-news/husband-failed-murder-vasai/
Join our Facebook Group or follow us on social media by clicking on the icons below
Donate to Voice For Men India
Blogging about Equal Rights for Men or writing about Gender Biased Laws is often looked upon as controversial, as many 'perceive' it Anti-Women. Due to this grey area - where we demand Equality in the true sense for all genders - most brands distance themselves from advertising on a portal like ours.
We, therefore, look forward to your support as donors who understand our work and are willing to partner in this endeavour to spread this cause. Do support our work to counter one sided gender biased narratives in the media.
To make an instant donation, click on the "Donate Now" button above. For information regarding donation via Bank Transfer, click here.
Alternately, you can also donate to us via our UPI ID: voiceformenindia@hdfcbank