The court of Judicial Magistrate Himanshu Arora in Ludhiana has pronounced a wife guilty for implicating her in-laws in a false dowry harassment case. However, the sentence awarded by the court is:
Rs 500 Fine to be paid by wife

In the event of non-payment of fine, orders have been given to keep the woman in captivity for 15 days
According to court records, while the woman has already deposited the fine as per order, she has now appealed against the court's decision in the sessions court.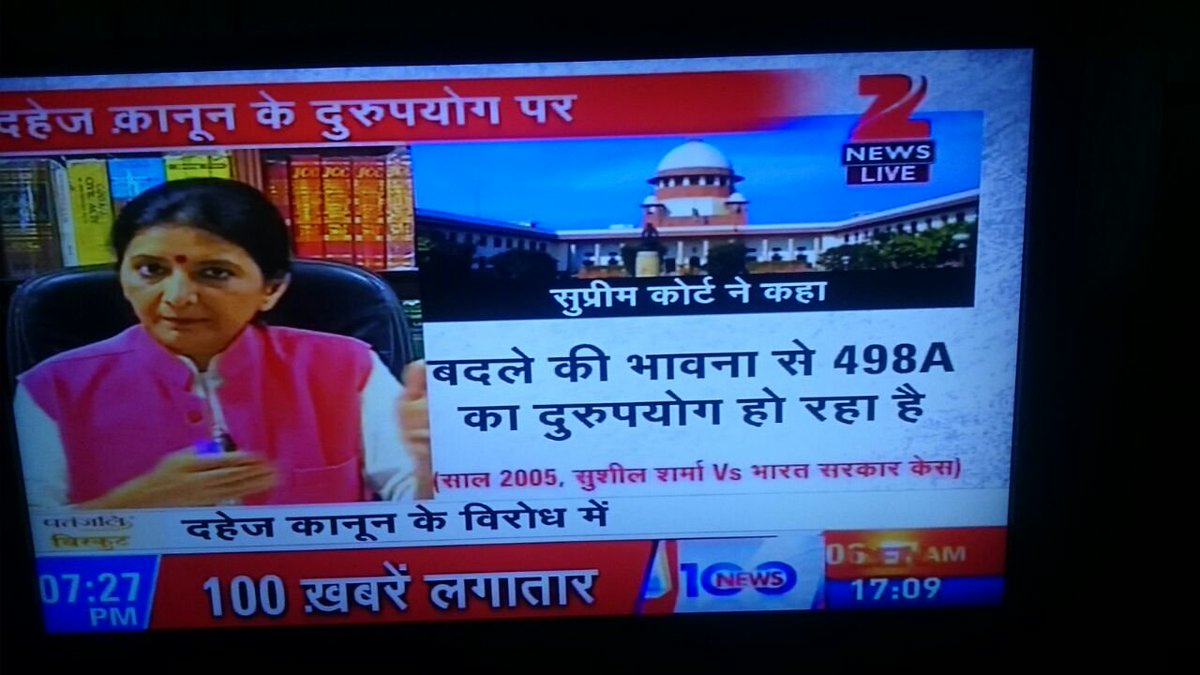 Priya Sharma, the convicted wife, had alleged in a complaint to the police station in Jamaalpur, Punjab that on March 20, 2013, her sister-in-law Rakhi assaulted her

However, during the investigation, the police filed a DDR (Daily Diary Report) against the complainant herself, since all the allegations of the wife were found to be false

The matter came up for hearing in the court of JMIC Himanshu Arora, wherein after verifying the facts in detail, the court found that there was no assault on that day with the complainant Priya

The court also observed that the woman made serious allegations only to implicate her in-laws' family in a false case

Citing the evidences in the case, the court convicted the woman and sentenced her to a fine of five hundred rupees only
Woman files false #498a case on husband and in laws in 2013. After 6 years of fight husband is able to prove her allegations wrong. Court finds her guilty of filing false case, penalizes her with mere Rs. 500/-
Such cheap is a man and his family's… https://t.co/9SePbVjB6S

— MRA Amit Deshpande (@antidespondent) October 2, 2019
Manoj Sharma, the husband of the convicted wife, conducted a press conference to express his relief. He quoted:
This decision of the court is an example for how married women plot to implicate their husbands and in-laws in false cases. Every aggrieved husband must take recourse to law if wives harass or implicate him in false cases.

False 498A (Representation Image Only)
Our Take:
If the court has found the wife to be guilty of misleading the judicial system by filing false cases, why is there no serious conviction for her in this case
A fine of mere Rs 500 is yet another mockery of justice and will be an encouragement for all wives who are planning to file false cases on their in-laws. No downside at all!
What is the message of judiciary to all innocent husbands? You will be guilty until proven innocent, and after years of fighting a false case, the price we tag on your dignity is a generous sum of Rs 500
Then what exactly is a deterrent for a woman NOT to file false cases? Absolutely None!
And mind you, tomorrow if this same woman files for divorce, she will be very much entitled to maintenance/alimony as well
ALSO READ – NO CONVICTION DESPITE FALSE CASE FILED BY WIFE
http://voiceformenindia.com/in-the-law/false-498a/
Follow www.mensdayout.com on Facebook, Twitter and Instagram
Join our Facebook Group or follow us on social media by clicking on the icons below
Donate to Voice For Men India
Blogging about Equal Rights for Men or writing about Gender Biased Laws is often looked upon as controversial, as many 'perceive' it Anti-Women. Due to this grey area - where we demand Equality in the true sense for all genders - most brands distance themselves from advertising on a portal like ours.
We, therefore, look forward to your support as donors who understand our work and are willing to partner in this endeavour to spread this cause. Do support our work to counter one sided gender biased narratives in the media.
To make an instant donation, click on the "Donate Now" button above. For information regarding donation via Bank Transfer, click here.
Alternately, you can also donate to us via our UPI ID: voiceformenindia@hdfcbank