India is a country where asking for Dowry is a crime, but Reverse Dowry (Read : Alimony) is the birth right of a divorced woman. This legal extortion has spread not just in urban, but also tier II and tier III cities as well as rural areas.
A news report from Faridabad (NCR) posted by a local media channel, Haryana Live, has gone viral. In the video report, the father of the groom alleges that his family has been threatened to cough up Rs 1.5 Crore to the wife of his son as alimony, else get ready to face false charges.
Case :
Gaurav Goyal got married in April 2017
The wife stayed in her matrimonial home only for three months, of which she spent most of the time travelling along with her husband (Dubai, Jim Corbett Park, Hyderabad, Sariska National Park and others)
According to Gaurav, despite travelling to so many places, his wife refused to settle in his home after marriage and kept complaining that he did not take her out anywhere
The husband alleges his wife to be abusive; both verbally and physically who constantly ridiculed and abused his mother
When the husband informed his wife's father about this harassment, shockingly his father-in-law replied casually that this was the constant nature of his daughter and she used to even raise hands on her own mother
The husband was then asked to take care of his wife himself
The video also has a phone recording between the husband and wife where Gaurav is heard questioning her why she abuses him and his mother regularly
The woman is clearly heard saying that she does not have any problem with him or his family
The woman is at her parental home since past 21-months
Gaurav's father Dharam Chand Goyal alleges that the girl's family either wants them to take the girl back or pay them Rs 1.5 crore as alimony
Father of the girl is allegedly caught on audio recording telling Gaurav's father to pay up the price for a "branded item"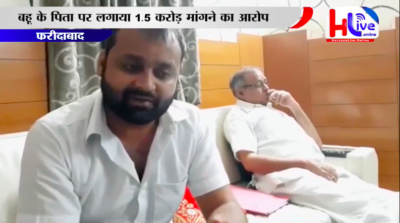 Dharam Chand is now requesting PM Modi to give a fair hearing to the boy's family as well. He expresses how they are unable to do any work or business, as they have been constantly threatened to pay up Rs 1.5 crore within one week else be ready to face fake cases. Senior Goyal pleads to Narendra Modi that he should look at the misuse of laws while promoting Beti Bachao Beti Padhao schemes under his government.
WATCH VIDEO 
Father of a girl demanding 1.5 Crores on record for settlememt of divorce calling it a cost for "branded item" Girl herself confessing on record that the fight is because of her misunderstanding with her mother in law. Boys family now asking for justice have written to PM for #BetaBachao

Posted by Deepika Narayan Bhardwaj on Monday, September 16, 2019
Section 498A is highly unfair and only protects the rights of wives. A husband and his family are virtually at the mercy of the woman and her family members, to either fall in line or face jail. Besides, if the charges are proven to be false, there is no punishment whatsoever for the woman and her family.
ALSO READ –
http://voiceformenindia.com/in-the-news/family-commits-suicide-due-to-threat-of-harassment-cases/
Join our Facebook Group or follow us on social media by clicking on the icons below
Donate to Voice For Men India
Blogging about Equal Rights for Men or writing about Gender Biased Laws is often looked upon as controversial, as many 'perceive' it Anti-Women. Due to this grey area - where we demand Equality in the true sense for all genders - most brands distance themselves from advertising on a portal like ours.
We, therefore, look forward to your support as donors who understand our work and are willing to partner in this endeavour to spread this cause. Do support our work to counter one sided gender biased narratives in the media.
To make an instant donation, click on the "Donate Now" button above. For information regarding donation via Bank Transfer, click here.
Alternately, you can also donate to us via our UPI ID: voiceformenindia@hdfcbank