A recent post about a senior citizen mother-in-law being thrashed by belts by her daughter-in-law in Haryana went viral. After much uproar on social media, National Commission for Women (NCW India) finally reacted today stating they have written to local police to take action.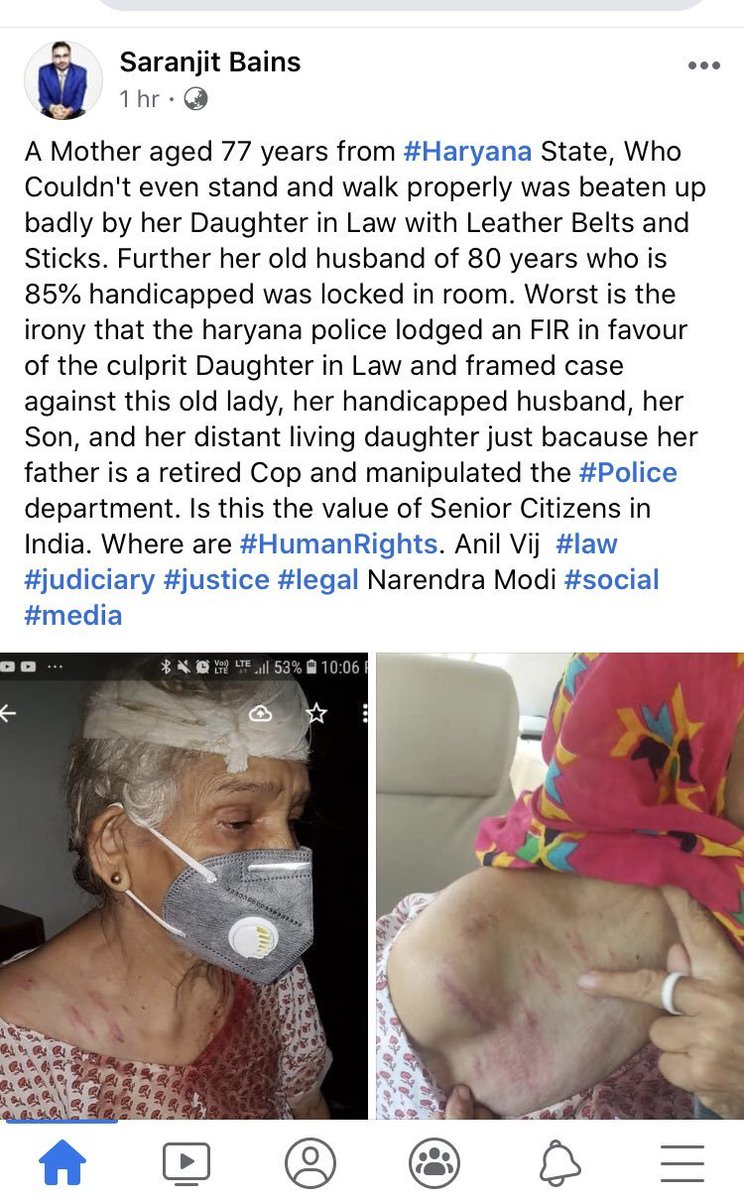 Men's Day Out reached out to the husband/son in this case, who has shared his side of the story in the matter. The details are shocking and brings out the 'other side' to women, which our society feels are the only eternal sufferers. The husband and his father both belong to our armed forces.
His Story – (As Narrated By Husband)
Couple has been married since 2008 and has two children – 10-year-old daughter and 5-year-old son. Husband is a resident of Bahadurgarh (border of Delhi and Haryana) where he resides with his old parents, wife and children. Wife belongs to Dwarka in Delhi and her father is a retired cop. Many of her family members are also in the police.
As on date, mother of the husband is 77-years-old fragile woman and his father is 80-years-old retired soldier who has rods in both his legs. Since several years, wife has been forcing the man to leave his parent's home and settle in Delhi. Otherwise, she had put a condition for the matrimonial property owned by her in-laws to be transferred to her name. This had been a major point of conflict in their home for a long time.
ALSO READ –
The woman would go out through the day and expected her husband and in-laws not to question her on her whereabouts or on the time she would return. She would tell her husband,
Apne Kaam Se Kaam Rakho (Mind your own business)
The husband asks if he has no right to know where his wife is through the day, however, over a period of time, he too gave up and started overlooking.
2018
While the wife had been verbally abusive, she also started physically hitting
her father-in-law in 2018. The elderly man had a habit of waking up early and making his tea in the kitchen, where the daughter-in-law would purposely push him or try to trip him and make him fall down.
After such frequent violent episodes in the home, woman left the matrimonial house and went back to her parents in Delhi. After nearly 11 years of marriage, she filed charges under Section 498A against husband and in-laws accusing them of demanding dowry. Not just this, she also accused her then 78-year-old handicapped father-in-law of attempting to rape her. The wife also filed a complaint against husband's family at women's cell in Delhi.
However, after two hearings in the court, the woman and her family decided to drop the matter and withdrew the case. When the judge enquired for mediation, the wife's family did not insist on the same.
Woman continued living in her maternal home for nearly 8-9 months, post which her family reached out to the husband asking them to let bygones be bygones and get back together. They visited their daughter's matrimonial home and asked her in-laws to forgive her immaturity and move on.
Post 2018
When the wife lived in Dwarka, she started working with a school nearby. After returning to her husband's home, she continued with the same job, where she had to travel 2 hours daily one time from Bahadurgarh to Dwarka. The husband offered her to help her find a job near their home, however, she refused. According to the husband,
She would leave home at 6am and return at 7-8pm daily. Me and my mother would look after the kids completely. She as a mother was not bothered about the children, however, we once again overlooked the same.
The wife has till date never informed her husband how much money she earns, where she deposits the same and what she do with her money.
In Dec 2018, husband's brother-in-law (elder sister's husband) passed away. While his sister is employed with Haryana Education Services in Gurugram, as a younger brother, the man had to take her emotional responsibility.
He says,
I had to now balance three families – wife and children, my parents as well as my sister's family.

I am providing every single thing for everyone in my capacity.
2019
In Nov 2019, the woman assaulted her in-laws again, which is when the father-in-law decided to give a formal complaint in the senior citizen cell. The representative arrived, understood the matter and just told the wife how good her in-laws were. However, they did not take any action despite learning that the daughter-in-law had been assaulting the aged couple.
2020
The husband had dropped his mother to sister's home in Gurugram in March, when the lockdown got announced. Thus, his mother remained in his sister's home until June. When Unlock 1 happened a month ago, the mother returned to her home in Bahadurgarh.
The minute wife saw her face, she started cursing the mother-in-law again. The husband says,
"My wife started telling my mother, Budhiya wapas kyon aa gayi?" (Why have you returned you old woman?)
Husband says his wife would instigate his parents by making dirty gestures and when they would retort, she would start shooting them on her mobile. She would say things to the father like,
In 2018, you got saved, I shall beat you even more now.

My parents don't have smartphones so they dont know how to record her behaviour.
On June 4, father-in-law went again to the police station to inform them of their daughter-in-law's harassment. He told them to take action as their lives were in danger. There has been no action from June 4 until date on the same.
However, in the interim, the woman learnt about the complaint registered against her. Husband narrates a horrific incident that happened on June 8. He says,
My mother was removing milk from the refrigerator, when my wife took away the can and threw it on her face. She also started spitting water on my mother and father. The minute I pulled her hand, she hit me badly on my tail bone.

We then had to call police and and she too counter filed complaint against us. Police came and only took her for medical, while I was bleeding, couldn't' even stand properly, but they never bothered about me.
According to the husband, the police just asked her to behave properly and once again, no action was taken. Instead, they took action against the man and his parents on daughter-in-law's complaint.
The husband adds,
Lady investigating officer called me once and told me that you must leave this woman as soon as possible else she will kill either of your parents. I asked her if there was any pressure on her, she said no. Later she forwarded complaint to SDM and we have been summoned on July 13.
Worst Attack
Husband shares,
On June 21, I returned from Gurugram to Bahadurgarh and parked my car. I started sprinkling water around, when I started hearing loud sounds from inside my home. When I rushed inside, my wife had choked my mother holding her neck onto the wall and beating her black n blue with a belt. My children were crying. She had also locked my father in his room.

When I pulled her away, she bit my hand so badly that there was a deep cut. My wife again went and hit my father with a rod and he too started bleeding. When I picked him up, she again kicked him from the back.

She then locked all three of us in my parents' room. Fortunately we have access from the backdoor. I left my parents there so that I could bring the car and take them to the hospital. I alerted the PCR on the way while walking to the front gate. When I reached the main door, my wife locked the main gate from inside. Our neighbours gathered who urged her to open the door, however, she threatened one of the ladies as well.

In the meantime the police arrived and made her open the main gate. Police saw her with the belt. My daughter had also called on child helpline and complained against her mother. Child helpline just called once but did nothing.
The same lady investigating officer returned and told me how my wife had crossed all limits that day and I should have beaten her back. I just told the officer that I had responsibilities and could not afford to go to jail.

By now, my wife hurt her own self as well to show some small bruises and injuries. Police saw my mother bleeding but did nothing. However, they were prompt to take my wife in their own jeep for her medical. The police also registered a formal complaint against me, my parents and my sister who lives in Gurugram – but no FIR against wife. When we told them we are going to seniors, they wrote a small complaint against her.
As On Date
Husband says,
Hospital asked us to take my mother to Rohtak PGIMS for further assistance. Her backbone was ruptured because my wife kicked her hard. Her body is full of belt marks – first they turned black and now they are turning yellow. Till date, the police has not even bothered to go to the hospital to ask for her medical record.

Hospital has informed us that my mother can get paralysed any moment. Due to fear of corona, I got my mother home as she was prescribed bed rest. Although, her health is now improving.
In the interim, the family has got one more notice from court asking them to report.
Husband's Concluding Words
I am dragging my mother on a wheelchair in this heat. Where is justice, what is this law? I have worked in a government organisation and exactly know how NHRC and NCW work. Unless some story goes viral, they do not take any action. Or one has to be super influential for them to revert.

Wife is still in our home only. She mocks my parents daily showing them middle finger and telling them how they got saved again.

My in-law's have been instigating my wife, however, the police has not summoned them even once. Psychologically my mother shivers every moment, thinking she will get beaten up again. My sister wants to take her along, but my mother cant' leave father alone at home.

Our democracy has no value. Today the woman who has made our life hell is sleeping comfortably in AC, and we have been accused and harassed. It has come to a point where my mother wants to end life.

I want to tell people unless this happens with your family, you will never realise how biased our laws are. You will only realise this pain when it comes onto you. When I had been summoned to the women's cell, I had also enquired where can Men go in such cases?

My friends who know me since 15-20 years are instead laughing at me, that I got beaten up by my wife. I can't tell them what i am going through or how I am feeling. We respect women, but all women are not the same.
Update As On July 2, 2020
Jhajjar police has taken note in the matter and have started investigating the matter after social media uproar.
उपरोक्त मामले की शिकायत पर तुरंत कार्रवाई करते हुए पुलिस द्वारा थाना सेक्टर 6 बहादुरगढ़ में आरोपी महिला के खिलाफ मुकदमा नं.163 दिनांक:21-6- 2020 दर्ज किया गया। पुलिस द्वारा अभिलंब कार्रवाई करते हुए पीड़िता की आरोपी पुत्रवधू को शामिल तफ्तीश करके नियमानुसार उसे जमानत दे दी गई।
Husband has thanked the police and also confirmed that they have collected the belt and other items used by his wife for assaulting his mother. On July 3, 2020, he wrote,
Thanks @jhajjarpolice

.Today the

#Police

took action. Collected the Belt and others items used by the accused lady for assaulting my mother. Statements were collected and the Investigating Officer was positive for action. Hope accused be arrested soon.

@ArnazHathiram
Thanks @jhajjarpolice .Today the #Police took action. Collected the Belt and others items used by the accused lady for assaulting my mother. Statements were collected and the Investigating Officer was positive for action. Hope accused be arrested soon. @ArnazHathiram

— Capt. G.S. Rathee (@CaptRathee) July 3, 2020
WATCH VIDEO WHERE HUSBAND SHARES HIS ORDEAL
ALSO READ MAIN STORY
http://voiceformenindia.com/in-the-news/daughter-in-law-beats-mother-in-law-india-ncwindia/
ALSO READ –
http://voiceformenindia.com/in-the-news/parents-suicide-bangalore/
http://voiceformenindia.com/in-the-law/delhi-high-court/
Please join us on our Facebook Group for interactions and debates
Join our Facebook Group or follow us on social media by clicking on the icons below
Donate to Voice For Men India
Blogging about Equal Rights for Men or writing about Gender Biased Laws is often looked upon as controversial, as many 'perceive' it Anti-Women. Due to this grey area - where we demand Equality in the true sense for all genders - most brands distance themselves from advertising on a portal like ours.
We, therefore, look forward to your support as donors who understand our work and are willing to partner in this endeavour to spread this cause. Do support our work to counter one sided gender biased narratives in the media.
To make an instant donation, click on the "Donate Now" button above. For information regarding donation via Bank Transfer, click here.
Alternately, you can also donate to us via our UPI ID: voiceformenindia@hdfcbank