It is said daughters are most close to their fathers and dads on other hand go to every extent to pamper their dolls, as they feel they won't remain with them forever……….However, what happens when these same Barbies turn into Annabelles!
Karan, (Name changed), a brother of one such girl Kanika (Name changed), poured his heart out narrating how his sister accused their father falsely of sexual harassment because of this reason.
They are two siblings – brother and sister and according to the former, the father showered more love on the girl child because he felt that the son will remain in the family home for good, while the daughter will marry one day and leave them.
He provided her with everything that she demanded….admitted her to the best convent school….All was going fine until one day things took an ugly turn and left the family shaken. The maternal grandmother had passed away and thus the mother and the son had been away to visit the other side of the family. However, since Kanika was amidst her XIIth Boards, she and her father stayed back at their home.
One day, when the father had gone out to meet one of his friends, Kanika invited her boyfriend, Mukesh (Name changed) to her home. When the father returned, he was shocked to see his daughter and the boy alone at their place and questioned what was he doing there in his absence.
Instead of having any fear out of respect, in front of Mukesh, Kanika started accusing the father of sexually harassing her. Later, the duo allegedly even manhandled the father and pressurised him to confess his fault on a video recording. As per Karan, the father was already a physically challenged man who had a paralytic stroke on an earlier occasion and somehow managed to bear this baseless accusation by his own daughter.
After this horrific incident, Kanika eloped with Mukesh. When the family tried persuading her, she paid no heed. It is then that the family convinced her that if this is the man she eventually wanted to settle with, they would officially get her married, however, they urged her to return, complete her education and first become independent.
Kanika somehow did come home, only to leave again within two days. Later, she got married to Mukesh at a local temple. But things seemed to have been far than over for the girl's family. After a few days, the girl messaged her mother accepting how she had committed a mistake by marrying Mukesh. She also accused the husband of beating her. Karan had taken screen shots of her messages and when they tried to rescue her from her matrimonial house, Kanika once again took a U-turn. She cursed her parents and the brother and warned them to leave her alone with her husband.
ALSO READ –
Mukesh's family even dragged all of them to the police station, where he and his mother changed the story and instead accused Karan of beating Kanika. They also alleged that the mother used to keep the girl hungry and her father used to molest her, which is why she chose to escape with Mukesh.
According to Karan, he is short of any words, because the girl (his sister) for whom his father gave up everything, remained quite and let her parents be abused and ridiculed at the police station.
Later the statements were recorded from father, mother and Karan as well. Today the brother feels helpless as he could not do anything for his parents. However, he is confident that if Kanika or her new family tries to register a false complaint against the father, he has saved all the messages and has enough evidence to prove her wrong. On the other hand, he also shares his fears, that all Kanika has is her statement, which the society and police would often believe.
He concludes his story by saying:
We wish her well wherever she stays…..however God is watching. How will you live happily by treating your own parents like this for a boy?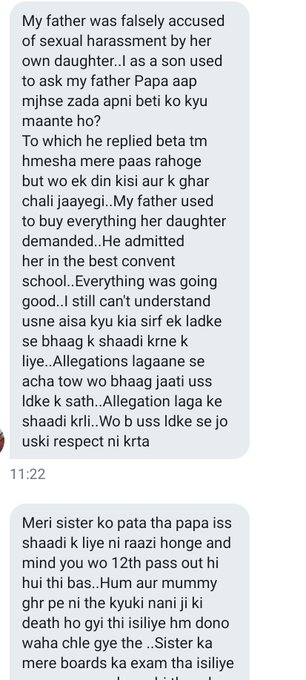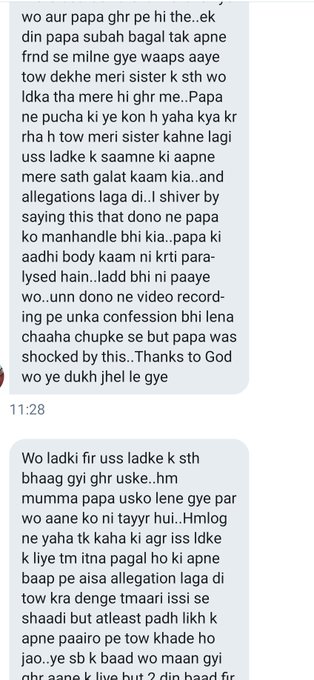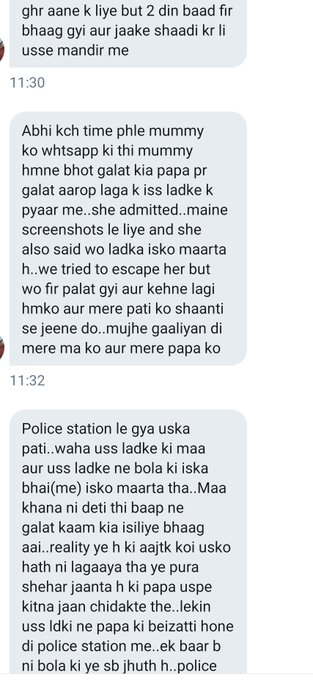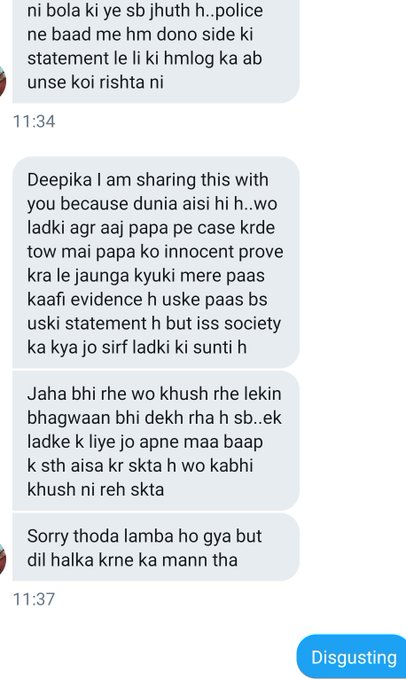 Above story has been shared by independent journalist Deepika Bhardwaj.
ALSO READ –
http://voiceformenindia.com/his-story/fake-dowry-harassment-charges-delhi/
Follow www.mensdayout.com on Facebook, Twitter and Instagram
Join our Facebook Group or follow us on social media by clicking on the icons below
Donate to Voice For Men India
Blogging about Equal Rights for Men or writing about Gender Biased Laws is often looked upon as controversial, as many 'perceive' it Anti-Women. Due to this grey area - where we demand Equality in the true sense for all genders - most brands distance themselves from advertising on a portal like ours.
We, therefore, look forward to your support as donors who understand our work and are willing to partner in this endeavour to spread this cause. Do support our work to counter one sided gender biased narratives in the media.
To make an instant donation, click on the "Donate Now" button above. For information regarding donation via Bank Transfer, click here.
Alternately, you can also donate to us via our UPI ID: voiceformenindia@hdfcbank