A video of a woman threatening some bankers went viral over the weekend. In the video, the woman from Bengaluru, was seen using foul language and threatening the bankers of filing false rape and sexual harassment complaint against them.
The woman can be heard saying,
Stand away from me, I will put you in rape case. There is a way to ask payment. How dare you ask payment from my husband like that. He touched me, he raped me, put assault case on him. I will screw your happiness. I will upload on Facebook.
The language used by the lady is utterly foul as well.
The video went completely viral on social media, where every single person questioned the woman's behaviour and her courage to misuse rape laws.
WATCH VIDEO:
The woman was identified as one Sangeetha Gopal, who has now allegedly changed her name on Facebook to Ammu Krishnan. After she started receiving several hate messages online, she took to social media and wrote that the incident took place 1.5 years before and the video had been allegedly edited to defame her. She also said the men in question were not bankers and posted an apology letter given by the men themselves, dated May 29, 2019.Read below: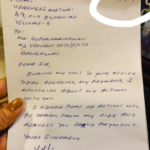 Today, social activist Priyaa Arya, from Bengaluru has taken the matter forward and filed an official complaint with local police. Priyaa has posted her complaint as well as a video where she says,
Finally we are able to lodge a complaint. Hard work is paying off and we will see the results soon.

This is not something we should be taking it lightly. The laws for women are being misused.
WATCH OUR EXCLUSIVE INTERVIEW WITH PRIYAA ARYA
Here are some comments from twitter on the video:
Misuse of law by such women jeopardize cases of genuine victims. More and more people are rightfully criticizing laws enacted to help women because of such blatant misuse. Shameful. https://t.co/lv26qZmgaM

— Arun Bothra (@arunbothra) September 6, 2020
Bank employees go to collect loan payment. This woman threatens them with a #falserape & assault cases. Sheer misuse of beneficial laws made to protect women. Look at her audacity. She calls him MC, l*ude & more but threatens him of case instead. @DgpKarnataka Plz arrest her. pic.twitter.com/ycen7EypFv

— Deepika Narayan Bhardwaj (@DeepikaBhardwaj) September 6, 2020
Bank officials go for recovery. Debtors wife abuses & threatens with #FalseRape case.
There'll be no condemnation, no action on this woman for threatening to put false cases@sharmarekha will say this isn't what @NCWIndia is mandated with & wash off their hands#WeepIndiaWeep pic.twitter.com/NrONwkkogn

— Amit Deshpande (@antidespondent) September 6, 2020
Spoke to @CPBlr This took place on May 29, 2019. Just as I had written earlier, something more might have preceded this clip. This is why both sides reached a compromise. Still, abusive language & threat of 'rape charge' is deplorable @BlrCityPolice may be clarifying. @arunbothra

— Sanjeev Gupta (@sanjg2k1) September 7, 2020
@sharmarekha @SwatiJaiHind @NCWIndia @MinistryWCD

Does #EmpoweredWomen & their demands #Respect #Women means they can assault anyone demanding correctly rightfully what is theirs.

Also can clearly see #Misuse of #GenderBiasedLaws & #GenderBiased #BiasedMentality #PoliceAction

— Himanshu N Kanani (@himanshu0070070) September 6, 2020
ऐसी परिस्थिति में लोन भरना मुश्किल है पर ये कैसा स्वभाव?

महिलाएँ ही अगर रेप जैसे विषय की गम्भीरता नहीं समझेंगी तो समाज सुधार असम्भव है।

'मैं इस पर रेप का चार्ज लगाऊँगी', मैडम क्या आपको पता है कि रेप क्या होता? क्या आप समझती हो रेप पीड़िता का दर्द?
pic.twitter.com/iMiMEnEMvI

— Bhaiyyaji (@bhaiyyajispeaks) September 6, 2020
This is disturbing and scary for me as a woman too. How will authorities take genuine cases seriously if this goes unchecked?
In mob violence cases too, it's becoming routine for the accused side to get a rape case filed against victims from a woman of their own family + https://t.co/Jr1aGJPOiB

— Swati Goel Sharma (@swati_gs) September 6, 2020
If law does not punish such women, there are terrible times ahead for every single man…….You could be next!! https://t.co/iXFZFpFTRm

— Arnaz Hathiram (@ArnazHathiram) September 6, 2020
ALSO READ –
http://voiceformenindia.com/in-the-news/sting-operation-audio-of-lata-parmar/
We are now on Telegram. You can also join us on our Facebook Group
Join our Facebook Group or follow us on social media by clicking on the icons below
Donate to Voice For Men India
Blogging about Equal Rights for Men or writing about Gender Biased Laws is often looked upon as controversial, as many 'perceive' it Anti-Women. Due to this grey area - where we demand Equality in the true sense for all genders - most brands distance themselves from advertising on a portal like ours.
We, therefore, look forward to your support as donors who understand our work and are willing to partner in this endeavour to spread this cause. Do support our work to counter one sided gender biased narratives in the media.
To make an instant donation, click on the "Donate Now" button above. For information regarding donation via Bank Transfer, click here.
Alternately, you can also donate to us via our UPI ID: voiceformenindia@hdfcbank