CBSE 12th results 2020 were announced on Monday, July 13, and nearly 38,686 students scored above 95%. Tushar Singh from Delhi marked himself as the perfectionist, as he scored a perfect 500/500 in his CBSE board exam results 2020.
His Story
Tushar did his schooling in the Humanities stream from Delhi Public School, Bulandshahar, wherein he secured the first rank in his school and in the board exam with full marks of remarkable 500/500. We live in a generation where even a primary school student goes for tuitions. However, Tushar on the other hand, secured such incredible marks all by himself as he did not opt for any coaching classes in class 12. He scored all 100/100 in all papers.
CBSE hasn't officially declared any toppers as of such, however, Tushar indeed is a topper from his own school or his batch of class 12, 2020. His plans are now to study History honors from Delhi University and he later wants to become an IAS officer.
Tushar was asked about his study routine he followed and the strict actions he took to keep himself focused. Speaking with India Today, Tushar said he didn't follow any strict routine, neither he cut himself from others much. He said,
I didn't follow any strict routine while studying. I just studied around 7 hours a day.
ALSO READ –
Adding further with regards to his preparations for CBSE board exam preparation, he also said he didn't detach himself from the world, or reduce the use of mobile phone. He says he did not miss out on any fun activity either. Tushar added,
I was on Instagram and social media all through the board exams. I also used to watch TV at times for a break from studies.
Achieving The Milestone Without Tuitions
When asked about the tuitions, Tushar simply said he didn't take any. He studied all by himself. Crediting his school teachers, Tushar said,
I didn't take any tuitions for the CBSE 12th board exams. I did take tuitions in class 11, but in class 12, I got my doubts solved by my school teachers only.
He also said he studied and prepared himself for the board exam with the help of Arihant and Oswaal, books for CBSE 12th students. He solved all the sample papers from the book. English core, History, Political Science, Geography, and Physical Education, was Tushar's subject combination.
The first exam for every boards is always stressful. This year, the CBSE board exams 2020 were postponed in the north Delhi region due to the Delhi violence in the CAA-NCR protests. Thereafter, the COVID-19 pandemic started spreading in the country and hence, the CBSE board exams were postponed and later it was canceled. Tushar said,
The first exam was a little stressful. But after that, it was a relatively easy affair.
ALSO READ –
Tushar was also asked about CBSE giving full marks in many papers resulting in the number of CBSE toppers have been rapidly increasing over the years. To this, Tushar said,
CBSE shouldn't be awarding full marks in English or any of the language papers. 
He further continued,
In subjects like History or Geography, since we have a prescribed book to answer from, it is still okay to get full marks in them. But when it comes to language, you cannot say that this answer is the best way to write it and so deserves full marks.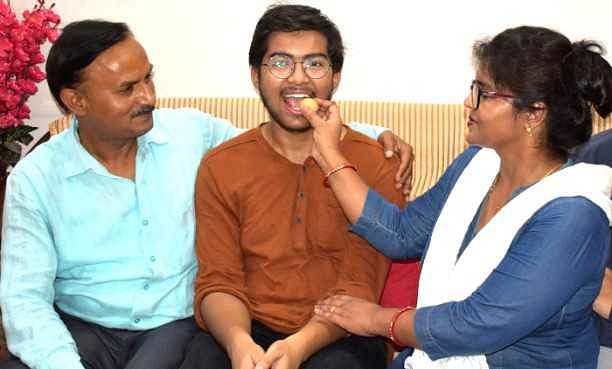 Tushar's parents are ecstatic – The young and proud son quotes,
My parents are very happy with my CBSE result and wish for me to achieve great heights in my career.
CBSE 12th results of 2020 did wonders as 157,934 students scored above 90%, whereas, 38,686 students scored above 95%.
Another topper was Lucknow girl Divyanshi Jain, a class 12th student scored 600 marks out of 600 to get 100% marks in the CBSE class 12 results declared on Monday. The 18-year-old did not lose a single mark in any of her six subjects scoring a 100 in each.
We wish every student irrespective of being a topper or not the very best. Nurture your potential, mere marks are not the benchmark of a happy life.
ALSO READ –
http://voiceformenindia.com/in-the-social/courses-below-80-after-cbse/
We are now on Telegram. You can also join us on our Facebook Group
Join our Facebook Group or follow us on social media by clicking on the icons below
Donate to Voice For Men India
Blogging about Equal Rights for Men or writing about Gender Biased Laws is often looked upon as controversial, as many 'perceive' it Anti-Women. Due to this grey area - where we demand Equality in the true sense for all genders - most brands distance themselves from advertising on a portal like ours.
We, therefore, look forward to your support as donors who understand our work and are willing to partner in this endeavour to spread this cause. Do support our work to counter one sided gender biased narratives in the media.
To make an instant donation, click on the "Donate Now" button above. For information regarding donation via Bank Transfer, click here.
Alternately, you can also donate to us via our UPI ID: [email protected]