Earlier this month, accused Kumari Aradhya Jitendra Patil alias Riya (19) and her 16-year-old boyfriend were arrested on charges of killing Bennett Rebello (father) on November 27 at his house at Dwarka Kunj, in Mumbai's Vakola, with a knife and bamboo stick. The duo had later chopped his body and thrown away different parts in the Mithi river.
As per media reports and police confirmation, the girl had also confessed of NO Sexual assault and that she murdered the man, who had adopted her couple of years ago, only for his property. However, once again by hook or by crook the girl has found a way out to have the least implication on her in the said case.
In a shocking turn of events, Bennett Rebello, the 59-year-old musician who was allegedly killed by his 'adopted daughter' and her 16-year-old boyfriend, will be posthumously booked on charges of rape and under sections of the Protection of Children from Sexual Offences (POCSO) Act. The minor boyfriend will also be charged for rape under similar sections.
Case:
Shahji Umap, deputy commissioner of police, said that the girl who claimed to be 19-years-old, turned out to be a minor (17-years, five months old) after her brother submitted her birth certificate to the Mumbai Police's crime branch on December 15
The girl, who was in police custody till December 16, was immediately handed over to a juvenile home
In her statement to police following her arrest alongside that of her 16-year-old boyfriend, the girl said that she was sexually assaulted by Rebello for more than a year
The girl was staying at Rebello's Vakola residence since March 2018
Now, the crime branch will file a complaint against dead Rebello (who naturally cannot defend the charges) and the boyfriend following which a case will be registered at Ghatkopar police station
During their interrogation, the duo revealed the name of a third accused, Ali Miyan Chaus, 19, who helped them pack and dispose the musician's body. He was arrested on December 14. Chaus is allegedly a school friend of the accused boyfriend and had guided the duo on how to chop and wrap the body.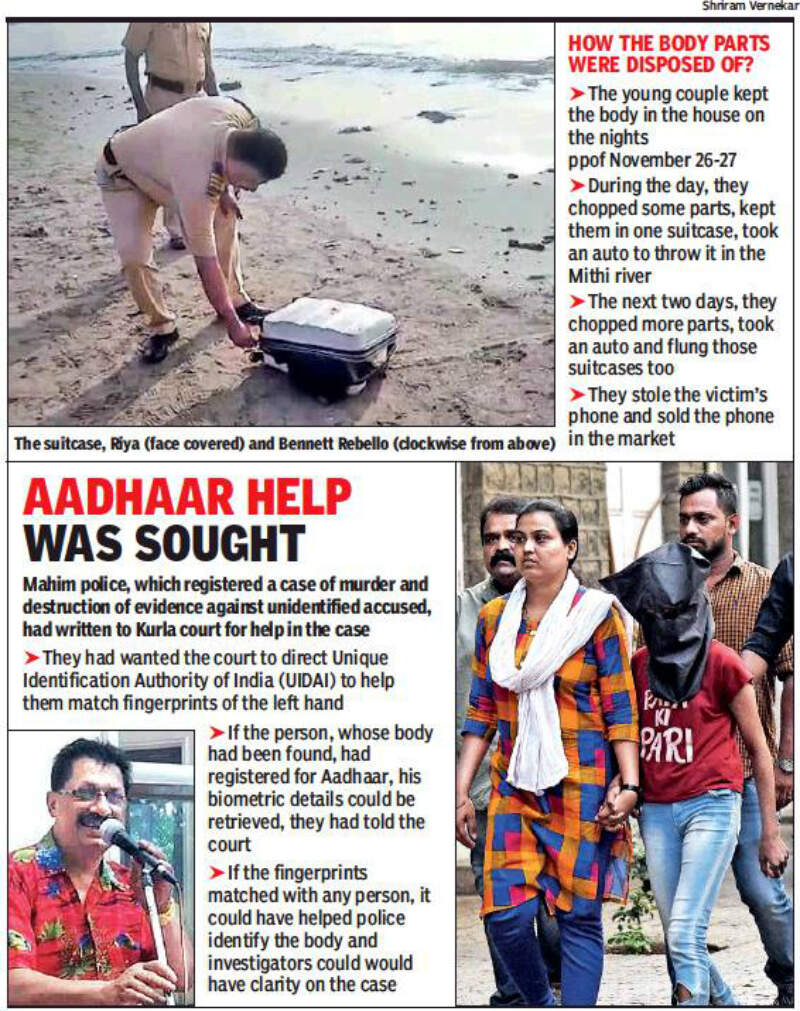 Our Take:
Word of the girl, who is a murder accused has been taken as gospel truth by police
The dead man will never be able to prove whether he was guilty or innocent
The boyfriend is also a minor, however, thanks to our gender biased laws, he too will be charged of rape  under POCSO, because he happened to have consensual sex with a girl, who has now turned out to be a minor
If Riya had informed police of her age being 19-years, possibly she had confirmed the same age to her boyfriend as well
And of course, there are no implications on the girl for having physical relations with a minor boy who is younger to her
Since the case will now be looked at, through the prism of a minor, we sincerely doubt if there will be any stringent action on the murderer girl
Birth certificates, whether real or fake, have become tools to take advantage of declaring the accused as a minor
In several rape accused judgements, the arguments have relied upon "If a man is old enough to rape, he is old enough to be tried as an adult"
Why not apply the same rules for a murderer as well, especially when the girl had clearly confessed of murdering the man for his property
READ DETAILED CASE HISTORY HERE
http://voiceformenindia.com/in-the-news/adopted-daughter-riyachops-fathers-body-into-pieces/
Follow www.mensdayout.com on Facebook, Twitter and Instagram
Join our Facebook Group or follow us on social media by clicking on the icons below
Donate to Voice For Men India
Blogging about Equal Rights for Men or writing about Gender Biased Laws is often looked upon as controversial, as many 'perceive' it Anti-Women. Due to this grey area - where we demand Equality in the true sense for all genders - most brands distance themselves from advertising on a portal like ours.
We, therefore, look forward to your support as donors who understand our work and are willing to partner in this endeavour to spread this cause. Do support our work to counter one sided gender biased narratives in the media.
To make an instant donation, click on the "Donate Now" button above. For information regarding donation via Bank Transfer, click here.