The Navratras are coming to an end soon, so are our gastronomy woes! The month of October not just marks that drop in temperatures, but also the beginning of the festive period lightens up all spirits within us. Well Almost! Let's check out some of the popular bars across India which are a must visit if you happen to be in the city.
Aer, Four Seasons, Mumbai
The terrace bar at Mumbai's Four Seasons has the most spectacular location imaginable, overlooking the entire city. Combine that with the skills of award-winning bartender Varun Sudhakar and his team, and it's hard to beat. A favourite of Mumbai's party crowd, Aer has quickly spawned many imitators. Hopefully, they too will take advantage of Mumbai's skyline. Although, we are guessing Aer will still rule the roost.
Tamasha, Connaught Place, Delhi
When you are in the capital, it is a very very tough choice to take your pick. However, make it a point to head to one of the most happening bars in the city – Tamasha. It is spread over 16,000 square feet and its three floors are sectioned off into 5 separate areas that serve as a bar, hookah lounge, courtyard seating and so on. The funky interiors are very pleasing and the truck that has been fashioned into a bar is interestingly innovative to say the least.
Hinjewadi has its own version of everything and almost a town in itself. But the self sufficient IT hub has it's obvious reasons for so, given how far it is from the main city. So it isn't a surprise that they also have their own version of awesome in the form of Thikana. Thikana is a spectacular bar and restaurant and if you wait around with your drinks for long enough in the night, you can actually see the place turn into its desi avatar. The ambience is worth experiencing!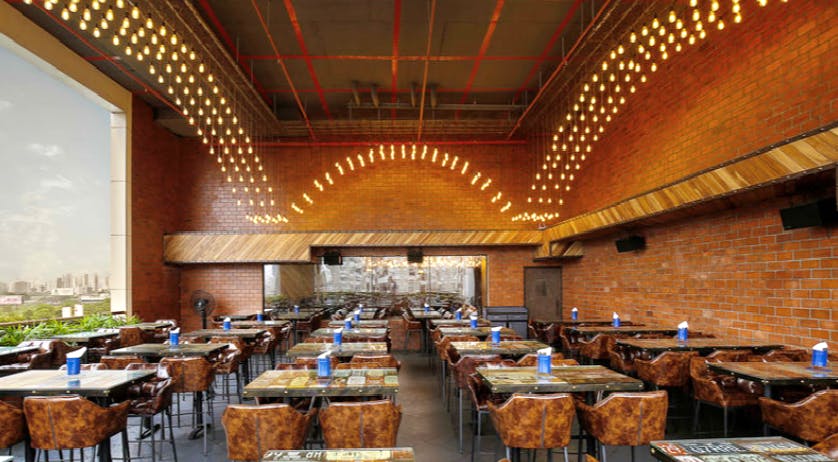 This is not the first time you would be hearing the name. This cliff-top resto-bar in Vagator has achieved a cult status. Every new restaurateur in Goa wants to emulate Mariketty Grana, the gregarious Greek entrepreneur who has managed to stay on top of her game year after year. Perhaps it is the fact that we as Indians find Greek cuisine and ambience exotic, or that it is simply a fun place to break plates (yes, it's encouraged, in fact), watch sensational performers and indulge in delicious gyros. The design and ambience of Thalassa will transport you back to the Mediterranean air instantly!
Monkey Bar, Indiranagar, Bangalore
As you may have already guessed from its name, Monkey Bar is all things fun and quirky. Frequented by locals and travellers alike, it is one of the most famed pubs in Bangalore. The first thing telling you that you made the right choice by picking this place will be the interiors of this bar, exuding a very laid-back, traditional-diner vibe. And, the second thing will be the food so order everything you want to try as you will not be disappointed. It's a great place for a Friday night catching up or a Sunday morning breakfast with your pals as the pub opens early morning to serve some delectable food to early risers.
Over The Moon, Jubilee Hills, Hyderabad
With an amazing view of the city, lounge seating, delicious food and great cocktails, Over the Moon (OTM) is also blessed with an extremely friendly and courteous staff. Be sure to visit on a Saturday night to experience the nightlife of Hyderabad. OTM comes from the team that opened one of Hyderabad's first nightclubs, Bottles & Chimney, and they know what they're doing. It is a beautiful rooftop setup with a luxurious modern ambience where you can enjoy lip-smacking seasonal cocktails, finest imported spirits, selected wine brands, and your pick from an envious selection of beers.
Bar Palladio, Narain Niwas Palace, Jaipur
It's one thing to live like the Maharajas, but to celebrate like the royals is a whole new experience. The Narain Niwas Palace is home to one of the most opulent bars in the country – the Bar Palladio. The rich blue and white décor reminds you of a royal time in India, but with a slightly European influence. It doesn't exactly qualify as affordable but the vast list of cocktails, wines and spirits will leave you feeling spoilt for choice while you sit back and take in the grandeur of it all. The R & R of Rajasthan and Royal are synonymous to each other and one must soak into the experience to live a King's life!
Kingdom of Beer, Sector 26, Chandigarh
An urban city in today's time is incomplete without a happening and lively nightlife considering the fact that most of our gatherings these days are centred around drinks. Chandigarh, a city with an ever-growing nightlife is coming up with some really great places for you to enjoy your late night parties. The city has one of the most happening young crowds and fun loving late night plans.
The classic microbrewery of the town, Kingdom Of Beer emanates warmth and spirit to your smart and smooth Beer. This home stands out in every facet of a perfect Beer experience. The cowboy decor and massive bar display, is something you can't miss. Here's to some "Good Tasting" times.
10 Downing Street, T. Nagar, Chennai
10 Downing Street is known as being one of Chennai's most popular watering holes, featuring great deals on liquor and an extremely popular business lunch. However, over the years, the pub has also earned a name for itself as a venue for live music performances. 10 Downing Street routinely features brilliant bands from the city such as Allegro Fudge and Blues Conscience. The pub is also known for its popular karaoke events which feature some of the best KJs in the town such as KJ Noel and KJ Nadisha.
Roxy, Park Street, Kolkata
The cocktails are so very delicious in this bar!! The mixologists here come up with wild combinations to produce luscious drinks. The stunning décor with ambient lighting, retro interiors with gorgeous colours, only make the evenings all the more exciting. Party animals keep visiting this bar with a purpose to enjoy the sizzling night. Despite Unfortunately, a nightlife curfew being introduced in 2010, it's still possible to have a fun time in this culture capital of India.
ALSO READ –
http://voiceformenindia.com/health-lifestyle/vipin-sahu-paragliding-manali/
Follow www.mensdayout.com on Facebook, Twitter and Instagram
Join our Facebook Group or follow us on social media by clicking on the icons below
Donate to Voice For Men India
Blogging about Equal Rights for Men or writing about Gender Biased Laws is often looked upon as controversial, as many 'perceive' it Anti-Women. Due to this grey area - where we demand Equality in the true sense for all genders - most brands distance themselves from advertising on a portal like ours.
We, therefore, look forward to your support as donors who understand our work and are willing to partner in this endeavour to spread this cause. Do support our work to counter one sided gender biased narratives in the media.
To make an instant donation, click on the "Donate Now" button above. For information regarding donation via Bank Transfer, click here.
Alternately, you can also donate to us via our UPI ID: voiceformenindia@hdfcbank