Bollywood actor Arjun Rampal and Former Ms India Mehr Jessia have been formally granted divorce by a family court in Bandra, Mumbai. The couple had announced their separation in May this year after being married for 21 years.
Principal judge Shailaja Sawant granted the couple divorce under the Special Marriage Act, and their two daughters Mahikaa and Myra will reside with their mother at their duplex in Bandra, Mumbai.
Blog As on August 08, 2019
The reason for divorce…….is of course a failed marriage. But what happens when the process of a contested divorce is almost never ending? Everything else dies in the relationship except that legal bond which still keeps you tied up forever. Is this really fair? Well, each divorce case is highly subjective, because every family is different.
In a country like ours, where the judicial system has almost failed citizens on the vintage of any given case, there are hardly any choices left for any husband or wife, if either spouse contests or opposes to dissolve the dead marriage. Particularly, men are bigger sufferers in the bargain, since it may take years for estranged wives to agree to the final settlement amount they are entitled to get as alimony. In such situations, are men and women willing to keep living as singles or compromised with a lonely life, till the time the other partner gives you that 'legal' freedom?
A similar situation has been reported in the life of Bollywood star Arjun Rampal. Arjun had been married to supermodel Mehr Jesia in 1998 and the couple has 2 teenage daughters. After a smooth public journey of their private lives for nearly 12 years, apparently, the cracks in their marriage appeared in 2011, when Arjun and Mehr fell out of favour with Shah Rukh Khan. Arjun also managed to rub Karan Johar the wrong way and soon the duo were dropped like hot potatoes from the inner circle of Bollywood's most elite.
Fingers were pointed out at Arjun when Hrithik Roshan and Sussanne Khan announced their split in December 2013. However, both Rampals and Roshans had denied any involvement of Arjun in the said divorce then. Things had soured to a great extent between Arjun and Mehr and the latter had also moved out of their home in 2015. Nonetheless, the couple had once again reunited for giving their best shot to their two-decade long relationship.
Alas, all efforts failed and eventually, Arjun and Mehr after having enough of public spats, decided to part ways. In July 2018, they announced in a joint statement,
After a 20-year-long beautiful journey filled with love and beautiful memories, we would like to share, that all journeys have different paths. We feel that it is time for us to move on to different destinations henceforth.
However, in April 2019, Arjun surprised his fans when he announced the pregnancy with girlfriend Gabriella Demetriades via his instagram account.
As per media reports then, the unmarried partners kept their pregnancy under wraps from their near and dear ones, including Arjun's wife Mehr and his two daughters Mahikaa, who is 17-year old, and Myra, who is 13. According to the report, Mehr was taking the pregnancy news quite sportingly, despite the couple not having filed for divorce yet. Mehr's friends told the media that she has accepted the fact that Arjun has moved on and the delay to file a formal divorce was purely because they are still working out the financial terms of the separation. Arjun and Gabriella were blessed with a baby boy on July 18, whom they have named Arik Rampal.
Now, while in no way we are justifying infidelity, couples today, well understand the time and pressures of a legal settlement especially when kids are involved. Sometimes, the other spouse who does not wish to resettle in life may take several years or even decades to give his/her nod for the final monetary agreement. In the interim, it is not just the men but many women too who choose to move on with their respective personal lives and regain their lost happiness.
Bollywood Actor Karisma Kapoor, who was going through a bitter divorce battle, had been rumoured to be dating Sandeep Toshniwal, even before her divorce with husband Sunjay Kapur had come through.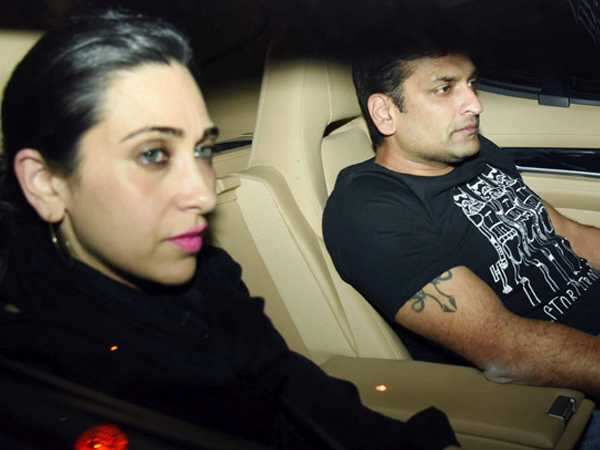 Another couple which never separated legally, but lived apart for nearly 30-years without a divorce, was Dimple Kapadia and Rajesh Khanna. Both estranged spouses were reportedly living their personal lives individually with their respective partners.
Relationships cannot be certainly forced, separations are always painful. But life can be even more hurtful if you wish to seek happiness in other person's sorrow. Holding back your spouse and not allowing him/her to move out of a dead marriage can only give you sadistic pleasure for sometime, however, in the end you too do not gain much out of the bargain. It is often seen that mothers keep custody of children and therefore are the one's who don't sense the need to marry again. On the other hand, a separated husband is more prone to look out for a companion since he too wishes to return home to someone of his own.
Of course, you need to try hard and give the best shot to make your relationship work, however, after many attempts if you both still fail, it's best to legally and mutually bring the alliance to an end. In recent times, Hrithik Roshan and Sussanne Khan have set one of the best examples of separating with grace, yet maintaining happy times with children as family.
Disclaimer : Above blog should be read in generic terms only and respective divorce cases must be handled under the guidance of professional legal advice.
ALSO READ –
http://voiceformenindia.com/health-lifestyle/child-adoption/
Join our Facebook Group or follow us on social media by clicking on the icons below
Donate to Voice For Men India
Blogging about Equal Rights for Men or writing about Gender Biased Laws is often looked upon as controversial, as many 'perceive' it Anti-Women. Due to this grey area - where we demand Equality in the true sense for all genders - most brands distance themselves from advertising on a portal like ours.
We, therefore, look forward to your support as donors who understand our work and are willing to partner in this endeavour to spread this cause. Do support our work to counter one sided gender biased narratives in the media.
To make an instant donation, click on the "Donate Now" button above. For information regarding donation via Bank Transfer, click here.
Alternately, you can also donate to us via our UPI ID: voiceformenindia@hdfcbank