Shaheed Bhagat Singh Seva Dal, an NGO in Delhi, has lost one of their hard-working volunteers to the pandemic. He had been working with the NGO for the last 25 years, and the most relentlessly for the past seven months after COVID broke out.
By risking his life and working day and night for the people in need, Arif Khan, was the ambulance driver for the NGO run by Jitendra Singh Shanti. Sometime ago, Singh and his family, who had contracted COVID themselves, said that they had lost an important person from their family.
Khan was a resident of Seelampur area of Delhi who had not visited home since he was working for the people. He risked his life and ferried more than 500 patients to the hospital and took nearly 200 bodies to the crematorium for cremation. Khan breathed his last on Saturday morning. He was undergoing treatment at Hindu Rao Hospital.
Vice President M Venkaiah Naidu has condoled the death of Khan. He wrote,
My condolences to the bereaved family members of ambulance driver, Aarif Khan of Delhi. He rendered selfless service by ferrying close to 200 bodies of COVID-19 patients for their last rites. It is saddening to learn that he succumbed to the Coronavirus.
In a subsequent tweet, Vice-President wrote,
His acts of kindness symbolise the core of Indian philosophy of 'share & care'. May his soul rest in eternal peace.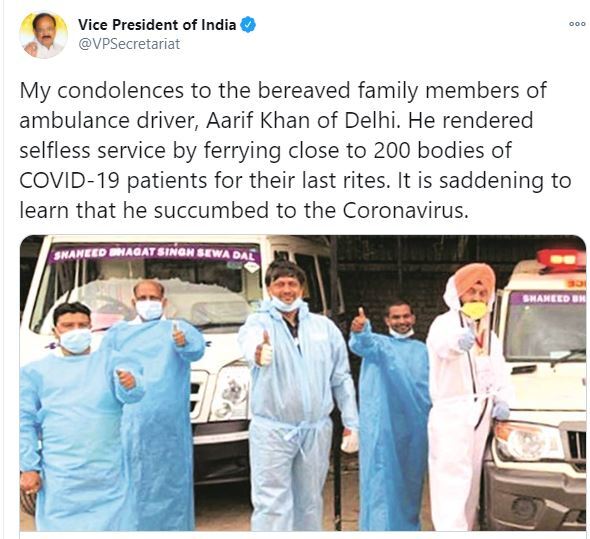 Arif's death has left people shocked in his NGO. Shanti says that Arif had worked 24/7 for the needy. From March 21, he was working for the patients, from receiving them from hospitals to dropping them to isolation centres. Singh told media,
Arif Bhai did a remarkably good job. He used to live here in the hospital so that he can remain available for the job. He worked commendably. On October 1, Arif developed COVID-19 symptoms. He went to the hospital but came back later. On Friday, we again admitted him to Hindu Rao hospital where he died on Saturday at 8 am. We cremated his body. He has left a deep void that can't be fulfilled. He was a true COVID-19 warrior.
Adding further, Singh said,
He worked 24/7 and was very hardworking. His death has broken morale of other drivers.
Khan's 22-year-old son Aadil expressed,
We met when he came over to pick something, like clothes… I used to go to check on him sometimes. We were always worried about him. But he never bothered about COVID, he just wanted to do his job well. The last time he came home, he was already sick.
Aadil asked,
I didn't even get to say goodbye to him… How will we survive without him?
Arif was the sole earner in the family. He used to earn Rs 16,000 a month, out of which, his house rent was Rs 9,000. Both the sons used to do odd jobs once in a while but were running out of work lately.
Talking about Arif's work, Singh mentioned that,
These have been extraordinary times, and even though he was a driver, Khan often helped with the last rites too. He was a Muslim but he helped out even with cremations of Hindus. He was very dedicated to his work.
Singh concluded by saying,
Khan used to respond to calls even as late as 3 am. Helping people was Arif's passion, and his dedication showed when on September 30, a hospital refused to release a person's body because his family couldn't foot the bill… Khan chipped in. He was a man who genuinely cared for others.
COVID has brought such tough times on each and everyone, however, the least we can do is respect and pray for all warriors who have worked for us and succumbed to the pandemic.
As On October 11, 2020
India's coronavirus cases have surged past the 70-lakh mark, taking it ever closer to overtaking the United States as the world's most infected country. With 74,383 new infections, India's COVID tally now stands at 70,53,806. In the 24-hour period, India reported 918 deaths linked to the virus, taking the total number of fatalities to 1,08,334 today.
Delhi has reported a total of 3,06,559 cases till Saturday, out of which 22,007 are active patients while 2,78,812 patients have been discharged.
ALSO READ –
http://voiceformenindia.com/his-story/shaheed-bhagat-singh-sewa-dal-shunty/
We are on Telegram. You can also join us on our Facebook Group
Join our Facebook Group or follow us on social media by clicking on the icons below
Donate to Voice For Men India
Blogging about Equal Rights for Men or writing about Gender Biased Laws is often looked upon as controversial, as many 'perceive' it Anti-Women. Due to this grey area - where we demand Equality in the true sense for all genders - most brands distance themselves from advertising on a portal like ours.
We, therefore, look forward to your support as donors who understand our work and are willing to partner in this endeavour to spread this cause. Do support our work to counter one sided gender biased narratives in the media.
To make an instant donation, click on the "Donate Now" button above. For information regarding donation via Bank Transfer, click here.
Alternately, you can also donate to us via our UPI ID: voiceformenindia@hdfcbank