World is going through some really tough and depressing times, yet some people and stories lighten up the day and makes us believe humanity is supreme. Acts of kindness and warmth in various forms and phases are being witnessed across India and here is one such story from Lucknow railway station.
An 80-year old coolie at named Mujibullah Rehman has been doing his bit to help migrant workers by carrying their luggage for free. His gesture has surely won many hearts across social media.
As the announcement is made at Lucknow's Charbagh railway station about the arrival of 'shramik special' trains carrying migrant workers, Mujibullah goes an extra mile to help the poor migrant workers.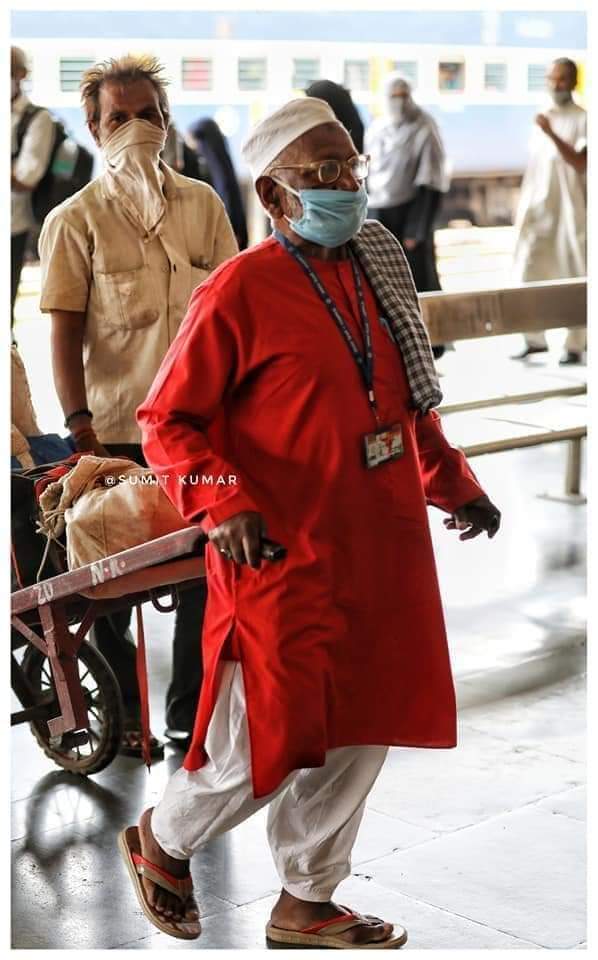 A coolie at the station for the past 50 years, Mujjibullah displays his badge no. 16.  Once the train arrives, he would run to them and offer to carry the luggage to the bus stand outside the platform. Mujjibullah would say if the passenger asked him about the charges, he said:
I have to answer to the Almighty also. What I am doing is nothing if compared to the problems faced by the poor migrant workers…they have no money…we must help them in whatever way we can.
Even at his age, Mujibullah has been working 8-10 hours every day and can carry 50 kgs of weight. Calling it 'khidmat' (service), he says he helps migrant workers with their luggage free of cost. He says this is his duty and this duty is very 'important'.
Besides this, Mujibullah is also helping by providing food and water to the passengers on trains. He believes he can earn money once things get better but for now he's volunteering to help. Mujibullah virtually runs towards the train with a trolley filled with bananas, water bottles and some other eatables.
Social media users flooded his large hearted gesture with below comments:
"Coolie No.-1" salute you for your effort
ऐसी तस्वीरें दिखनी चाहिए..क़सम से दिल में आदर बढ़ जाता है…कितनी ही बहस करें लड़ें पर ..इस तरह का जज़्बा देख लगता है ये है मेरा हिन्दुस्तान!! दिलों में प्यार ज़बान पर मिठास बनी रहै तो भारत की ताक़त बढ जाऐगी..जय हिंद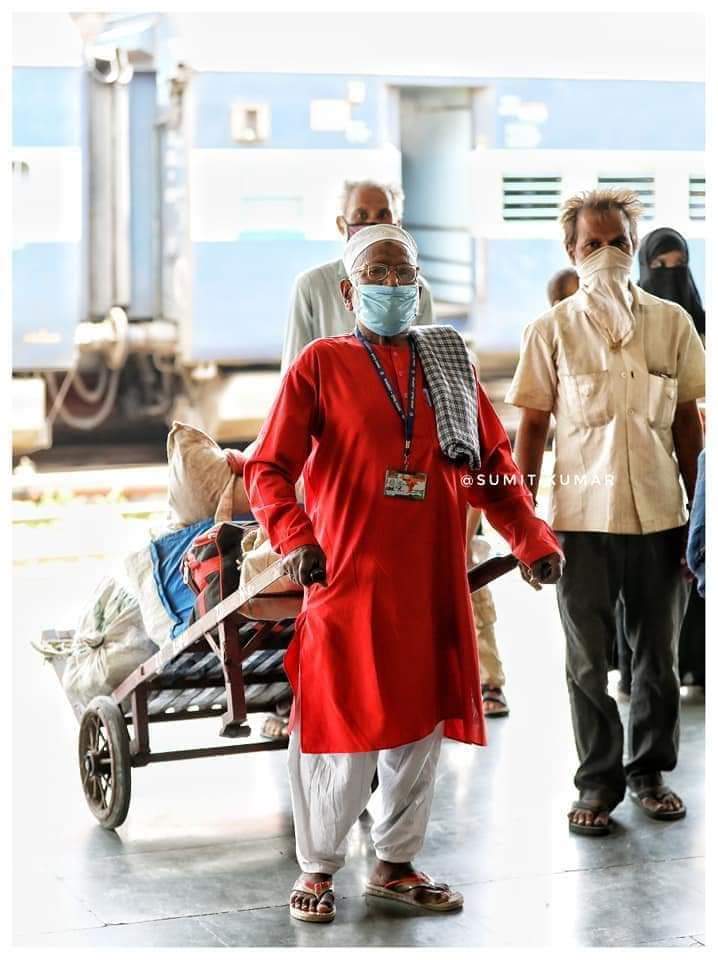 @AbulBas95938869 mentioned,
Age no bar! This human act ( khidmate khalq) of Shri Mujibullah ji at Lucknow Railway Station, UP has  further refined humanity., to say the least.
@Krishna95755413 exclaimed,
इसे कहते हैं इंसानियत
Great person. I salute him and I feel ashamed
Who allow a 70-80 year old man to carry his or her luggage? And that too for free?
Another video which went viral is that of a 11-year old boy who ferried his handicapped parents from Varanasi in Uttar Pradesh to Araria in Bihar.
WATCH VIDEO –
11-yr old Tabaarak got his parents home amidst lockdown by pedalling tricycle cart for 600 kms from UP to Bihar

Tabaarak's mother is blind & father has a fractured leg

Please make him famous since no national or international PR teams will offer 'Him' any opportunity#HisStory pic.twitter.com/JJ6mF0jgM7

— Men's Day Out (@MensDayOutIndia) June 1, 2020
ALSO READ –
http://voiceformenindia.com/in-the-social/journalist-rohini-singh-trolled-for-criticising-rail-ministrys-tweet/
We are now on Telegram. Follow Us For More Updates
Join our Facebook Group or follow us on social media by clicking on the icons below
Donate to Voice For Men India
Blogging about Equal Rights for Men or writing about Gender Biased Laws is often looked upon as controversial, as many 'perceive' it Anti-Women. Due to this grey area - where we demand Equality in the true sense for all genders - most brands distance themselves from advertising on a portal like ours.
We, therefore, look forward to your support as donors who understand our work and are willing to partner in this endeavour to spread this cause. Do support our work to counter one sided gender biased narratives in the media.
To make an instant donation, click on the "Donate Now" button above. For information regarding donation via Bank Transfer, click here.
Alternately, you can also donate to us via our UPI ID: voiceformenindia@hdfcbank