A 26-year-old woman identified from Andhra Pradesh has lodged a complaint of Dowry Harassment against her Husband, his family members including 'four minor children'. Kudos to women empowerment!
Case:
Ponnekanti Bindu (wife) was married to Adarana Kumar (husband) on November 29, 2018
Within less than a year of marriage, Bindu has filed a case of dowry harassment against her husband and his family members including four sister-in-laws and their husbands
Now comes the shocker; the woman has not even spared minor children in the family and has filed charges on four minor children as well
The children are aged : two 11-year-old boys, one 9-year-old girl and one 6-year-old girl
In her complaint Bindu alleged that at the time of marriage, her parents had given dowry of 6gms gold and Rs 44,663 for furniture
She alleged that her four sister-in-laws started harassing her right from the 25th day of marriage
She has also charged husbands of first three sister-in-laws, of abusing her verbally
According to her complaint, she has filed charges on the children too (who are not even teenagers) of harassing her
She has complained that her mobile phone was kept away and she was not allowed to talk to her parents
She also said that her husband used to beat her, which led to threat to her life
The cops at the Mahila police station sprung into action without any investigation and merely on the word of Bindu, registered a case and filed an FIR with number 249/2019 on September 26
Adarana then moved Andhra Pradesh High Court challenging the FIR and stated that his wife did not furnish any prima facie or material evidence for the family to be booked
The husband has also challenged the police of not following a proper process in filing the case, especially against the minor children under dowry harassment section
The family has demanded a departmental and criminal action against the cops in this matter
The High Court is yet to hear the matter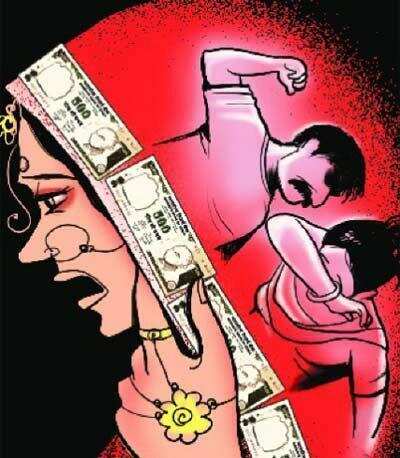 Our Take:
This is exactly how flawed the Dowry Harassment Law is in India
The wives are armed with a criminal law tool which can get the husband and his family behind bars overnight, even if they want to settle score over a minor scuffle
The word of the woman is final, at least at the primary FIR Registration stage
Often women file the case on Friday evening, so that husband and his family are behind bars over the weekend, until the courts re-open on Monday
Several families have been destroyed overnight, where many fathers of the husband have got heart attacks during the time of arrest
Our women-centric and biased system hangs our head in shame, where the law favours a mature married woman over minor children who barely even understand the meaning of "domestic harassment"
We truly hope the Women AND CHILD (WCD) Ministry will take action against these cops and the names of all children will be cleared from criminal records of police register immediately
MUST READ –
http://voiceformenindia.com/in-the-law/arnesh-kumar-vs-state-of-bihar-anr/
ANOTHER LIFE GONE IN FALSE 498A CASE:
http://voiceformenindia.com/in-the-news/false-dowry-harassment-charges-2/
Follow www.mensdayout.com on Facebook, Twitter and Instagram
Join our Facebook Group or follow us on social media by clicking on the icons below
Donate to Voice For Men India
Blogging about Equal Rights for Men or writing about Gender Biased Laws is often looked upon as controversial, as many 'perceive' it Anti-Women. Due to this grey area - where we demand Equality in the true sense for all genders - most brands distance themselves from advertising on a portal like ours.
We, therefore, look forward to your support as donors who understand our work and are willing to partner in this endeavour to spread this cause. Do support our work to counter one sided gender biased narratives in the media.
To make an instant donation, click on the "Donate Now" button above. For information regarding donation via Bank Transfer, click here.