A Louisiana middle school teacher is accused of having sex multiple times with a 15-year-old student at her home, while her own child was also in the residence.
Ellarea Silva, a 34-year-old science teacher at Northwestern Middle School in Zachary, surrendered to cops last week after allegations surfaced that she had sex with the teen eight or nine times last summer at her home. According to the report, shockingly the teacher's own child was also present during each encounter.
As stated in the arrest summary, the illegal fling began when Silva emailed the teen using both their school email addresses. The communication quickly switched to their personal emails 'so the school could not track' it, the report said.
#BREAKING: The Zachary Police Department has arrested Ellarea Silva. Silva, 34 is the Northwestern Middle School teacher accused of having sexual intercourse with a student. pic.twitter.com/djCRl3suRr

— Jonah M. Gilmore, M.A. (@JonahMGilmore) February 6, 2020
Silva then allegedly sent the boy nude photos and videos of herself, intentionally keeping her face hidden so she couldn't be identified. The relationship turned physical when the teacher then told the teen she wanted to have sex with him, authorities said.
ALSO READ –
The boy alleges Silva would pick him up from his home and drive him to her house where they would have sex. Silva is also accused of giving the boy a pink e-cigarette vaping device that may have contained THC.
At one point, the teen told Silva he wanted to go public with their relationship, but the educator begged him to reconsider. It is then the woman asked the victim not to disclose their relationship, as this would affect her career and her family.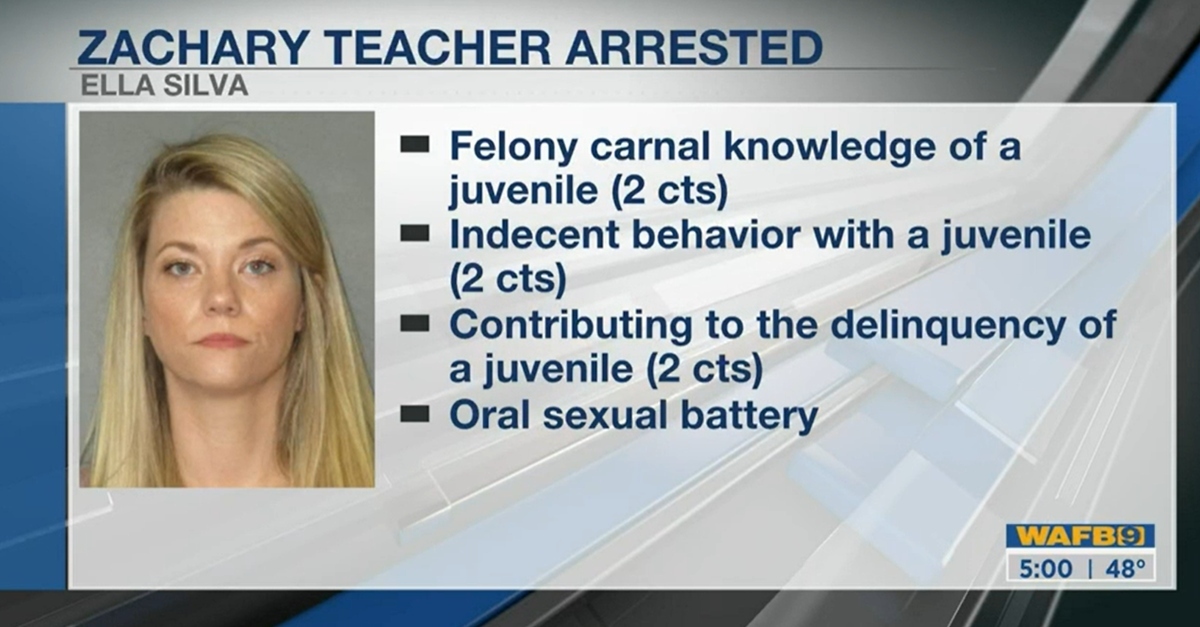 Silva was busted after a joint investigation by Zachary police and the East Baton Rouge Parish Sheriff's Office, school officials said in a statement. Zachary Schools Superintendent Scott Devillier quoted:
Immediately, when it was brought to our attention, we reported it to law enforcement and placed the employee on administrative leave. No one is covering up anything, nor sweeping anything under the rug. We are following the law; and I am unable to comment beyond this information.
Police learned of the allegations on January 24 this year and the same day Silva was placed on leave.
ALSO READ –
She's facing charges including indecent behavior with a juvenile, felony carnal knowledge of a juvenile and oral sexual battery. She remained held without bail Friday at the East Baton Rouge Parish Prison, records show. Silva's bond has been set at $225,000 (Rs 1.60 crore).
Follow www.mensdayout.com on Facebook, Twitter and Instagram
Join our Facebook Group or follow us on social media by clicking on the icons below
Donate to Voice For Men India
Blogging about Equal Rights for Men or writing about Gender Biased Laws is often looked upon as controversial, as many 'perceive' it Anti-Women. Due to this grey area - where we demand Equality in the true sense for all genders - most brands distance themselves from advertising on a portal like ours.
We, therefore, look forward to your support as donors who understand our work and are willing to partner in this endeavour to spread this cause. Do support our work to counter one sided gender biased narratives in the media.
To make an instant donation, click on the "Donate Now" button above. For information regarding donation via Bank Transfer, click here.
Alternately, you can also donate to us via our UPI ID: [email protected]