The recent Zomato controversy in Bengaluru that started with an Instagram video put out by a social media beauty influencer Hitesha Chandranee, has clearly taken a more balanced turn in the past 24-hours.
While Kamaraj, the #ZomatoDeliveryBoy, was instantly suspended (during pendency of investigation), he was also booked by Bengaluru police in the matter. However, since the man's side of story got published yesterday across media, several netizens questioned the management of Zomato for completely believing woman's words and leaving their own employee to defend the legal case himself.
Many men….and women tagged Deepinder Goyal – Founder (Zomato) urging him to be fair and look at both sides of the story. Subsequently this morning, Goyal posted an official statement from the brand which stated as below:
I want to chime in about the incident that happened in Bengaluru a few days ago. @zomato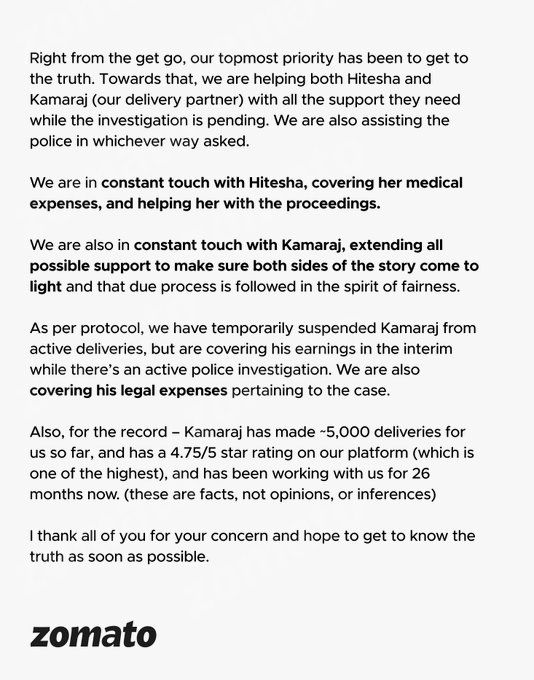 The above statement did bring in the much needed rationalism – thereby permitting Kamaraj to present his case fairly. Under no circumstances, MDO is giving a clean chit to either Hitesha or Kamaraj, however, we are merely urging all to analyse both sides of the story, before bashing the delivery boy (because he happens to be a man).
In the interim, independent journalist Deepika Bhardwaj wrote a detailed email to Goyal and Team Zomato, questioning them on the below points:
RESPONSE FROM ZOMATO ON EMAIL:
Deepika: What were the investigation done before you decided to suspend this man?
Zomato: As per protocol, any delivery partner part of an ongoing police investigation is temporarily deactivated from the platform. Appropriate action will be taken based on the conclusion of the case.
Deepika: He claims it's Hitesha who refused to either return food or pay for it and was the one who started abusing him hitting first & got her nose cut by her ring. Have you tried to speak to any eye witness or guard or checked the footage there to try and ascertain what happened.
Zomato: We are cooperating with the police in their investigation and believe in the Indian judiciary system for the truth to prevail.
Deepika: Have there ever been complaint of unruly behavior by Kamaraj in the past? Has any other client ever reported violence by him?
Zomato: No, Kamaraj has been working with us for more than two years and has delivered more than 5000 orders to date with a delivery partner rating of 4.8.
Deepika: The girl says she was with customer care, could you kindly check what was being discussed in that and if the customer care was on phone and if they heard anything? Just see if there's any call on which this commotion could have been heard?
Zomato: The same has been presented to the authorities for their further investigation. As this is an active investigation, we are not at liberty to extend much details here.
Deepika: Medical test of the girl would probably ascertain if the cut was due to a sharp object which in Kamaraj claim was her ring or punch as she says. You have already penalised the man without listening to his side of the story. What if the investigation finds him innocent?
Zomato: We haven't penalised the delivery partner and are covering his earnings till the investigation continues. We also have an on-ground team assisting him, just like we have one for Hitesha to ensure due process is followed. If he is found to be innocent, his account will be restored with immediate effect.
If the allegations are proven to be false, will @zomato @zomatocare @zomatoin take the woman to court?

Its not just about your brand image, but also respect and career of Men who toil for you day and night@deepigoyal #Zomato #ZomatoDeliveryBoy https://t.co/wSkxyYOArE

— Men's Day Out (@MensDayOutIndia) March 11, 2021
MDO Take:
If Delivery Man is found to be innocent, should merely restoring his account solve the problem?
Zomato was prompt to suspend the man basis allegations of the woman; Did they also temporarily suspend her account as a customer with Zomato?
Will Zomato not take any legal action against the woman if found to have levelled frivolous charges?
What is the message that a brand like Zomato will give to its own male employees, who toil day and night for them?
Can dignity of a man be allowed to get tarnished, without justice beyond acquittal?
WATCH INTERVIEWS FROM BOTH SIDES (Covered by NDTV):
READ DETAILED VERSION OF DELIVERY BOY – THE OTHER SIDE
http://voiceformenindia.com/in-the-social/zomato-delivery-boy-controversy-hitesha-chandranee-kamaraj-shares-his-side/
We are now on Telegram. You can also join us on our Facebook Group
Join our Facebook Group or follow us on social media by clicking on the icons below
Donate to Voice For Men India
Blogging about Equal Rights for Men or writing about Gender Biased Laws is often looked upon as controversial, as many 'perceive' it Anti-Women. Due to this grey area - where we demand Equality in the true sense for all genders - most brands distance themselves from advertising on a portal like ours.
We, therefore, look forward to your support as donors who understand our work and are willing to partner in this endeavour to spread this cause. Do support our work to counter one sided gender biased narratives in the media.
To make an instant donation, click on the "Donate Now" button above. For information regarding donation via Bank Transfer, click here.