NCRB reports Crimes Against Women, but there is no specific category to report Crimes Against Men – by Women. Result – Feminists keep demanding more and more laws favouring the perceived 'weaker gender', while men are cornered to the other extreme with no means of justice.
In a horrific case reported from Lucknow in Uttar Pradesh a woman murdered her senior citizen husband in order to claim his pension money. The man had retired as a teacher in 2008.
Dubai Returned Man Murdered By Wife's Paramour & Contract Killer, Not Robbers | Watch Punjab Police Statement
Case:
Rampadarath Verma, 78, had worked his entire life as a teacher. Last week, he was brutally killed by his wife Shanti Devi who slit his throat. The matter has been reported from Katria village under the Ibrahimpur police station area of Ambedkar Nagar in Uttar Pradesh.
After slitting her husband's throat, the wife tried to end her life by consuming poison.
Bombay High Court Refuses Salary Payout To 65-Year-Old Teacher After He Got Acquitted Post Spending 10-Years In Jail On Charges Of Wife's Murder
Murder & Motive
Rampadarath Verma retired from primary school at Fatehpur in 2008. On Friday morning, he along with his wife Shanti Devi had reached the bank to withdraw his pension.
During this time, the wife insisted on taking pension money. However, Rampadarath Verma refused to give her the full pension sum and said that he would give her only the amount that she required. The wife got angry at this.
According to the report, there was a dispute between the two for a long time.
READ ORDER | Remarried Widow Has Right To Deceased Husband's Property If She Wasn't Remarried When Husband Died
It is alleged that at around 11 pm on Friday night, Shanti Devi, who was sleeping after having food, got up and killed her husband by slitting his throat with an axe. After this, she herself tried to die by suicide by consuming poison. The police reached the spot and sent the body to Akbarpur for post-mortem.
The accused wife, who tried to die by suicide after consuming poison was sent to the hospital for treatment.
Wife Eligible For Family Pension Even If She Is Convicted For Murder | Punjab & Haryana High Court
Police Action
Ibrahimpur Station House Officer Pradeep Singh said that no complaint has been given by the family members in this case so far. He said the police are taking action.
#UttarPradesh | Woman Arrested For Killing 78-Year-Old Husband With Axe Since He Refused To Part With Full Pension Amount

▪️Why does @NCRBHQ not report CRIMES AGAINST MEN?@narendramodi @AmitShah @AmitShahOffice #CrimeHasNoGender #HusbandMurder https://t.co/HWQu7WCopW

— Voice For Men India (@voiceformenind) September 7, 2022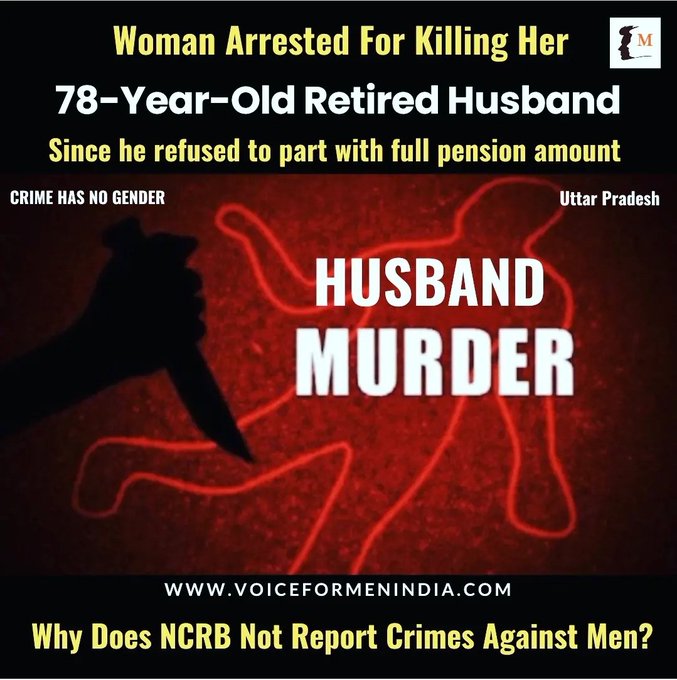 WATCH VIDEO:
#WatchVideo

 | Barabanki Family Killed Mentally Disabled Daughter For Rape Compensation
Join our Facebook Group or follow us on social media by clicking on the icons below
Donate to Voice For Men India
Blogging about Equal Rights for Men or writing about Gender Biased Laws is often looked upon as controversial, as many 'perceive' it Anti-Women. Due to this grey area - where we demand Equality in the true sense for all genders - most brands distance themselves from advertising on a portal like ours.
We, therefore, look forward to your support as donors who understand our work and are willing to partner in this endeavour to spread this cause. Do support our work to counter one sided gender biased narratives in the media.
To make an instant donation, click on the "Donate Now" button above. For information regarding donation via Bank Transfer, click here.