Swimsuits are not just a pair of shorts that you can buy and swim. Each body type commands a different look and a variable fit that keeps you comfortable, sporty and trendy.
You don't need an absolutely perfect tailored fit, so long as the suit stays up when you dive in. Most suits have a cord at the waist to help with that. That said, don't just grab whatever is cheapest, thinking you may not be wearing it daily. It is suggested that one should have one to two swimming garments in the wardrobe at a time to suit your occasion, mood and nature of the swim.
Be Honest About Your Body
We are in the 21st century and if you want to let it all hang out, you're free to, at least as far as the local laws permit.
That said, you should be realistic about your body type as a little self-consciousness is not a bad thing. Before you go to purchase this piece of suit,  figure out what style comforts you the most. Contemporary swimsuits can serve both decorative and practical functions; most strive for both. Swimsuits are usually categorized by the length and looseness of their cut.
Types of Swim Suits for Boys/Men
These are most common men's swimwear in the globally. It gives you a look similar to shorts worn as clothing on land. However, the same are made from light, fast-drying materials usually such as nylon or polyester.  It may also feature a tighter-fitting lining inside the shorts. You will be spoilt for choice when it comes to bright, dull or English colors.
Often known as "speedos," a trademarked brand that has been popular for many years. They hug your body tight with a V-shaped front that bares the thighs. Recreational swim briefs typically feature an interior lining. Briefs are popularly worn by professional swimmer, divers or athletes.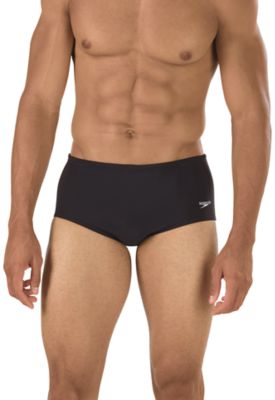 A longer version of trunks that come to or past the knee are known as broadshorts or even broadies. They often have a non-elastic waist and fit closer to the torso. Originally developed for "board sports" such as surfing, paddleboarding, etc. they were designed to have less material that could catch as you mounted your board.
This form of swimwear is light and form-fitting designed to reduce drag by streamlining the body and skin. They come in a number of cuts, baring or covering varying amounts of arm and leg. Modern marketing usually refers to them as "skins," i.e., bodyskin, legskin, kneeskin, etc.
Usually these are small briefs designed to expose the buttocks. Many cultures traditionally use thong-style swimwear for men, such as the Japanese fundoshi, but in contemporary culture thongs are predominantly marketed towards women.
Now since you are aware of different style of swimwear, go ahead and choose the best fit for your body type. Nonetheless, remember the most important thing when choosing the best men's swim suits is that you feel easy in them. You can go horribly wrong if you choose style over comfort.
Make chlorine your perfume and show off your bod this summer!
ALSO READ –
http://voiceformenindia.com/health-lifestyle/breakfast-recipes-for-men/
Join our Facebook Group or follow us on social media by clicking on the icons below
Donate to Voice For Men India
Blogging about Equal Rights for Men or writing about Gender Biased Laws is often looked upon as controversial, as many 'perceive' it Anti-Women. Due to this grey area - where we demand Equality in the true sense for all genders - most brands distance themselves from advertising on a portal like ours.
We, therefore, look forward to your support as donors who understand our work and are willing to partner in this endeavour to spread this cause. Do support our work to counter one sided gender biased narratives in the media.
To make an instant donation, click on the "Donate Now" button above. For information regarding donation via Bank Transfer, click here.