If a picture could narrate a story, the below is one of them. Amidst violence-hit Karauli in Rajasthan, state police constable demonstrated his valour and presence of mind as he ran with a child through the burning houses around him.
Rajasthan Police Constable Netresh Sharma, 31, has garnered immense praise on social after his picture running with a baby through flames went viral.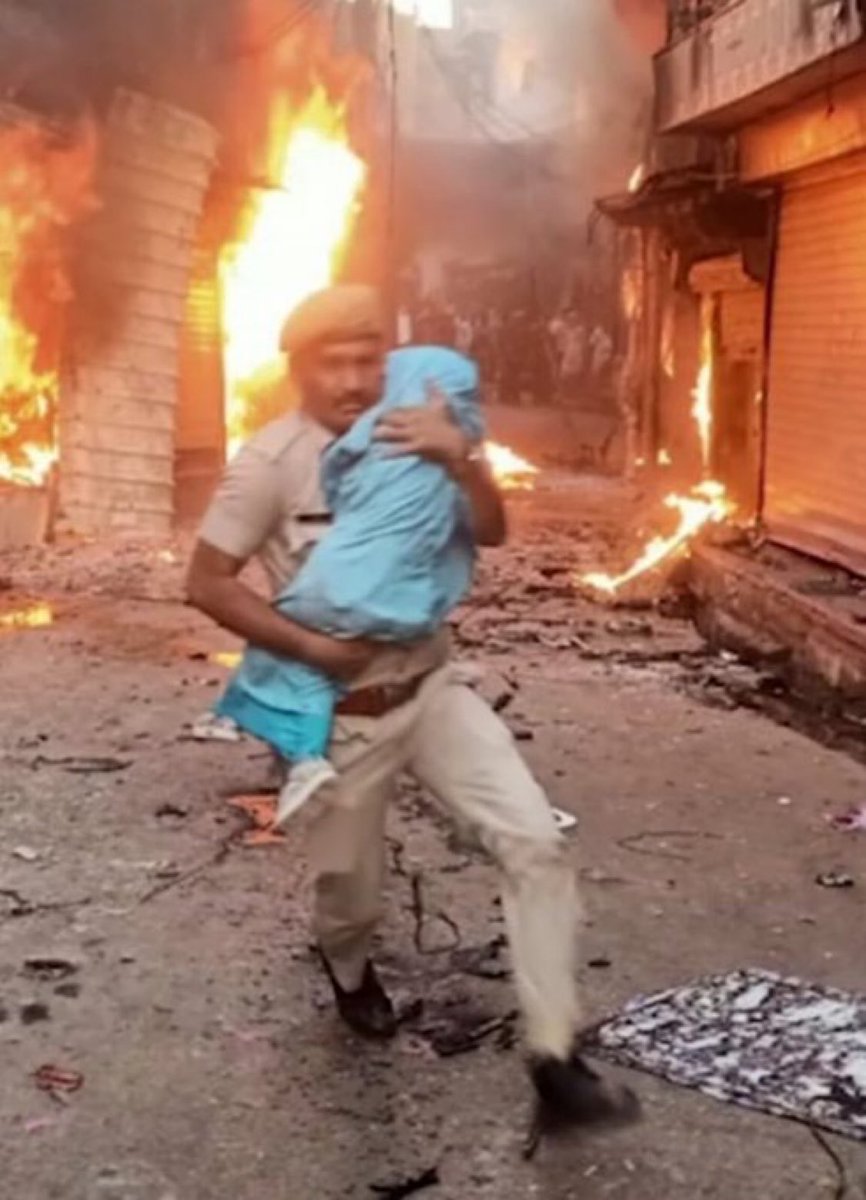 Here's What Sharma Narrated
One of the houses in the area was set on fire during the riots in Karauli on Saturday. Trapped inside, the four-year-old child, his mother and two other women were crying for help. The mother had the baby in her lap. She had wrapped him in a cloth to save him from the flames.
This is when Netresh came across the family, whose house had been set ablaze by a mob. He rushed inside, took the child and rushed out. In  the process, also helped three women who were trapped and helped them flee with safety.
After this heroic image went viral, the Rajasthan government and police are also hailing the bold act of the constable. CM Ashok Gehlot spoke to him appreciating his bravery and humanism in risking his life to save others. Speaking with media, Sharma said,
Four lives were about to perish before my eyes. Even if I lost my life, it was my duty to save them at any cost. There was no time to think about what would happen to my own life!
Netresh added how he will never forget the terror on the faces of the child and the women. He said,
When I reached the house, the three women and the child were in a bad condition.  I took the child in my lap and told the women that to come after me. I brought to safety about 20 meters away from the burning house and handed the child back to his mother.
This is how twitter was showering their praises on the constable:
Constable Netresh Sharma saved the lives of 4 people including an infant during Karauli violence in Rajasthan.

He is now promoted as Head Constable.

No 'Pulitzer Prize' for this photographer? pic.twitter.com/TPrmwzhFka

— Anshul Saxena (@AskAnshul) April 5, 2022
If courage has to be captured in a frame. #Karauli pic.twitter.com/kQHjMUGgGA

— Shashank Shekhar Jha (@shashank_ssj) April 4, 2022
Thank God for the hero constable.

Makes you wonder though, the mob wasn't satisfied destroying property, they seemed quite ok to let a child burn alive. #Karauli pic.twitter.com/iGX7GHqvGC

— Ajit Datta (@ajitdatta) April 4, 2022
Bravery looks like this. Salute. #Karauli pic.twitter.com/7bxhh9jcis

— Ankita #IstandWithTajinderBagga (@ankitakashyapp_) April 4, 2022
Constable Netresh Sharma risked his life to save the child who was trapped in the inferno caused by rioters in #Karauli #Rajasthan. A powerful picture that has put the 'ecosystem' on the backfoot. #Karauliviolence pic.twitter.com/rjUIFb0JbE

— Pramod Kumar Singh (@SinghPramod2784) April 5, 2022
ALSO READ –
Rajasthan Cop Provides Free Education To Homeless Children So They Can Hold Pencils Not Begging Bowls
Rajesh Pandey Of Mumbai Police Has Cracked Every Single Missing Persons Case Till Date
WATCH VIDEO | Hyderabad Constable Runs In Front Of Ambulance To Make Way In Traffic
ALSO WATCH – 
International Men's Day Address By Men's Day Out Founder | Misuse Of Laws Against Men
Join our Facebook Group or follow us on social media by clicking on the icons below
Donate to Voice For Men India
Blogging about Equal Rights for Men or writing about Gender Biased Laws is often looked upon as controversial, as many 'perceive' it Anti-Women. Due to this grey area - where we demand Equality in the true sense for all genders - most brands distance themselves from advertising on a portal like ours.
We, therefore, look forward to your support as donors who understand our work and are willing to partner in this endeavour to spread this cause. Do support our work to counter one sided gender biased narratives in the media.
To make an instant donation, click on the "Donate Now" button above. For information regarding donation via Bank Transfer, click here.
Alternately, you can also donate to us via our UPI ID: [email protected]