Actor and producer Saif Ali Khan's personal and professional graph is an ideal script for a Bollywood potboiler. Son of yesteryear actress Sharmila Tagore and cricketer Mansoor Ali Khan Pataudi, has never conformed to any industry norms, and has unapologetically been honest about his opinions on both, his career and personal fronts.
Saif was married to already successful and renowned actress Amrita Singh in the early '90s when he was only 21-years of age. The marriage between the two was a secret affair without even the knowledge of Saif's parents. In an old interview of the couple to Simi Garewal, (watch at the end of this article), Saif had narrated how he got attracted to a much older Amrita and the two decided to tie the knot after a very brief courtship period.
But soon after the birth of their two children, Sara and Ibrahim, their marriage hit rock bottom and they decided to part ways after 13-years of marriage in 2004. The actor had maintained a dignified silence on the issue for a long time, however, after being constantly hounded by the media calling him an irresponsible husband and father, he chose to open up in an interview to The Telegraph on July 1, 2005.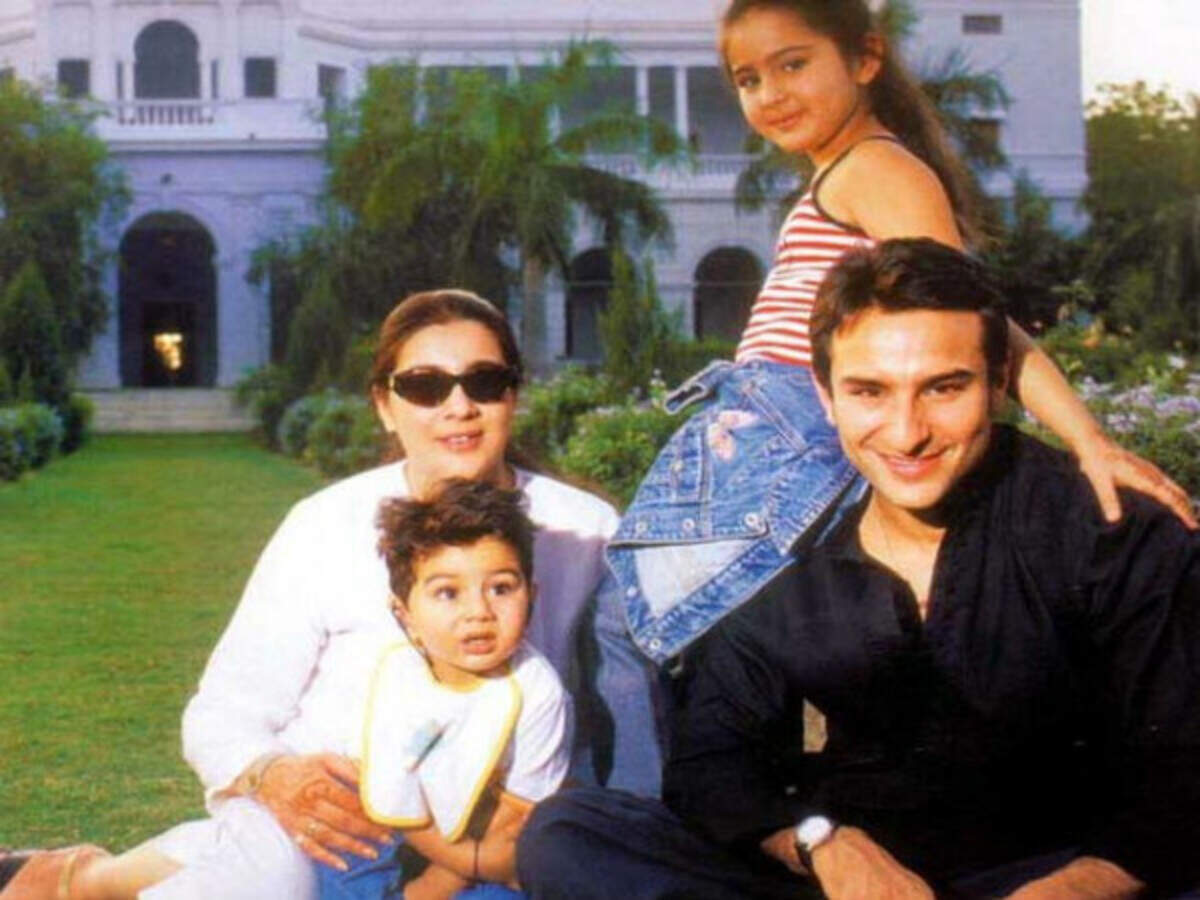 Today, amidst lockdown, globally the feminist brigade has started anti domestic violence campaign only "against women". Their sheer hypocrisy to overlook how #MenToo can suffer domestic abuse, speaks volumes of a biased and possibly motivated approach. In an anguished outburst Saif Ali Khan then cried out,
My wife and I have gone our separate ways. I respect my wife's space. But why am I being constantly reminded of how terrible a husband I was, and how awful a father I am? I've my son Ibrahim's photograph in my wallet. Each time I look at it, I feel like crying?I miss my daughter Sara all the time. I'm not allowed to meet my children. They aren't allowed to come to visit me, let alone stay with me. Why?

Because there's a new woman in my life who'd influence my children against their mother? That's so much hogwash and Amrita knows it. Right now my kids are growing up with Amrita's relatives and maidservants while she's out working in a TV serial. Why does she need to do that, when I'm more than willing to support my family?
Saif also shocked the readers with the revelation that he's settled for the most extravagant post-break-up financial arrangements ever. He then quoted,
I'm supposed to give Amrita Rs 5 crore, of which I've already given her approximately Rs 2.5 crore. Also, I'm paying Rs 1 lakh per month until my son becomes 18. I'm not Shah Rukh Khan. I don't have that kind of money. I've promised her I'll pay up the rest of the money, and I will, even if I've to slog till I drop dead. Whatever I've earned from doing ads, stage shows and films is being given for my children. I've no money.

Our bungalow is for Amrita and the kids, and never mind the relatives who've joined her after my departure. Rosa (his partner after divorce) and I stay in a pokey two-room apartment. Still, I've never been more at peace with myself. After a long long time I feel my self-worth has returned. It isn't nice to be constantly reminded of how worthless you are and to have taunts, jeers, insults and abuses thrown at your mother and sister all the time.

I've gone through all of it. Now I feel healed again. Today, if I've found someone who actually makes me feel I'm worth something, what's wrong with it? Earlier, I had hit such a rock bottom with my self-esteem that I'd be shocked if someone complimented me for my looks! Today if someone says something nice, I say, 'That's fine. Stars are supposed to be complimented'.
As a concerned father, Saif had also spoken elaborately about having no access to his children after divorce. He expressed,
I really want my kids. But I don't want to put up a constant fight over them. If they are to be taken away from me then let Amrita call them Sara Singh and Ibrahim Singh. Let my daughter become 18 and ask me, 'Where were you Dad, when my brother and I needed you?'

Let me die of shame. But please don't kill me with a feeling of constant guilt just because I've had the courage to finally walk away from an impossible relationship to find some solace.
Today, while the actor is happily married to Kareena Kapoor Khan, and together have a son Taimur, he's also equally close to both Sara and Ibrahim, his kids from his first marriage.
Our Take:
The ugly chapter in Saif's life is long done and dusted with
One can suggest there is no point unearthing the skeletons of a failed marriage after nearly two decades
However, Saif's revelation is extremely crucial today, because he clearly expresses and emotes what a man goes through in an abusive marriage
Our society will always side with the separated woman and give her a clean chit with absolute sympathy, but what we fail to see is the plight and trauma Men undergo equally at the other end
Why don't we recognise domestic abuse – be it verbal or physical – on Men?
Just because Men don't raise their voice or there are no paid organisations to run a campaign against Male abuse, doesn't mean they don't feel the pain in a bad marriage
It's high time, domestic abuse within a marriage is acknowledged to be Gender Neutral and we stop reacting only to one sided sob stories
WATCH SAIF & AMRITA'S INTERVIEW IN HAPPIER TIMES
ALSO READ –
http://voiceformenindia.com/in-the-news/false-domestic-violence-case-in-india/
http://voiceformenindia.com/his-story/confessions-of-infosys-husband-employee/
Follow www.mensdayout.com on Facebook, Twitter & Instagram
We are now on Telegram. Follow Us For More Updates
Join our Facebook Group or follow us on social media by clicking on the icons below
Donate to Voice For Men India
Blogging about Equal Rights for Men or writing about Gender Biased Laws is often looked upon as controversial, as many 'perceive' it Anti-Women. Due to this grey area - where we demand Equality in the true sense for all genders - most brands distance themselves from advertising on a portal like ours.
We, therefore, look forward to your support as donors who understand our work and are willing to partner in this endeavour to spread this cause. Do support our work to counter one sided gender biased narratives in the media.
To make an instant donation, click on the "Donate Now" button above. For information regarding donation via Bank Transfer, click here.
Alternately, you can also donate to us via our UPI ID: voiceformenindia@hdfcbank