The Punjab and Haryana High Court in its order dated October 29, 2022 granted divorce to a man on grounds of cruelty by wife.
Even though the High Court acknowledged that the woman had filed false and frivolous cases, husband was asked to pay permanent alimony to his wife. 
Case:
Parties got married in 2009-2010. The couple does not have any children. Parties have been separated since 2013. 
The Husband/appellant moved a petition under Section 13 of the Hindu Marriage Act,1955 before the family court seeking dissolution of his marriage with the respondent/wife on the ground of cruelty. 
READ ORDER | Punjab & Haryana HC Grants Rs 18 Lakh Permanent Alimony To Wife Who Filed False Dowry Harassment & Unnatural Sex Cases Against Husband, In-Laws
Submission by Husband
It is the appellant-husband's case that since the very beginning the respondent-wife did not want to live in the matrimonial house along with his parents and wished to live separately. The respondent also did not perform her matrimonial duties and would pick up quarrels on trivial matters insulting his parents. It is further alleged that the respondent has a "venom-oozing tongue". She even threatened to involve the appellant and his family members in false dowry case.
It is stated that on 13.10.2013 the father of the respondent took her away and the respondent took all her belongings and gold ornaments with her and never returned thereafter. The appellant even convened a Panchayat; and on 10.11.2013, he along with his parents and other senior members went to the house of the parents of the respondent for reconciliation, but to no avail.
Defense by Wife
On the other hand, the respondent before the Family Court, has stated that the appellant's petition under Section 13 (divorce) was a counter blast to her petition under Section 125 Cr.PC (lifelong maintenance) and her FIR filed in March 2014 under Sections 406, 498-A, 120-B IPC against her husband and his family. 
She stated that all the demands of the appellant and his family members were met and generous items of jewelry and other dowry articles were gifted to them, however, the appellant and his family members mis-appropriated the same and ill-treated her and beat her and their greed for more dowry articles was endless, whereupon she was left with no alternative but to register the above said FIR against them.
She further alleged that she was thrown out of the matrimonial home on 13.10.2013 with nothing except the clothes she was wearing. Respondent also stated that her parents and other relatives and other senior members had approached the appellant and his parents for rehabilitation of the respondent in her matrimonial house, however, the appellant had refused to take her back.
READ JUDGEMENT | Able Bodied Husband To Earn Even By Physical Labour But Maintain His Wife, Minor Child U/s 125 CrPC : Supreme Court
Family Court
In May 2017, petition for divorce by husband was dismissed by the Additional District Judge, Tarn Taran. Challenging the same, he moved to the High Court.
Husband, In-Laws Acquitted
In 2018, Husband and his family were honourably acquitted from charges under Sections 406, 498-A, and 120-B IPC.
Punjab & Haryana High Court
At the outset, the bench of Justice Ritu Bahri and Justice Nidhi Gupta took note of the fact that the appellant-husband and his family members had been acquitted in the criminal case filed against them by the wife of the appellant. The Court also noted that the wife had failed to prove any of her arguments in the trial court.
The High Court thus remarked,
In our view, once criminal litigation is initiated between the parties it leads to a point of no return. And if it is a false case filed by the wife merely to harass and humiliate the husband and his family, then the resultant bitterness rarely leaves any room or reason for reconciliation.
The court also said that there are several landmarked judgements from the top court granting divorce to a man on grounds of cruelty, if his wife files false cases against him and his family. 
READ JUDGEMENT | Wife Living In Adultery Not Entitled To Permanent Alimony: Punjab & Haryana High Court
Irretrievable Breakdown in Marriage (IRBM)
While IRBM is not a ground for divorce itself, the Court noted that the parties had been living separately since 2013 and there are irreconcilable differences between them, rendering the marriage, a mere legal fiction. Consequently, the appeal was allowed.
Permanent Alimony Awarded to Wife
However, despite being proven that the wife filed false cases, the High Court ordered the husband to pay Rs 10 lakh as permanent alimony as full and final settlement to end all disputes between parties. The court concluded:
Before parting, though we have held that the acts of the respondent-wife amount to cruelty against the appellant-husband, we are, however, not oblivious to her requirements. It has come on record that the appellant has been paying interim maintenance under section 125 CRPC at Rs 2500 per month, and Rs 3000 per month was granted by the trial court under section 24 of the HMA.

In these circumstances, we consider it just to direct that the husband shall pay to the wife a sum of INR 10,00,000/- (Rupees Ten Lakhs only) as one-time permanent alimony as full and final settlement of all disputes between the parties.
Punjab & Haryana HC Grants Divorce To Husband Separated Since 10-Years; Grants Alimony To Financially Independent Wife
VFMI Take:
We often see women crying for more and more laws in their favour, however, ground realities at courts are completely unjust towards the Men
Women, guided by their lawyers, exactly know that they will get maintenance and alimony, despite the outcome of their divorce case
There is 0 deterrent for such women, and a also a legal stamp encouraging other women filing false cases
After 9-years of harassment and separation, the man literally pays to buy his peace and freedom – Justice?
Leave your comments below:
READ ORDER | Punjab & Haryana HC Dissolves Marriage Since Wife Filed False Cases; Orders Husband To Pay Permanent Alimony

▪️HC: "Though we hv held that Acts of Wife amount to Cruelty against Husband, we're not oblivious to her requirements"#VoiceForMenhttps://t.co/uuI3Yz26mf

— Voice For Men India (@voiceformenind) November 2, 2022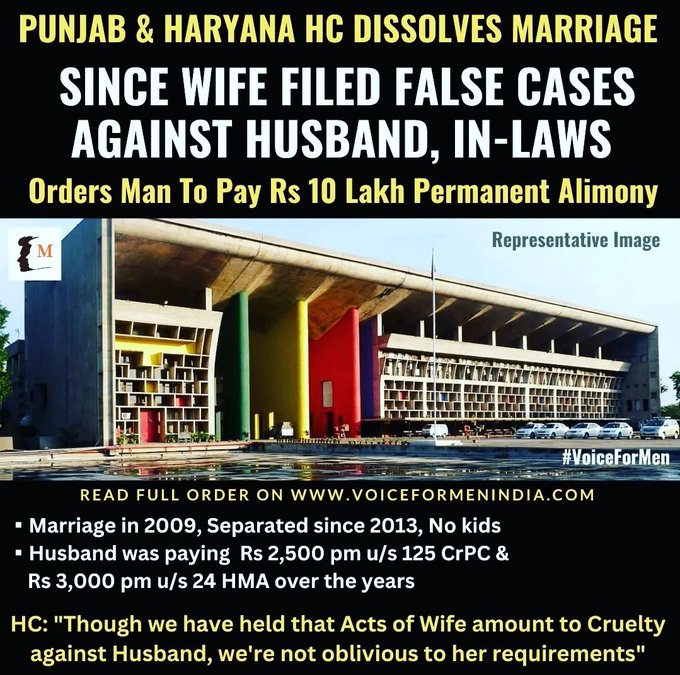 MUST WATCH:
Kapil Sibal Argues For Faster Divorce Process | Irretrievable Breakdown In Marriage | Supreme Court
Join our Facebook Group or follow us on social media by clicking on the icons below
Donate to Voice For Men India
Blogging about Equal Rights for Men or writing about Gender Biased Laws is often looked upon as controversial, as many 'perceive' it Anti-Women. Due to this grey area - where we demand Equality in the true sense for all genders - most brands distance themselves from advertising on a portal like ours.
We, therefore, look forward to your support as donors who understand our work and are willing to partner in this endeavour to spread this cause. Do support our work to counter one sided gender biased narratives in the media.
To make an instant donation, click on the "Donate Now" button above. For information regarding donation via Bank Transfer, click here.
Alternately, you can also donate to us via our UPI ID: [email protected]