The Punjab and Haryana High Court in its order dated October 11, 2022 granted divorce to a man on account of desertion and cruelty by his wife.
Not just desertion and cruelty, but it was also proven that the wife had filed false and frivolous cases against the man and his family, yet the High Court has awarded permanent alimony to the woman. 
Case:
Parties were married according to Sikh rites and ceremonies at Ludhiana in November 2012. After marriage the couple co-habited together as husband and wife. No child was born of this wedlock.
READ JUDGEMENT | Wife Living In Adultery Not Entitled To Permanent Alimony: Punjab & Haryana High Court
Allegations by Husband
After their marriage, the respondent wife started pressurising him to leave his job as C.O., Dental Centre, Air Force Station, Gorakhpur, Uttar Pradesh so as to settle in Patiala where her parents lived. The husband accused her to be dominating and disrespectful and someone who picked up quarrels for no reasons.
He also accused his wife of physically assaulting him at times, misbehaving and insulting him in the presence of his relatives and friends. It is further alleged that the respondent frequently behaved offensively and arrogantly using bad language, and would lock herself up in her room for hours threatening to do something drastic and implicate the appellant in criminal case involving non-bailable offences.
Appellant states that this caused him great mental tension and agony. It is averred that to please the respondent the appellant also brought her to her parental home on Lohri soon after their marriage in the month of April 2013, as the respondent preferred to stay mostly in her parental home. He brought her back on 24.4.2013.
The appellant was transferred from Gorakhpur to Udhampur on 28.8.2013 and was to join on 5.9.2013. During this period while they were staying at the appellant's parents' house the respondent left from there on 1.9.2013 without any reasonable cause and she took away all her dowry articles including the ones given to her by the appellant's parents. Despite several pleadings, wife refused to return. It was thus that the husband filed for divorce on grounds of desertion. 
Submissions by Wife
On the other hand, respondent denied all the allegations and stated that in fact she had been deserted by the appellant. She stated that prior to her marriage she had worked as Ayurvedic Medical Officer for four years in the State Health Department. However, she had been forced by the appellant to leave her Government job. She further states that after marriage she moved to Gorakhpur with her husband but soon thereafter he started torturing her and making illegal demand of dowry and would beat her mercilessly.
The wife also alleged that prior to appellant's transfer from Gorakhpur to Udhampur, they stayed in the appellant's parents' home and that on 1.9.2013 the appellant along with his parents threw the respondent out of the matrimonial home and appellant flatly refused to take her with him to Udhampur.
Eventually the respondent was constrained to approach the police authorities and registered case under Section 406/ 498-A, 377 IPC against the appellant.
Punjab & Haryana HC Grants Divorce To Husband Separated Since 10-Years; Grants Alimony To Financially Independent Wife
Family Court, Patiala
The Husband/appellant moved a petition under Section 13 of the Hindu Marriage Act,1955 before the family court seeking dissolution of his marriage with the respondent on the ground of cruelty and desertion.
However, in May 2017, the same was dismissed by the Additional District Judge, Patiala. Challenging the same, he moved to the High Court.
Punjab & Haryana High Court
The bench of Justice Ritu Bahri and Justice Nidhi Gupta heard husband's plea that the duo co-habited together only for 9-months (in total) and no child was born of this wedlock.
The husband also added that his wife had made innumerable vicious and vindictive complaints before every forum and platform that she could find from the Army Headquarters, Air Force Headquarters, Army/Air Force Wives Welfare Association, National Commission for Women, this Court, as well as senior police officers of the Punjab Police. Accordingly, his counsel submitted that the appellant and his family had been subjected to tremendous mental agony and cruelty.
The bench observed found faults with the observations and the order of the family Court, and at the outset, noted that the wife had indeed levelled the most objectionable allegations against the appellant and his family.
The HC also noted that the woman's allegations which were not substantiated, including the imputations made against her father-in-law stating that he used to behave inappropriately towards her. The Court stated,
Admittedly in this case, the respondent has unequivocally admitted in her cross-examination that her complaint against her father in law alleging inappropriate behaviour was found to be false by the police, and therefore he was not challaned. However, the learned Court below has not dealt with this aspect at all.
2l milk daily, 20kg rice per month & 3 new salwar suits every quarter as alimony: Punjab Haryana HC
On grounds of Cruelty & Desertion, the High Court remarked,
In our view, the conduct of the parties in the present case evidences that there are irreconcilable differences between the parties, rendering the marriage, as of today, a mere legal fiction.

It is not in dispute that the parties are residing separately since 2013. Even mediation attempts between the parties have remained unsuccessful.
Concluding that justice will be done by putting an end to the agony of the parties, the Court allowed divorce to the husband. However, the High Court has also granted permanent alimony. 
READ ORDER | Solitary Act Of Adultery Or Isolated Lapse Of Wife Will Not Disentitle Her To Claim Maintenance: Punjab & Haryana High Court
A sum of Rs 18 Lakh was granted to the wife as full and final settlement. This was over and above Rs 23 Lakh paid by the husband throughout his 9-year litigation. 
The Court said,
Before parting, even though the parties have lived together in matrimonial home only for nine months, and even though there is no child from their wedlock, and even though during this litigation admittedly the appellant has already paid Rs 23 lakh to the respondent as maintenance yet, we deem it fit to grant her permanent alimony of a sum of Rs. 18,00,000/- (Rupees eighteen lakh only) as full and final settlement.
VFMI Take:
Indian Matrimonial laws are nothing but a blatant legal extortion scam
There is no justice for a man, whatsoever, even if cruelty, desertion and false cases by wife are proven
A man loses his precious years/decades at the court, and in the end he needs to actually 'buy his peace'
The woman in her own admission said she was educated and working
Why should alimony be a norm even to such fully-abled women without children?
A co-habitation of 9-month with a separation of 9-years was dissolved by the High Court at a price tag of Rs 18 lakh (+23 Lakh paid earlier)
There were no repercussions on the wife who even filed frivolous cases against her aged father-in-law
Sadly, the legal system in India has collapsed when it comes to matrimonial laws – it has become an absolute mockery in the name of empowering women
READ ORDER | Punjab & Haryana HC Grants Rs 18 Lakh Alimony To Wife Who Filed False Dowry Harassment, Unnatural Sex Cases Against Husband, In-Laws

▪️Married in 2012, Co-habited 9-months, No Child
▪️Husband Paid Rs 23 lakh Maintenance Earlier#VoiceForMenhttps://t.co/5ObCP64kWV

— Voice For Men India (@voiceformenind) October 17, 2022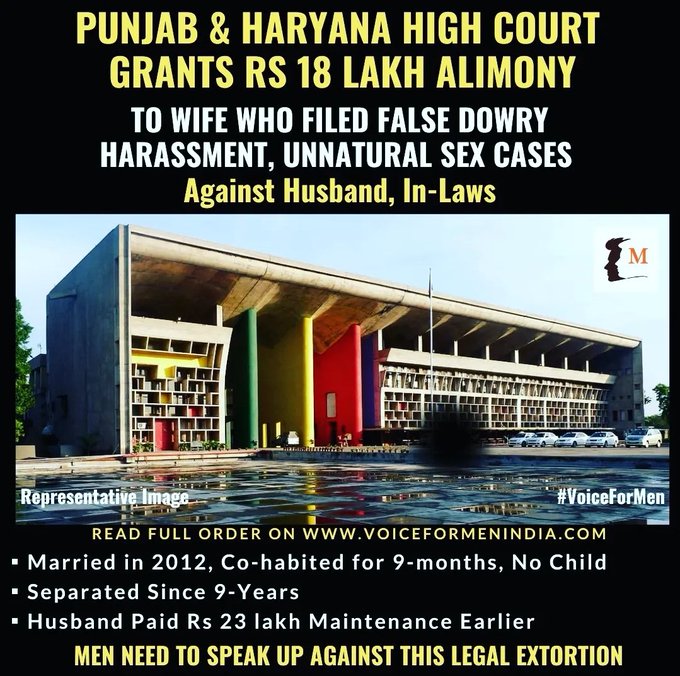 WATCH VIDEO:
Kapil Sibal Argues For Faster Divorce Process | Irretrievable Breakdown In Marriage | Supreme Court
Join our Facebook Group or follow us on social media by clicking on the icons below
Donate to Voice For Men India
Blogging about Equal Rights for Men or writing about Gender Biased Laws is often looked upon as controversial, as many 'perceive' it Anti-Women. Due to this grey area - where we demand Equality in the true sense for all genders - most brands distance themselves from advertising on a portal like ours.
We, therefore, look forward to your support as donors who understand our work and are willing to partner in this endeavour to spread this cause. Do support our work to counter one sided gender biased narratives in the media.
To make an instant donation, click on the "Donate Now" button above. For information regarding donation via Bank Transfer, click here.
Alternately, you can also donate to us via our UPI ID: voiceformenindia@hdfcbank