The Karnataka High Court in its order dated January 10, 2023 rejected a plea by 'unemployed' husband seeking directions against wife to pay him maintenance.
A single judge bench of Justice M Nagaprasanna said that if the court directed to pay maintenance to an able bodied husband who does not suffer from any disability or infirmity, it would be promoting idleness.
Husband Must Return Stridhan If Marriage Annulled, Even If He Has Paid Permanent Alimony: Karnataka High Court
Case:
Parties got married in February 2017. Soon due to disputes between the couple, wife left her matrimonial home and started living with her parents. In 2021, husband initiates divorce petition. As a rebound, the wife instituted proceedings under Section 9 of the Act seeking restitution of conjugal rights. 
Maintenance
The wife also filed for interim maintenance under Section 24 of the Act, seeking grant of Rs 25,000 per month and litigation expenses at Rs1,00,000 from the husband.
The petitioner/husband objected to the said application contending that he has no means to survive. Contrary to the wife's application, husband filed another application to counter that it was him who was in need of interim maintenance from the wife, to maintain himself and his parents. The husband sought a monthly maintenance of Rs 2,00,000 and litigation expenses at Rs 30,000 from the wife, till the disposal of the petition.
READ ORDER | Woman Accused Of Husband's Murder Eligible For Bail Under Section 437 CrPC: Karnataka High Court
Family Court
The concerned Court in terms of its common order dated 31-10-2022 allows the application filed by the wife and rejects the application filed by the husband.
The court granted maintenance of Rs 10,000 per month and litigation expenses at Rs 25,000 to the wife.
While so rejecting the application filed by the petitioner husband, the Court imposed costs upon him for filing the application seeking maintenance from the hands of the wife. Thus, the husband challenged this order in High Court.
READ ORDER | Rape Charges Can Be Quashed On Account Of Settlement Between Parties: Karnataka High Court
Submission by Husband
The primary contention of the husband was that he has become unemployed on the onset of Covid-19 and for the last two years he is not able to find a job and, therefore, no maintenance should be awarded to the wife, but in turn it should be awarded to him, from the hands of the wife.
Further, it was claimed that the parents of the wife are well off and that the wife has instituted several proceedings against the husband and his family members, thus he needs money to meet those litigation expenses.
READ ORDER: Husband Cannot Seek Mobile Tower Records Of Wife's Paramour As It Violates His Privacy: Karnataka High Court
Karnataka High Court
The Karnataka High Court upheld the Family Court order stating:
Merely because Section 24 of (Hindu Marriage) Act is gender neutral for grant of maintenance, it would be promoting idleness notwithstanding the fact that the husband has no impediment or handicap to earn.
Remarking on state of unemployment of the husband, the Court said,
The contention that the petitioner has no job and has no means to maintain himself and, therefore, is not in a position to maintain the wife and in turn wants maintenance from the wife, is unacceptable as it is fundamentally flawed.
Adding further, Justice M Nagaprasanna said,
Merely because he has lost his job on the onset of Covid-19, it cannot be held that he is incapable of earning.

Therefore, it can be irrefutably concluded that the husband by his own conduct has decided to lead a leisurely life by seeking maintenance from the hands of the wife.
READ ORDER | Maintenance Awarded To Wife Under Domestic Violence Act Cannot Be Enhanced U/s 127 CrPC
The Court also added,
In the considered view of this Court, such an application cannot be granted, as the husband cannot afford to incapacitate himself and sustain an application under Section 24 of the Act to claim maintenance from the hands of the wife.

This would be an anathema to the spirit of Section 24 of the Act. Therefore, the husband cannot seek any maintenance unless he would demonstrate such a disability either physical or mental which incapacitates him from earning money by finding a job for himself.
The High Court reiterated that it is the duty of an able bodied husband to maintain himself, the wife and the child, if any. The Court concluded,
It is better to wear out, than rust out.
Accordingly husband's petition was dismissed and lower court order was upheld.
Karnataka HC Order On Marital Rape Exposes Passion, Not Road To Justice | Men's Rights NGO Writes To CJI
VFMI TAKE:
Equality campaigns only exist on social media
In reality, they are a myth, where the women selectively choose to turn weaker sex when it suits them
This is a classic case of how laws are abused and misused by women
The maintenance proceedings were initiated by the wife, only when the husband filed for divorce, which means the woman had sufficient means of survival until then
This is by all means a short lived marriage with no kids
Despite the husband being unemployed, he is duty bound to pay his full-abled wife to 'maintain' herself
On the other hand, there is no onus on the woman to find a job and become independent 
There are too many lectures given by judiciary on how a daughter has equal rights in her parental home even after marriage
However, there is zero accountability on (well-off) parents to support their daughter, who chooses to remain idle after separation
LEAVE YOUR COMMENTS BELOW:
READ ORDER | "Merely Because Sec 24 Hindu Marriage Act Is Gender Neutral, Unemployed Husband Cannot Seek Maintenance From Wife As It Would Promote Idleness": Karnataka HC

2017: Marriage, No Kids
2021: Husband files divorce
2021: Wife files maintenancehttps://t.co/LI0iqcsTse

— Voice For Men India (@voiceformenind) January 25, 2023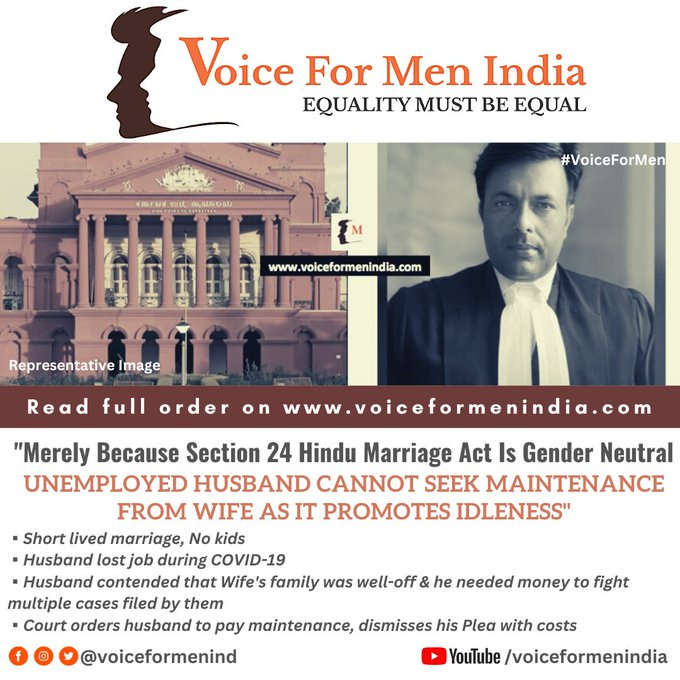 MUST WATCH:
Justice S N Dhingra | Former Delhi High Court Judge | Marital Rape | Men Welfare Trust | Sifar
Join our Facebook Group or follow us on social media by clicking on the icons below
Donate to Voice For Men India
Blogging about Equal Rights for Men or writing about Gender Biased Laws is often looked upon as controversial, as many 'perceive' it Anti-Women. Due to this grey area - where we demand Equality in the true sense for all genders - most brands distance themselves from advertising on a portal like ours.
We, therefore, look forward to your support as donors who understand our work and are willing to partner in this endeavour to spread this cause. Do support our work to counter one sided gender biased narratives in the media.
To make an instant donation, click on the "Donate Now" button above. For information regarding donation via Bank Transfer, click here.