The Aurangabad Bench of Bombay High Court in its order dated October 21, 2022 said that if married woman is asked to do household work for family, it cannot be equated to the work of maid servant, nor would amount to cruelty under Section 498-A IPC.
Case:
Parties got married in December 2019. In November 2020, wife filed cases against husband and his family at Bhagyanagar Police Station, District Nanded under:
Section 498-A
Section 323
Section 504
Section 506 read with Section 34 of IPC
This was woman's second marriage after she had filed similar cases against first husband and his family. She got divorced in April 2019, and got re-married in December the same year. 
READ JUDGEMENT | Wife Cannot Be Granted Access To Shared Matrimonial Household If She Left Home Before Divorce: Bombay High Court Aurangabad Bench
Allegations by Wife
According to the wife, all marriage expenses – including jewelry and cash of Rs 1,00,000 – were borne by her family. The wife alleged that within a month of marriage, she was treated like a maid servant in her matrimonial home.
She also accused her in-laws of demanding Rs 4,00,000 for purchasing four wheeler. When she refused, her husband allegedly harassed her physically as well as mentally.
She also accused her in-laws of forcing her to bear a boy child. She even accused her mother-in-law and married sister-in-law of slapping, kicking and abusing her. Subsequently, she lodged the present FIR.
It Is A Fashion To Rope In All Poor Relatives Of Husband Under Section 498-A IPC Even If They Never Lived Together: Bombay High Court Aurangabad Bench
Defense by Husband, In-Laws
Advocate Sagar Bhingare, counsel for the husband and his family strongly suggested that the FIR was a concocted version.
Adding further, he informed court that this was a second marriage of respondent-wife. She had earlier married to one Sunil Divakar Jahagirdar and also lodged an FIR against first husband and his family member in February 2017. All those persons were later acquitted by the Court in March 2019.
Bhingare produced copy of the charge-sheet and the judgment in that case.
Not just criminal complaint, but the counsel for second husband also placed on record that the woman had filed a case under Section 12 of the Protection of Women from Domestic Violence Act, 2005 against her first husband and in-laws before learned Judicial Magistrate First Class, Degloor and ultimately, that application came to be withdrawn on 19.03.2019.
With regards to allegation of dowry demand for purchase of four wheeler, the counsel said,
It can be seen from the documents produced by the applicants that he had purchased a four wheeler of Rs 17,29,000  on 28.02.2020 with a bank loan, therefore, there is no question of demanding amount of Rs 4,00,000 from respondent-wife for purchase of car.
My Wife Watches Netflix All Day, Expects Me To Cook After Work, Posts Constantly About Feminism
Bombay High Court Aurangabad Bench
A division bench of Justices Vibha Kankanwadi and Rajesh S Patil quashed the FIR under Section 498-A IPC registered against the second husband and in-laws. The bench remarked,
If a married lady is asked to do household work definitely for the purpose of the family, it cannot be said that it is like a maid servant.

If she had no wish to do her household activities, then she ought to have told it either prior to the marriage so that the bridegroom can rethink about the marriage itself or if it is after marriage, then such problem ought to have been sorted out earlier.
Mere Allegations Cannot Amount To Cruelty
The Court categorically stated that mere use of the words harassment 'mentally and physically' is not sufficient to attract ingredients of Section 498-A of the Indian Penal Code unless such acts are described. The bench observed,
Mere use of the word harassment 'mentally and physically' are not sufficient to attract ingredients of Section 498-A of IPC. Unless those acts are described it cannot be concluded that whether those acts amounted to harassment or subjecting a person to cruelty.
The Court added that omnibus allegations that the wife made against the husband would not attract the offence under the provision. It said,
The allegations those have been made and collection of evidence is not sufficient even at this prima facie stage to attract the ingredients of offence punishable under Section 498-A of IPC, further as regards offence under Section 323, 504, 506 read with Section 34 of IPC is concerned, it is in fact already conferred under Section 498-A of IPC and unless those other offences are shown which would amount to "cruelty", offence under Section 498-A of IPC cannot be made out and, therefore, it would be a futile exercise to ask the petitioner to face the trial," the bench said, allowing the petition filed by the husband.
READ ORDER | Wife Labelling Husband As 'Alcoholic', 'Womaniser' Without Evidence Is Cruelty: Bombay High Court
Forced To Have Boy Child
With regards to woman's allegations of being forced to have a boy child, the high court said,
Even if we take the further allegations in the FIR as it is, respondent wife said she was got medically checked through Doctor for birth of a son and, thereafter, the Doctor told that the gestation period is not complete.

She has not specifically stated that it was revealed to her that she is pregnant and she is carrying pregnancy of some days/weeks or month. Unless she would have become pregnant, there was no question of completion of the period of pregnancy and delivery of the child. It appears that those things have been intentionally kept vague.
Adding further the Court said,
From medical documents, it appears that she was rather referred for her gynaecological problem which had showed that there is cyst in the ovaries, meaning thereby she was not pregnant at all and there could not have been then insistence for birth of son.
Cases Against First Husband
With regards to woman's earlier criminal and Domestic Violence cases against first husband and his family, the high court said that those complaints cannot be reason to conclude that the wife has a habit of levelling allegations and extracting money and such submission advanced by the husband would have to be proved by him.
The High Court, thus, quashed the FIR against the husband and in-laws and also set aside the criminal proceedings pending them before a local judicial magistrate.
READ ORDER | Married Woman Asked To Do Household Work For Family Is Not Cruelty U/s #498A: Bombay HC

▪️2017: Woman files cases on 1st husband
▪️2019: All acquitted, divorce granted, Woman re-marries
▪️2020: Files 498A on 2nd husband
▪️2022: All acquittedhttps://t.co/icwJJAjQk5

— Voice For Men India (@voiceformenind) October 27, 2022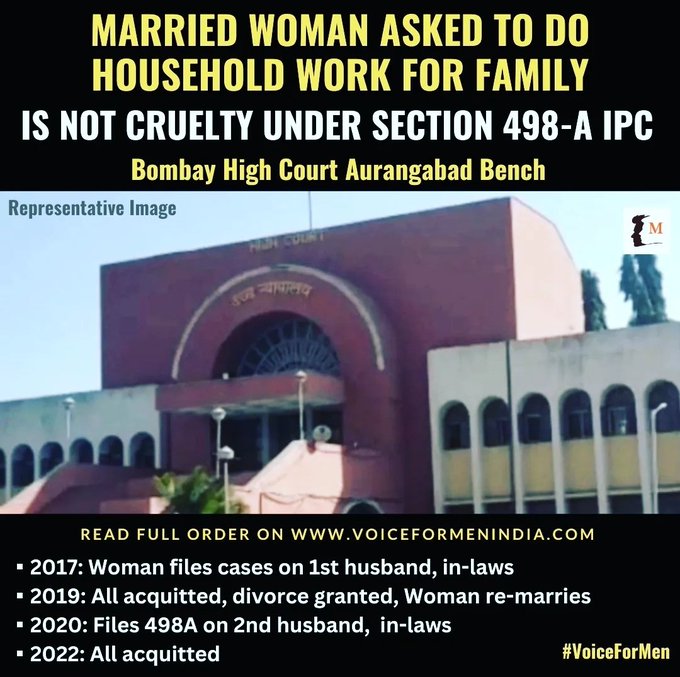 DO WATCH:
Section 498-A Challenges | Discussion With Raghav Awasthi
Join our Facebook Group or follow us on social media by clicking on the icons below
Donate to Voice For Men India
Blogging about Equal Rights for Men or writing about Gender Biased Laws is often looked upon as controversial, as many 'perceive' it Anti-Women. Due to this grey area - where we demand Equality in the true sense for all genders - most brands distance themselves from advertising on a portal like ours.
We, therefore, look forward to your support as donors who understand our work and are willing to partner in this endeavour to spread this cause. Do support our work to counter one sided gender biased narratives in the media.
To make an instant donation, click on the "Donate Now" button above. For information regarding donation via Bank Transfer, click here.