The Karnataka High Court in its order dated June 02, 2023 dismissed a petition filed by a husband seeking to quash the dowry harassment complaint registered by his wife under Section 498-A IPC, soon after he sent her a divorce notice with mutual settlement.
A single judge bench of Justice M Nagaprasanna observed that if this was turned into a precedence, it would have a chilling effect on complaints.
Case:
Parties got married in April 2021. Wife left her matrimonial home in August 2022 alleging harassment and torture. 
In October 2022, the husband sends a legal notice to wife seeking amicable settlement for divorce. In December 2022, the wife registers a complaint against the petitioner under:
Section 498A
Section 307
Section 506
…of the IPC
Sections 3 and 4 of the Dowry Prohibition Act, 1961
Delhi Court Orders FIR Against Wife, Her Advocate Father Who Filed False Dowry & Gang Rape Cases Against Husband, In-Laws | STATE VS RAJENDRA GUPTA & ORS
Submission by Husband
The husband (petitioner) approached the High Court submitting that the multiple cases by his estranged wife, are a counter blast to his legal notice and no ingredients of offences under Section 498A IPC are made out. He further argued that in light of the husband sending a notice for divorce and the immediate registration of crime thereafter, the crime loses its significance.
Arguments by State
On the other hand, the learned High Court Government Pleader strongly argued that the investigation has just commenced and there are grave allegations against the petitioner/husband for offences punishable under Section 498-A and 307 IPC and, therefore, the proceedings should be permitted to be continued
READ ORDER | Woman Can't File Cheating Case Against Matchmaker Because She Has Accused Her Husband Of Domestic Violence: Bombay High Court
Karnataka High Court
At the outset, a single judge bench of Justice M Nagaprasanna observed,
There cannot be a declaration of law as is contended by the learned counsel for the petitioner that once the divorce notice is sent by the husband, the complaint registered by the wife thereafter loses its significance.

If this contention is accepted, it would have a chilling effect on all the complaints. Therefore, this submission is noted only to be rejected, as it is fundamentally flawed.
The High Court noted that the complaint lodged by the wife had several alleged instances of torture by the husband, both mental and physical. The wife also stated in her complaint that the husband attempted to take her life by strangling her and she had to take treatment for spinal cord injury.
The statements recorded during investigation clearly indicate that those ingredients are prima facie met. Section 307 of the IPC is also alleged against the petitioner.

The complaint clearly makes out ingredients of the offence under Section 307 of the IPC which deals with attempt to murder. Strangulation and giving blows on the back is what is alleged in the complaint.

If these ingredients are to be ignored and brushed aside merely because the complaint is registered immediately after receipt of the notice of divorce or amicable settlement for dissolution of marriage, it would lead to a disastrous effect.
The High Court then explained if the husband issues a notice for divorce just before the wife's complaint, it will not result in the complaint rendering itself insignificant. The Court said,
It would require investigation. It would be altogether a different circumstance if the complaint does not even make out ingredients of the offence so alleged or does not lay down the necessary foundation for alleging the offences in a given case.
Engineer Husband Reads Up Law To Fight False Cases By Wife & In-Laws | His Story | Voice For Men India
High Court Agrees On False 498-A Cases
Interestingly, the bench did agree that there are many cases where members of the family are unnecessarily dragged into criminal cases by the wife while registering the complaint under Section 498A of the IPC. However, the High court affirmed that all these allegations have to be considered on a case to case basis. The Court remarked,
The offences are justified, in some cases and offences are in abuse of the process of law, in some cases.
Karnataka HC Order (May 25, 2023): Dowry Harassment Case Loses Significance If Filed After Receiving Divorce Notice From Husband
Justice M Nagaprasanna disagreed with the coordinate bench judgment which held that FIR should be quashed on the sole ground that the crime is registered after receipt of a notice seeking dissolution of marriage. He said,
It defeats the very object of Section 498A of the IPC, or even complaints made under Section 12 of the Protection of Women from Domestic Violence Act, 2005.
The High Court concluded,
The submission of the learned counsel that it is universally made applicable in terms of the order is unacceptable, particularly qua the facts obtaining in the case at hand.

Though the proceedings therein were quashed at the FIR stage, I deem it appropriate not to accede to the contention of the learned counsel for the petitioner that the said judgment should be followed and the present proceedings obliterated against the petitioner.
Rahul Agarwal Case: Jharkhand High Court Grants Anticipatory Bail To Wife, In-laws Despite Detailed Suicide Video By Husband
Voice For Men India Take:
Section 498-A IPC deals with any form of cruelty to wife, be it mental, physical or even sexual
This law permits a married woman to file a criminal complaint against not just her husband, but every single relative of his family (whether they reside together or separately)
Surely, there are women who face extreme form of cruelty from their husbands and in-laws, and thus we do agree that all complaints must be investigated, unless there are blatant signs of misuse
However, the problem lies herein: 1) These cases drag on for years, sometimes decades, until then the husband and his family are out on bail; 2) Even after the case is proven to be false, motivated and filed to harass in-laws, the husbands and their families only get an acquittal. There are no consequences on the wives for filing these false criminal cases; 3) In many cases, husbands or their family members have died by suicide due to the shame and embarrassment of police officials walking into their homes
Also, one must note that Section 498-A IPC or Domestic Violence Act is not Gender Neutral in India, thus the power to exit any marriage is solely rested in the hands of the wife. The minute men file for divorce, they are usually blessed with multiple cases, FIRs and criminal complaints from the wife's side
We are glad that the Karnataka High Court has acknowledged the rampant misuse of these laws by married women, however, all these statements by several courts have only been limited to 'statements' without concrete action against the false accusers 

Courts may investigate all

#498A

cases in detail with fixed timelines

However, if allegations by wife are found to be false only to settle score, send her behind bars for an equal number of years wasted on the case

Currently, neither our government or the judiciary seems inclined to bring in any law which will deal with such abuse and mockery of our judicial process in India
LEAVE YOUR COMMENTS BELOW:
https://twitter.com/voiceformenind/status/1666740530649223174?s=20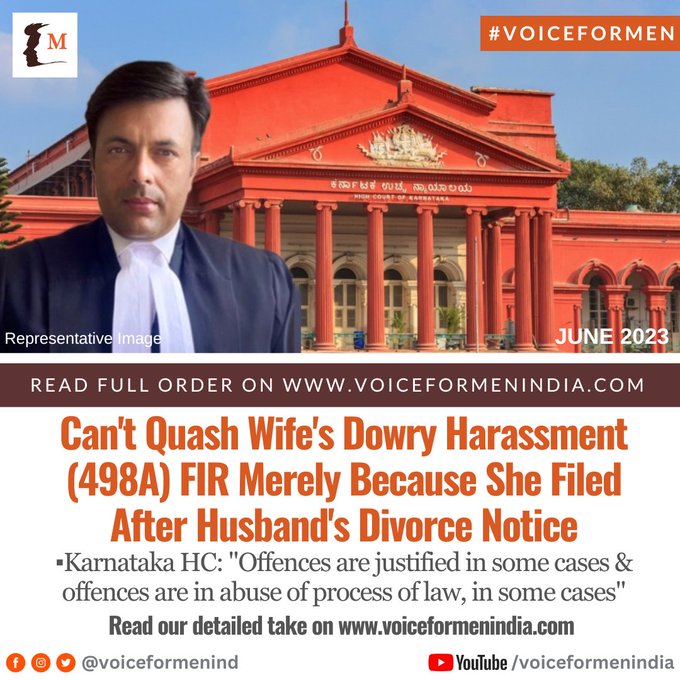 DO WATCH:
Don't Issue Notice Directly To Distant Relatives Of Husband | Kolkata Man Wrongly Arrested In 498A
ANOTHER KARNATAKA HIGH COURT ORDER DATED MAY 25, 2023:
Dowry Harassment Case Filed By Wife After Receiving Divorce Notice From Husband Loses Its Significance: Karnataka High Court
Join our Facebook Group or follow us on social media by clicking on the icons below
Donate to Voice For Men India
Blogging about Equal Rights for Men or writing about Gender Biased Laws is often looked upon as controversial, as many 'perceive' it Anti-Women. Due to this grey area - where we demand Equality in the true sense for all genders - most brands distance themselves from advertising on a portal like ours.
We, therefore, look forward to your support as donors who understand our work and are willing to partner in this endeavour to spread this cause. Do support our work to counter one sided gender biased narratives in the media.
To make an instant donation, click on the "Donate Now" button above. For information regarding donation via Bank Transfer, click here.
Alternately, you can also donate to us via our UPI ID: voiceformenindia@hdfcbank