The Bombay High Court in its order dated November 28, 2022 has granted bail to a woman who spent around three years in jail on charges of throwing her newborn baby from the top of the building.
Justice MS Karnik observed that the woman was upset with her husband, since he was allegedly having illicit relations with another woman.
Man Thrown From 7th Floor Apartment By Wife, Son, As He Refused To Fund Child's Canada Education
Case:
The horrific incident had taken place in Kandivali area of Mumbai on December 5, 2019.
The applicant, who worked as housemaid, had just delivered the child at about 2.30 pm. She herself cut the umbilical cord with a knife and threw the baby from top of a building. At the relevant time, she was residing with her sister in law.
Woman Throws Baby Out Of Moving Train | Police Calls It Family Issue & Does Not Register Case
A case was registered against her with Kandivali Police Station, for the offence punishable under sections 317, 302, 201 of Indian Penal Code and subsequently she was arrested and sent to jail. 
The accused woman now moved her bail application in the Bombay High Court. 
WATCH | Bengaluru Woman Throws Hearing & Speech Impaired Daughter From Balcony; Arrested
Bombay High Court
The bench noted that this was "an unfortunate case."
Granting bail, the Bombay High Court stated that the woman has been in custody for over 2 years and 11 months and the charge sheet already stands filed. The bench added,
No purpose will be served by prolonging the custody of the applicant – a woman any further. The possibility of the trial commencing any time soon in the near future is remote.
The applicant was directed to be released on bail after furnishing a PR bond of Rs 10,000 with one or more sureties of the like amount.
READ ORDER | Bombay HC Grants Bail To Woman Accused Of Throwing Her Newborn From Top Of Building; Calls It Unfortunate Case

▪️HC: "No purpose served by prolonging custody of applicant – a woman any further. Possibility of trial commencing soon is remote"https://t.co/0ywYWivxaE

— Voice For Men India (@voiceformenind) December 5, 2022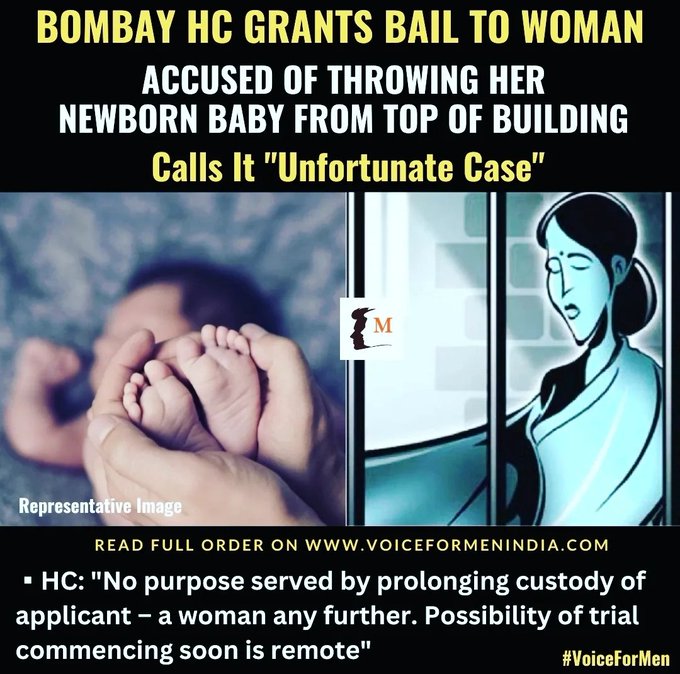 WATCH INTERVIEW:
My 13-Year-Old Son Was Falsely Accused By His Female Classmate | Mother Speaks Up
Join our Facebook Group or follow us on social media by clicking on the icons below
Donate to Voice For Men India
Blogging about Equal Rights for Men or writing about Gender Biased Laws is often looked upon as controversial, as many 'perceive' it Anti-Women. Due to this grey area - where we demand Equality in the true sense for all genders - most brands distance themselves from advertising on a portal like ours.
We, therefore, look forward to your support as donors who understand our work and are willing to partner in this endeavour to spread this cause. Do support our work to counter one sided gender biased narratives in the media.
To make an instant donation, click on the "Donate Now" button above. For information regarding donation via Bank Transfer, click here.