Is India losing its plot with women empowerment? Regional media has been reporting murder of husbands by wives due to adultery, property matters or other reasons almost on a daily basis. Domestic violence against married men is a grave reality and english mainstream media repeatedly fails to debate on this topic.
A horrific incident has been reported from Rajasthan, where a woman chopped off her husband's private parts after he objected to her speaking on phone late at night.
Chhattisgarh Woman Kills Husband, Chops Off His Genitals Due To Alleged Taunts On Her Dark Complexion | Is Society Normalising Murder Of Husbands?
Case:
The matter pertains to Barmer in Rajasthan, where the couple got married six months ago and is already having an ongoing matrimonial dispute. The wife has registered a case of dowry harassment against the husband as well.
Last week, while the husband was sleeping at night, his wife was constantly talking on the phone. When he asked her to disconnect the call, as it was disturbing him, she started quarrelling with him.
Wife Along With Male Friend Murders Soldier Husband Who Visited Home During Vacation
The fight took an ugly turn where the wife picked up a blade and allegedly chopped off husband's private parts while he was sleeping.
According to the husband, he woke up screaming in pain next morning and his family rushed him to a hospital.
36-Year-Old Female Yoga Teacher Allegedly Chops Off 28-Year-Old Boyfriend's Private Part
Speaking to media about this incident, Barmer Assistant Superintendent of Police, Narpatsingh Jaitawat, said,
We are waiting for the husband's medical report before taking any action.
Woman Along With Paramour Chops Of Husband's Head & Hides His Body
Police officials added that they are probing both sides and said that further action would be taken based on the evidence.
Leave your comments below:
#Rajasthan: Woman Chops Off Husband's Private Part With Blade As He Objected To Her Talking On Phone Late At Night

▪️Married 6-Months ago
▪️Wife has filed dowry harassment case against husband#VoiceForMen #IntimatePartnerViolence #DomesticViolencehttps://t.co/kmsQmvalxt

— Voice For Men India (@voiceformenind) November 25, 2022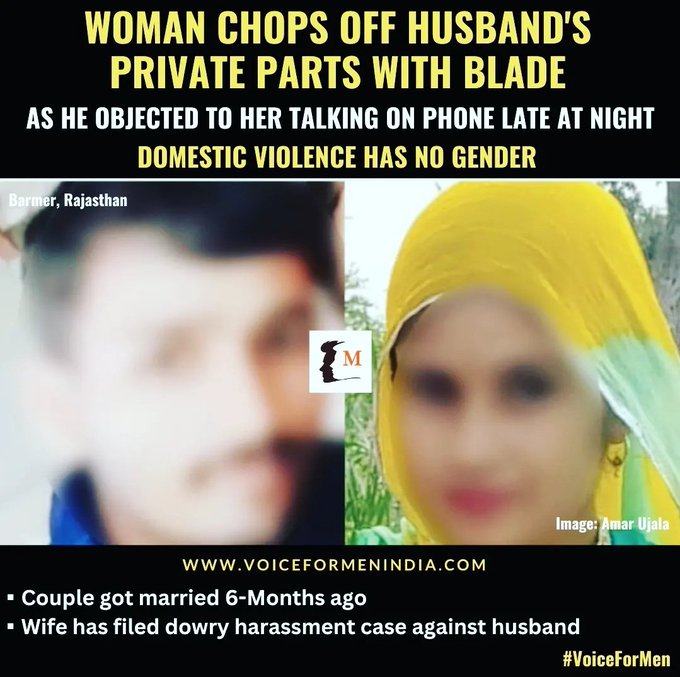 MUST WATCH:
Marital Rape Debate | Prejudiced NDTV Anchor Barkha Dutt Shuts Down Other Side
Join our Facebook Group or follow us on social media by clicking on the icons below
Donate to Voice For Men India
Blogging about Equal Rights for Men or writing about Gender Biased Laws is often looked upon as controversial, as many 'perceive' it Anti-Women. Due to this grey area - where we demand Equality in the true sense for all genders - most brands distance themselves from advertising on a portal like ours.
We, therefore, look forward to your support as donors who understand our work and are willing to partner in this endeavour to spread this cause. Do support our work to counter one sided gender biased narratives in the media.
To make an instant donation, click on the "Donate Now" button above. For information regarding donation via Bank Transfer, click here.