Pakadwa Vivah, also known as forced marriage of men after abduction, is an old social problem in Bihar. The primary justification for this practice is demand for dowry.
Families of girls have been kidnapping suitable youths for forcible marriage. The relatives of a bride's family often use friends and extended family, and sometimes even hire professional criminals, to carry out abductions for marriages.
Forced Marriages For Men During Lockdown
No reason can be valid for kidnapping any human and forcefully getting him/her married without consent. Shockingly, kidnappings of eligible grooms continued being reported from across the state of Bihar, even during the six months of COVID-19 induced lockdown.
Nearly two thousand cases of kidnapping were registered in different police stations in Bihar's 38 districts between April and September 16, 2020 – the last day of lockdown.
As reported by The News Express, Niranjan Kumar (name changed), 20, was allegedly kidnapped in Begusarai district for marriage while Rupesh Kumar (name changed), 22, was kidnapped for marriage in Vaishali in 2020 amid the lockdown of COVID-19.
Among the long list of those kidnapped for marriages, the state police found that only seven of these cases were false.
As per data uploaded on Bihar police's official website, 2370 cases of kidnapping Men for marriage were registered from January until September this year. Amongst the same, 1804 cases were lodged during the six months of COVID-19 lockdown alone. Of the same, 7 cases were recorded to be false after the police investigated the cases.
As per data available, below are the number of cases registered during lockdown:
81 in April
139 in May,
305 in June
301 in July
286 in August
344 in September
Prior to the lockdown, from January to March, a total number 910 cases of kidnapping for marriages were registered where:
270 cases were reported in January
304 in February
336 in March
The National Crime Records Bureau Report confirms that Bihar is at the top in the country when it comes to the abduction of above 18-year-old males.
As per official data of police department, following are the official kidnapping of Men cases registered over the past decade:
2010: 1704
2011: 2326
2012: 3007
2013: 2935
2014: 2533
2015: 3001
2016: 3075
2017: 3400
2018: 4317
2019: 4498
ALSO READ –
While taking and giving dowry is a crime in India, and rightly highlighted by media to curb the menace, the intimidation of young Men through the practice of Pakadwah Vivah hardly gets media attention. In most cases, even if these reports are published, they are coated with a layer of Anti-Dowry justification.
Men's Rights are Human Rights and #MenToo have full right to choose their life partners. While feminists organisations focus so much on 'consent', sadly they never call out or highlight these cases of endless sufferings of the other Gender.
UP Police officer also tweeted the below on December 28, 2020, however, soon deleted the tweet from his timeline.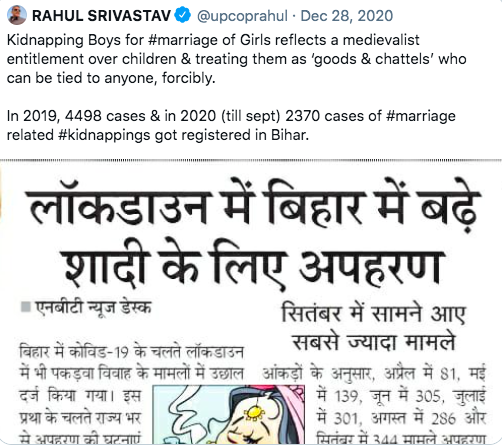 Read one such case below where a man was receiving threats from his former in-laws, even after the court annulled the marriage.
ALSO READ –
http://voiceformenindia.com/in-the-news/bihar-engineer-marriage-annulled-by-patna-court/
http://voiceformenindia.com/in-the-news/ndtv-manika-raikwar-jabariya-jodi/
We are now on Telegram. You can also join us on our Facebook Group
Join our Facebook Group or follow us on social media by clicking on the icons below
Donate to Voice For Men India
Blogging about Equal Rights for Men or writing about Gender Biased Laws is often looked upon as controversial, as many 'perceive' it Anti-Women. Due to this grey area - where we demand Equality in the true sense for all genders - most brands distance themselves from advertising on a portal like ours.
We, therefore, look forward to your support as donors who understand our work and are willing to partner in this endeavour to spread this cause. Do support our work to counter one sided gender biased narratives in the media.
To make an instant donation, click on the "Donate Now" button above. For information regarding donation via Bank Transfer, click here.
Alternately, you can also donate to us via our UPI ID: voiceformenindia@hdfcbank