It could be a race to the finish, in the literal sense, when wives earn more than their husbands and are not able to cope with a man who is 'not the provider'. The disparity in income when the woman has a higher financial status, can lead to several complexities in the relationship, as the institution of marriage has been channelised in a way, where even if a wife is educated and earning, she still desires her man to make more money than her.
The economic gender balance within a marriage seems to be changing at a faster pace, than society's attitudes about Men who want to play homemakers if their spouses are earning more than them. Theories on what helps a couple stay together vary. Some research suggests that couples are at higher risk of splitting up and less likely to marry when the male partner earns less than the female partner. Other experts say couples are more likely to stay together, even if a wife earns more than her husband: Maybe they can't afford to move out into separate places or, perhaps, the husband opts to be a freelancer and the wife has a full-time job with health insurance.
We spoke to one such NRI husband who lives in the UK and has gone through various challenges on both professional, and subsequently on the personal front.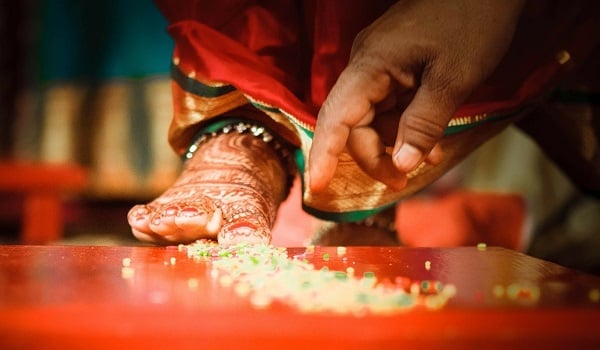 His Story
Amit Paranjpe (Name Changed) was born in the Vidarbha region of Maharashtra, who completed his Masters in Engineering from Pune. Later he worked at a IT company in Bengaluru for some years and when he turned about 27-years of age, his family pressurised him to get married and 'settle down'.
After a brief period of hesitation, Amit decided to undergo the drill and applied to online matrimony portal jeevansathi.com, where he got acquainted with Jyoti Desai (Name Changed) who had recently graduated in MBBS. Jyoti had been pursuing a diploma in Anaesthesia from Aurangabad and was also seeking a suitable alliance.
Culturally both Amit and Jyoti had similar backgrounds and therefore the duo decided to take this relationship forward. Both the man and woman had plans to settle abroad. Amit was initially planning to apply to US or UK, however, since Jyoti's sister was already based out of the UK, the couple decided to plan for their migration to the United Kingdom.
Marriage and Movement
After the couple dated briefly, the families bonded over their children's marriage in April 2010 and Amit applied to a few universities in the UK for further studies. Within a month of the marriage, groom's mother passed away, yet the couple decided to continue with their migration plans as life had to go on.
Jyoti on the other hand could not clear her first examination for higher studies, but Amit pursued her not to get disheartened and try again. While Amit continued working in India briefly, his wife went to the UK, appeared and cleared her examination and also got a job at a UK hospital.
Soon one of the universities offered admission to Amit, however things failed to materialise. Nonetheless, the husband eventually got a contract job and now the couple landed up in UK together under one roof.
Reality Checks In
Amit started observing a drastic change in Jyoti's behaviour since she had a stable job in a foreign land. He also felt that his wife had a rigid mindset while dealing with any challenging situation in life and was never able to adapt to unforeseen changes in the couple's life. Amit says,
I was working far away from her place of work and we were looking for a new job for her after her 1 year contract would get over. Her job was also demanding which included day and night shifts, but somehow we managed even if we didn't see each other for a week living out of the same house.
One fine day when the wife returned home, she saw her husband cleaning up the house. She sat on the sofa for some getting some rest and when Amit asked her to shift aside, she suddenly threw a bottle at him in a fit of anger. Amit quotes,
This was the first time I saw her in that state. She was tired but it was quite a disproportionate reaction .
The couple did have discussions after the episode but decided to carry on as a part and parcel of marriage.
Once their
landlord asked them to vacate the apartment and Amit made nearly 30 visits from one home to the other, to set up a new home since Jyoti was working. Amit says he
was the one who filled forms and documents for his wife's permanent residency (PR), since he had the expertise in doing so. However, instead of showing any gratitude, Jyoti made him feel it was his duty anyways.
Career Challenges for the Man
Amit's job or business was somehow not getting stabilized and he had been trying new options each time he remained unsuccessful. This situation led to Jyoti throwing tantrums often stating she didn't want to go out and how she was possibly wasting her time with him.
According to Amit, he never got any emotional support from his wife through his difficult times. He says,
We had our good times, but when it was bad, it was really bad!
The marriage still survived…
Birth of Child
Amit eventually joined a full time MBA program in the UK while Jyoti found another job for herself. Amit says,
I had to manage my own educational / commuting expenses (which was 1.5 hrs away from home) but did not expect my wife to fund me.
In 2016, the couple mutually decided to have a child. Her parents soon arrived to spend time with daughter in her home, however, the husband felt this once again completely changed his wife's behaviour. The man exclaims,
By this time it was me against her, her sister and her parents. Initially I didn't realise the problem, but later understood they were not happy with my earnings.

Even when I used to do my online meetings, my wife would taunt me saying you are the CEO of the company and your guys can wait. I had to beg to her if I had to travel to India for work.
It was unbearable for the husband since despite doing all household chores, the girl's family constantly insulted him saying he was not making enough money.
A baby girl was born to the couple in the same year and when the daughter was just 10-days-old, the girl's family ganged up and became physical with the man and his father, who had also come to visit his grandchild. This is when Amit decided to just leave back for India at once.
For nearly two months, there was silence and later Jyoti called Amit to tell him sorry. End of 2016, Amit decided to return to the UK because he had to also take care of his small business. Once again, when he started all over again, the primary question remained,
Where is the money?
One one occasion, Amit narrates that he was totally disheartened with constant taunts and had gone to his room for resting. Despite his daughter crying, Amit somehow fell asleep. This is when Jyoti stormed into his room and blasted at him for sleeping. He says,
I politely asked her to check on her behaviour, but when she turned extremely furious I recorded her act on camera.

She instantly called the police, who came and tried to console us saying you both just had a child and need to sort it out. We once again brushed the matter off as yet another dark incident in the journey called marriage.
The police used their best judgement and decided not to take action against the man, however, wife's attitude of 'teaching him a lesson' prevailed over the incident.
Final Nail in the Coffin of a Dead Relationship
The couple visited India in 2017 where the wife went to her home at Aurangabad in Maharashtra and the man to his home in Pune. By now the families were not on talking terms with each other.
Amit and Jyoti were scheduled to return to UK in June 2017 along with their daughter, however, just before the travel date got near, wife insisted that Amit must give up on his start up business and take up a full time job since she wanted a bigger home for their growing family. According to Amit he informed her that it was not possible for him to switch things overnight, which is when she abruptly disconnected the call.
Amidst all the happenings, Amit visited his in-laws place to meet his daughter on her birthday and the family behaved as if they were allowing a father to meet with his child during court visitation. While Jyoti did not utter a word, her family asked Amit to divorce their daughter.
Amit informed them that it was difficult for him to take such a hasty decision and returned to the UK all by himself. He also spoke to his uncle in Aurangabad, who sensed that something was not right with his wife's behaviour. She had a bipolar personality and developed some postnatal issues. Amit says,
Since my wife was asking for divorce, I now decided to consult a legal consultant in UK. Her father was a retired civil servant and was used to litigations.

As our child was a British citizen, I got access to legal aid and met few people who were going through similar situation. By now I was shaking everyday anticipating something coming from her side.
Amidst all this in October 2017, Jyoti filed a domestic violence case in India and demanded maintenance from Amit. She listed all happenings in the UK in her petition in India. Also, she sent the same case papers to UK jurisdiction and filed another case using laws of a foreign jurisdiction.
Since the child welfare came under UK laws, Amit was then able to serve his wife a notice to return to the country along with their daughter. This is when Jyoti reversed her stance completely and stated how she was the one earning and her husband never had a stable job.
This statement was in complete contrast to the one she made in India demanding maintenance from her husband by stating she had no money. The judge in India could see through these flip flops and dismissed her case, although overlooking any perjury for hiding her income and salary.
Jyoti later moved Aurangabad High Court Bench challenging lower court order. Amit then got in touch with Men's Rights NGO
Save India Family Foundation
who guided him on fighting against the case under wrong jurisdiction. Jyoti was supposed to return to UK in
February 2018 as per her statement to the court, however, just a day before she
asked for an extension to stay in India on pretext of the daughter being unwell. Amit says,
I was under depression so I also ignored it. But UK court asked her to undergo medical test from a government hospital for the child and return, as she had produced a private doctor's certificate.

Nonetheless, she got a stay until June 2018 and it was me who went to see my daughter in Aurangabad, where the family court asked us to meet her at her home.
At that time, the woman again filed a complaint stating her husband visited her home and hit her and family. This is when Amit explained to her that there was no point dragging the case and asked her to return to UK and settle the matter amicably.
However, this made Jyoti worried as she could be asked to pay him spousal maintenance in the court of United Kingdom. Amit says Jyoti also filed for 498A against him and his father, however, he was lucky to flee India before getting arrested. However, Amit's father later got bail as the court did not find any substance in the matter.
Child Custody
Jyoti had to ultimately return to UK with the child in June 2018 when Amit asked her to settle everything once and for all and eventually withdrew his cases against her. But yet again Jyoti's sister brainwashed his wife.
Amit asked his wife to allow him to take his daughter out, as he didn't want to visit her house. But when he was not granted access for almost 6-months, the father had to file a new case for child visitation. Jyoti by now threatened Amit that she would just go away to India and Amit had no choice but to get a passport order restraining his daughter from leaving the country.
The police took away the daughter's passport from her which was a blow for the mother. In January 2019, UK court asked the couple to undergo mediation, however, the wife made excuses again saying child was not interested in meeting the father or that she couldn't come being unwell.
The status as on date during lockdown has become even worse for Amit. Despite clear instructions by the UK government to allow movement of children between homes if there parents are living separately, the wife has not co-operated in allowing any access to the father.
The above case reflects how social norms can influence the life of a relationship. Despite living in a world where educated women have been demanding their equal share of position and power, the expectations about stereotyping the men have been slower to change. When the male members of the family are unemployed or underemployed, women are less likely to consider them 'marriage material' and more likely to ask for a divorce. On the other hand, a man who earns higher income has no right to expect any domestic help from his wife as an equal partner.
One can always be judgemental about Amit and Jyoti and we are certain the lady here can have her own reasoning for this behaviour. However, the matter of argument which prevails is even if a woman is highly successful, she will still desire her man to be the breadwinner. If women aim to change Gender Roles in society, they must be ready to adapt with the same with their own husbands as well.
ALSO READ –
Follow www.mensdayout.com on Facebook, Twitter & Instagram
We are now on Telegram. Follow Us For More Updates
Join our Facebook Group or follow us on social media by clicking on the icons below
Donate to Voice For Men India
Blogging about Equal Rights for Men or writing about Gender Biased Laws is often looked upon as controversial, as many 'perceive' it Anti-Women. Due to this grey area - where we demand Equality in the true sense for all genders - most brands distance themselves from advertising on a portal like ours.
We, therefore, look forward to your support as donors who understand our work and are willing to partner in this endeavour to spread this cause. Do support our work to counter one sided gender biased narratives in the media.
To make an instant donation, click on the "Donate Now" button above. For information regarding donation via Bank Transfer, click here.
Alternately, you can also donate to us via our UPI ID: voiceformenindia@hdfcbank