The newly amended Motor Vehicles Act has come into effect and every citizen, including men and women are expected to adhere to the same. However, in an incident reported from Ahmedabad, a young woman named Khyati Umradia misbehaved with the traffic police, when she was caught breaking the rules.
An FIR has been lodged by the cops against this woman in the local police station.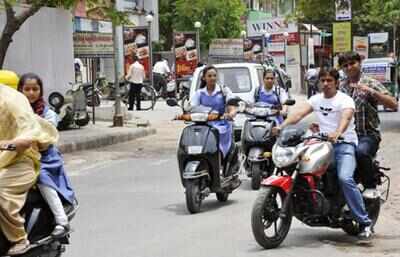 Case :
A woman was ferrying two more persons on a two wheeler near Victoria Gardens

Citing this, the traffic police stopped the girl at Lal Darwaza area and asked her to pay a fine of Rs 1000

Both of them then got into a heated debate

The women police were also called as the arguments intensified

On this, the accused girl who was misbehaving with the lawmakers, threatened the police to do whatever they wanted, however, she would not pay the fine

Saying this, she even took off her sandal and rushed to beat up the traffic police officer on duty

Haveli police have arrested the girl in this matter and charged her for interfering in government work
In a similar incident of traffic violation, a Delhi-based man was fined Rs 23,000 in Gurugram on Monday. The Gurugram Police impounded Dinesh Madan's Activa and fined him under the new traffic Act. The police said, Madan, a resident of East Delhi, was driving without basic documents, including a driving licence, registration certificate, pollution certificate. The traffic police personnel had challaned Madan near the Gurugram court on Monday around 1 pm.
The Motor Vehicles Amendment Act, which came into force on September 1, aims at stricter punishment for violation of traffic regulations. According to the Act, the below will attract hefty fines :
Driving without a seat belt
Drunk driving
Jumping traffic signals
Speeding
Driving without insurance
Overloading vehicles
Driving under the influence of alcohol, not giving way to ambulances or fire brigade will attract a penalty of Rs 10,000 or imprisonment under the Act
Also, if a person has been caught driving without a registration certificate or a driving licence, it would attract a penalty of Rs 5,000 each
If two-wheeler owners are caught riding without helmets, they will not only have to pay a fine of Rs 1,000 but could have their licences suspended for the next three months
While many have criticised these extortionate fines, some have welcomed the move to ensure discipline without encouraging any corruption. While the two similar cases reported above clearly demonstrate how women can misuse their gender card even in basic law and order regulations.
ALSO READ –
http://voiceformenindia.com/in-the-news/zomato-delivery-girl-video/
Join our Facebook Group or follow us on social media by clicking on the icons below
Donate to Voice For Men India
Blogging about Equal Rights for Men or writing about Gender Biased Laws is often looked upon as controversial, as many 'perceive' it Anti-Women. Due to this grey area - where we demand Equality in the true sense for all genders - most brands distance themselves from advertising on a portal like ours.
We, therefore, look forward to your support as donors who understand our work and are willing to partner in this endeavour to spread this cause. Do support our work to counter one sided gender biased narratives in the media.
To make an instant donation, click on the "Donate Now" button above. For information regarding donation via Bank Transfer, click here.
Alternately, you can also donate to us via our UPI ID: voiceformenindia@hdfcbank