In a traumatic incident reported from Pune, an elderly man died by suicide after his daughter-in-law did not permit him and his wife to meet their Grand-daughter.
What is shocking that the man – who happens to be father of a Judge – had died by suicide in 2018 after alleged cruelty by his daughter-in-law, and the case against the accused woman and her family has only been registered after four years.
Ludhiana Man Dies By Suicide Accusing Wife, In-Laws, Wife's Friend Of Harassment & Parental Alienation | #HusbandSuicide
Case:
Judge Sandeep Sarodia, (52) and his wife Shalini got divorced due to disputes between the two. The couple has a daughter, who was residing with her mother after divorce.
Sandeep's father Namdev Sarodia and his wife kept longing to see their grandchild and thus, in November 2018, they visited their former daughter-in-law's home. The elderly duo was allegedly pushed out of the home angrily by their son's ex wife and in-laws.
Even when the Judge's father was ill and he expressed his desire to meet his grand-daughter, Shalini and her family members did not permit access between the child and her ailing grandfather.
Namdev was extremely upset to the extent his mind got so affected, that he decided to end his life by jumping off from the fourth floor. The Judge's father even left a suicide note.
#HopeWalkToPuri | Separated Fathers March From Bhubaneswar To Puri To Spread Awareness About Parental Alienation During Divorce | Watch Videos
Case Registered After 4-Years
The Judge had filed a case against his ex-wife, however, it is only after four long years, that Pune police has registered a case against all accused named in the note.
A case has been registered at the Chaturshringi police station against Judge's wife Shalini alias Shivani, mother-in-law Manilata Sharma, and brother-in-law Shekhar Sharma after Sandeep's complaint post his father's suicide.
Assistant Police Inspector S. Gaikwad, who is investigating this case, informed media,
Complaint was filed late after receiving the report of the letter and also because the mother of the complainant judge was undergoing treatment. 
Leave your comments below:
#Pune | Judge's Father Dies By Suicide After Daughter-in-Law Did Not Allow Him To Meet Grandson; Case Registered After 4YRS

▪️Judge's ex-wife, her family didn't permit access between grandchild & grandfather even when latter was ill#ParentalAlienationhttps://t.co/xF5yGjv1j7

— Voice For Men India (@voiceformenind) October 13, 2022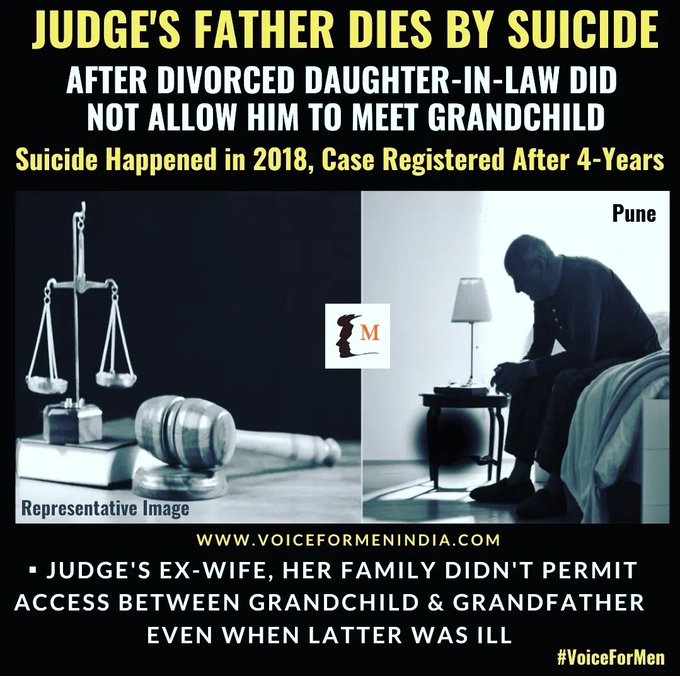 MUST WATCH:
"I Am Not A Kidnapper, I Am Just A Father Pleading To See My Son" | Manoj Dhankhar
Join our Facebook Group or follow us on social media by clicking on the icons below
Donate to Voice For Men India
Blogging about Equal Rights for Men or writing about Gender Biased Laws is often looked upon as controversial, as many 'perceive' it Anti-Women. Due to this grey area - where we demand Equality in the true sense for all genders - most brands distance themselves from advertising on a portal like ours.
We, therefore, look forward to your support as donors who understand our work and are willing to partner in this endeavour to spread this cause. Do support our work to counter one sided gender biased narratives in the media.
To make an instant donation, click on the "Donate Now" button above. For information regarding donation via Bank Transfer, click here.
Alternately, you can also donate to us via our UPI ID: voiceformenindia@hdfcbank