You must have come across a news headline since two days, which states:
Kerala High Court Rejects Divorce Because Wife Not Cooking For Husband Is Not Cruelty
Has the High Court refused divorce to husband purely on this ground? What was the actual matter? What was the full Kerala High Court Order dated Oct 17, 2023?
Case:
Parties got married in May 2012. Thereafter, they were living together as husband and wife at the house of the appellant-husband in India, and thereafter in Abu Dhabi, UAE.
Soon the couple had matrimonial disputes and the wife has been living separately from the husband since January 2013. There has been no co-habitation between the two since over 10-years. No kids either. 
In 2013, wife filed for restitution of conjugal rights. In 2014, the husband initiated divorce proceeding under Hindu Marriage Act, 1955 on grounds of cruelty. 
The husband and his family had been acquitted from the criminal cases in the Trial Court. 
READ ORDER | Hindu Marriage Act Does Not Recognise Irretrievable Breakdown In Marriage As Grounds For Divorce Leaving Parties To Suffer: Delhi High Court
Allegations by Husband:
Wife ill-treated the appellant in the presence of his relatives. She never respected him and was keeping distance from him. She even spit on his body though apologised later. She sent a complaint to the Managing Supervisor of the Company where he was working, making defamatory statements against him, with a view to terminate his employment. She was not ready to cook food for him. When she was living with his mother at her matrimonial home, she did not attend his mother and even quarrelled with her for silly reasons.
According to the husband, the wife herself left the matrimonial home and filed complaints before the Vanitha Cell as well as before the Chief Judicial Magistrate Court, Thrissur. The wife admitted that, she had filed a complaint before the Passport authority also, as she wanted the presence of her husband in the native, to get their problems resolved.
After harassing him by filing false criminal cases, she also filed for restitution of conjugal rights, without any bonafides. He was apprehending that, he may lose his job, if he was continuing with her. Thus, in 2014, he filed for divorce.
READ ORDER | Continued Bitterness, Dead Emotions & Long Separation To Be Construed As Irretrievable Breakdown In Marriage: Supreme Court
Allegations by Wife
As a counter to the husband's allegations, the wife accused him of having some sexual perversions. She also accused him of body shaming her as well as her complexion. He compelled her to consume medicines for improving her breast size, and he used to compare her with other ladies.
To her understanding, the appellant was having some mental problem and so, he was taken to Doctors at Abu Dhabi and also at his native. Though the Doctors prescribed medicines, he discontinued the same and returned to Gulf countries. While she was staying at her matrimonial home, her mother-in-law dropped her in a bus stand, saying that, she wanted to go to her brother's house. Thereafter, the appellant never permitted her to live in her matrimonial home, and from 15.01.2013 onwards, she is living separately from the appellant. 
Since the husband was not enquiring about her or providing maintenance to her, she filed for restitution of conjugal rights.
Excerpts of Email Written by Wife to Husband's Employer
As I want things to be patched up instead of widening the breach between us, I really need your help to know what's wrong with him. Try to consider me as your own sister and it's a request from me. His nature towards me made others feel that he is mentally sick, which pains me.

Keeping separated would give him a temporary relief, but he will have to repent in future which adds to his mental illness. So I want to bring him back to his normal life, being with him in all ups and downs. If you consider my feelings as genuine please help me in this regard or else if you think this as a personal affair not to indulge leave it.
Rakesh Raman Vs Kavita | Supreme Court Landmark Judgement | Irretrievable Breakdown Of Marriage Can Be Read As Grounds Of Cruelty To Grant Divorce
Family Court, Thrissur
On analysing the facts and evidence, the Family Court in 2016 found that the husband was not eligible to get a decree of divorce, whereas the wife was entitled to get a decree for restitution of conjugal rights.
Accordingly, husband appeal this order in the High Court.
Kerala High Court
A division bench of Justice Anil Narendran and Justice Sophy Thomas analysed the facts on record.
At the outset, the High Court analysed the email sent by wife to the husband's employer. The bench quoted:
From these lines, we could read the mind of a desperate wife, who was deserted by her husband. Moreover, she was suspecting some behavioural disorders from the part of the appellant.
To this, the High Court concluded that this email cannot be taken as a cruel act from the part of the respondent, so as to dissolve their marriage.
With regards to other complaints filed by the wife, the High Court said:
If the husband deserted the wife without providing her shelter and maintenance, it is her legal right to proceed against her husband, and filing of complaints to get what was legally due to her from her husband, will not amount to cruelty.
With regards to husband being acquitted from the criminal cases by the Trial Court, the HC said the complaint itself cannot be termed as false or vexatious and the outcome of such trials could be dependent on various other factors. 
Addressing the husband's allegation that wife spitted upon him, the High Court said:
None of the relatives who witnessed that incident was examined by the appellant to prove such an incident. He himself admitted that, after that incident, the respondent apologised, and even thereafter they lived together as husband and wife.

So, first of all, there is no evidence to prove such an incident, and if at all there was such an incident, it was condoned by the appellant. So, that cannot be taken as a ground by the appellant to seek dissolution of marriage.
The High Court disregarded the allegation of 'wife not cooking for husband' and stated that this could not be a ground for cruelty.
No Proposal To Allow Both Parties File For Divorce On Grounds Of "Irretrievable Breakdown" Of Marriage | Modi Government
Finally, High Court addressed the long period of separation between parties (more than 10-years) and said:
Legally, one party cannot unilaterally decide to walk out of a marriage, when sufficient grounds are not there justifying a divorce, under the law which governs them, saying that due to non-co-habitation for a considerable long period, their marriage is dead practically and emotionally.

No one can be permitted to take an incentive out of his own faulty actions or inactions.
Accordingly, the husband's appeal for divorce was dismissed and wife's decree of restitution of conjugal rights was upheld by the Kerala High Court.
READ ORDER | Supreme Court Dismisses Divorce Appeal By 89-Year-Old Husband Separated Since Twenty-Seven Years | Irretrievable Breakdown In Marriage
Voice For Men India Take:
Divorce under Hindu Marriage Act, 1955 is fault based
Unless parties are able to prove fault of the other, divorce cannot be granted, even if there is no co-habitation between them for years/decades
From the above order, the High Court has refused divorce to the husband purely on the grounds that he was unable to prove any instances of cruelty
In reality, after years and years of separation, it is impossible for any spouse to prove what was said and done to them in the confines of their matrimonial homes
Sadly, by this order, neither party has achieved anything, except a boost for the wife's ego. Practically, the couple cannot be forced to co-habit with each other 
The husband – 32-years of age as on date – will not be permitted to move on, because the other spouse chooses not to allow him so
The wife too will live with her meaningless fake pride of being the legally married wife
Both sides have made serious allegations against the other, which means there is no compatibility or point in keeping such dead bond alive
Irretrievable Breakdown in Marriage must be made grounds for divorce 
Currently, only the Supreme Court has powers to do so, but by the time a case reaches the top court, it is already 10-15 years to the separation where parties have lost out on their prime years
DO WATCH:
I Had To Settle 45-Day Marriage With All My Savings Due To False Cases By Wife, In-Laws
LEAVE YOUR COMMENTS BELOW:
MISLEADING HEADLINE | Wife Not Cooking For Husband Not Cruelty | Read Full Kerala HC Order

▪️HC: "Husband admitted that wife apologised after spitting on him…If at all there was such incident, it was condoned by him. So, can't be ground for divorce"https://t.co/Baatdiq6bE

— Voice For Men India (@voiceformenind) October 20, 2023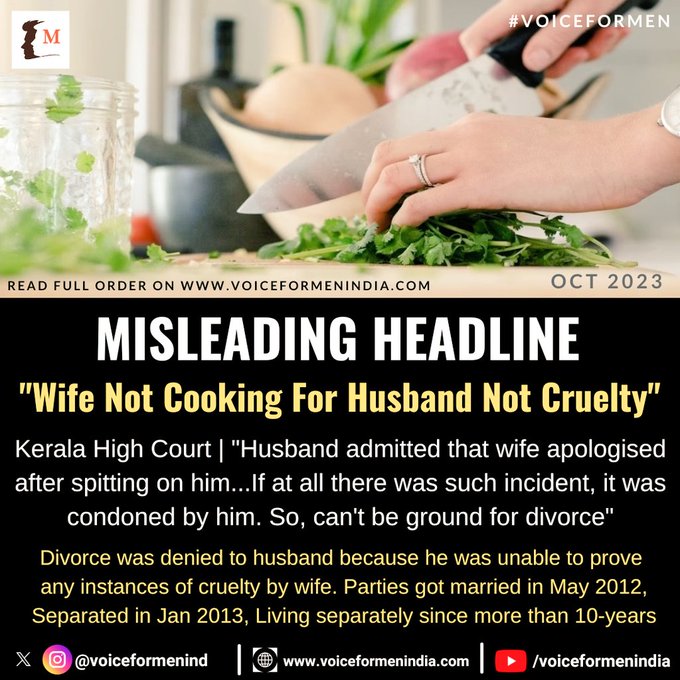 Join our Facebook Group or follow us on social media by clicking on the icons below
Donate to Voice For Men India
Blogging about Equal Rights for Men or writing about Gender Biased Laws is often looked upon as controversial, as many 'perceive' it Anti-Women. Due to this grey area - where we demand Equality in the true sense for all genders - most brands distance themselves from advertising on a portal like ours.
We, therefore, look forward to your support as donors who understand our work and are willing to partner in this endeavour to spread this cause. Do support our work to counter one sided gender biased narratives in the media.
To make an instant donation, click on the "Donate Now" button above. For information regarding donation via Bank Transfer, click here.
Alternately, you can also donate to us via our UPI ID: voiceformenindia@hdfcbank