As per latest reports from Punjab, Ludhiana police on Thursday night arrested a 55-year-old woman for allegedly beating her grandchild. The woman has been accused of tying her eight-year-old grandson (the daughter's son) with an iron chain and then mercilessly thrashing him with rods. Subsequently, the child suffered a fracture in his arm and was admitted to the hospital where his condition was stable.
Case:
Mother of the child had died a few months ago at their village in Uttar Pradesh, following which both her children, son and daughter were moved to their maternal grandmother's home in Ludhiana. The child's parents were divorced.
Police said that a complaint was received on July 28 from a local resident, Balwinder Kaur of Neechi Mangli area, who said that a woman living in a shanty in her neighbourhood often used to thrash her grandson mercilessly. As reported by The New Indian Express, on the night of July 28, the woman, aged 55, again allegedly thrashed her grandson with rods after tying his legs with an iron chain. Balwinder Kaur said in her complaint that she along with her husband went to rescue the child and called an ambulance, following which the child was rushed to hospital. In the meantime, the woman fled with her granddaughter.
ALSO READ –
Inspector Mohammad Jameel, SHO of Focal Point police station said,
The woman's grandchildren — a boy and a girl — were living with her after their mother had died some months ago. The accused woman's daughter was divorced and she died some months back in Uttar Pradesh due to some health issues.

After that, both kids started living with their maternal grandmother in Ludhiana and according to the neighbours, she often used to thrash her grandson. The medical report says that the boy has suffered a fracture in his one arm and he was also bleeding in the legs.
ALSO READ –
The inspector further added,
The complainant told us that the grandmother used to thrash the boy often. That day too, she tied him with an iron chain, removed his clothes and then thrashed him with an iron rod and sticks. He was rescued and has been admitted to ESI Hospital where his condition is now stable.

It is being verified if earlier also he tied the boy with an iron chain and thrashed him. She has been arrested. In her defence, the woman is claiming that she used to thrash the boy because he was too naughty and would run away from home and wouldn't come back for days.

An FIR was registered against the woman under sections 323 (voluntarily causing hurt) and 324 (voluntarily causing hurt using dangerous weapons) of the IPC and Section 75 of the Juvenile Justice (Care and Protection of Children) Act, 2015, at the Focal Point police station.
The above incident also raises a big question mark on the custody of children awarded to maternal side once the parents get divorced. A biological father must be given first right in case of death of the mother and equal parenting rights in case of separation with a mother who is alive.
This is the cover image visual representation of the same story by The
New Indian Express.
#GenderBiasedMedia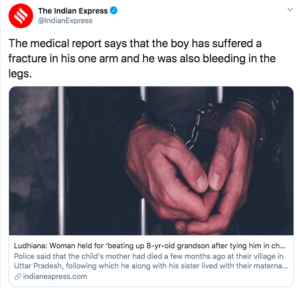 ALSO READ –
http://voiceformenindia.com/in-the-news/grandmother-kills-grandson-after-daughter-elopes-with-boyfriend-mysore/
http://voiceformenindia.com/in-the-news/mother-drowns-son-uttarakhand/
We are now on Telegram. You can also join us on our Facebook Group
Join our Facebook Group or follow us on social media by clicking on the icons below
Donate to Voice For Men India
Blogging about Equal Rights for Men or writing about Gender Biased Laws is often looked upon as controversial, as many 'perceive' it Anti-Women. Due to this grey area - where we demand Equality in the true sense for all genders - most brands distance themselves from advertising on a portal like ours.
We, therefore, look forward to your support as donors who understand our work and are willing to partner in this endeavour to spread this cause. Do support our work to counter one sided gender biased narratives in the media.
To make an instant donation, click on the "Donate Now" button above. For information regarding donation via Bank Transfer, click here.
Alternately, you can also donate to us via our UPI ID: voiceformenindia@hdfcbank