A woman allegedly assaulted a policeman in Salt Lake, Kolkata on Wednesday when her car was stopped for defying the nationwide lockdown imposed in the wake of the coronavirus outbreak, officials said.
The woman, in her early 20s, has been arrested for violating the restrictions as well as assaulting a public servant on duty, a senior officer of the Bidhannagar City. A man accompanying her in the vehicle and the driver were also arrested for violating the total safety restrictions, he added.
What Happened?
The vehicle was coming from the CA Block side when it was stopped by our duty officers. When they questioned those inside the car on where they were heading, the accused woman got down and rushed towards a policeman and tried to bite him, he added.
ALSO READ –
The woman and her friend came to Salt Lake from Ballygunge and claimed they were going to get medicines but failed to show any prescription, the officer said. He quoted,
We never spoke to the woman but she came out of the vehicle and attacked one of our officers.
According to a police officer, the woman even drew blood from an old wound she had and smeared it across the police officer's shirt, threatening to frame him for injuring her.
In the video, blood can be seen on the police officer's uniform and the woman can be heard screaming that there is no one to take of her care as she lives alone.
ALSO READ –
Later, the woman was arrested both for violating the restrictions as well as assaulting a public servant on duty, a senior officer of the Bidhannagar City Police said. Her male friend who accompanied her in the vehicle and the driver were also arrested for violating the total safety restrictions, he added.
The incident happened around 12.30pm when the car, an app-based cab, was stopped by police at PNB More, the officer said.
WATCH VIDEO THAT WENT VIRAL
Dear @narendramodi sir,

This is a sincere request. Pl make every crime gender neutral. Watch how the lady is spitting (licking) on @KolkataPolice to demonstrate her angst for being stopped and quuestioned @AmitShah @smritiirani @rsprasad #CoronavirusLockdown #21daylockdown pic.twitter.com/lW7IbKXvHA

— Men's Day Out (@MensDayOutIndia) March 25, 2020
Some of the comments by social media users read as follows:
Swarup Sarkar who is an active and impactful Men's Rights Activist said,
Why she will not do? Media & Misandrist Law makers with #Feminist pampered them so much, they are on believe they can't do any think wrong, whatever she does it's #HerChoice & we have to adopt her the way she is, if not u will be termed as Misogynies !
Luv Kumar wrote,
#Kolkata police, are you scared of #AblaNari. It's shame for people can't respect Police working day night for citizens during pandemic. Such creep lady should be in Jail. If you can't take action then bear it & show anger on #Men .
MyNation_GJ said,
I wish female police officers were there to arrest her. Will NCW send a notice to her for misbehaving with an officer on duty @NCWIndia @smritiirani
State V/s India's Sons quoted,
Just reverse the Gender :- It would have turned into Misogyny
Simrandeep Singh demanded urgent need for Gender Neutral Laws,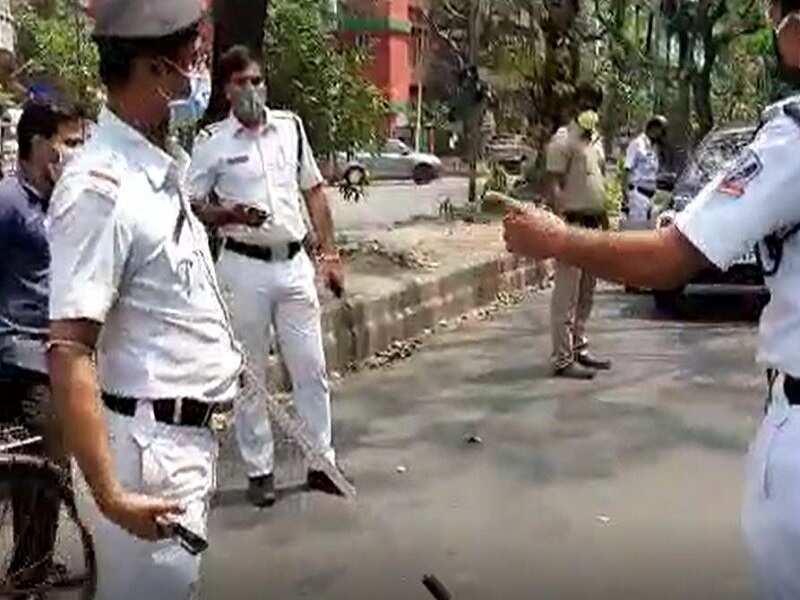 Usha Srinivas also termed this as unacceptable. She wrote,
This is not at all acceptable.. Strict action must be taken against that girl.. How come cops just allowed her to go away like this..She must be put in remand till the time she don't apologise.Thr must be penalty to be paid by everyone be it girl or a boy 2 insult public servants
Another Twitter user named Shilpi said,
Such a shameful act. This woman has the audacity of then bad mouthing (sala) policeman doing his duty. She blatantly broke rules (even if she had geneuiene emergency) she does not have a right to spit on policeman. Lets c what actions are taken to give citizens confidence on law
Arpan Saxena asked West Bengal CM to act on the matter. He stated,
Police comes under the State. @MamataOfficial

Do have a look. The punishment for violations shouldn't be gender biased. If it were a man, don't think that he would have walked back on his own feet after Spitting on a On-Duty Policeman.

#CoronaVirusLockdown #21DaysLockdown
Hakuna Matata handle tweeted,
This woman has brought disgrace to the uniform and to the man donning it. These are tough times, and this lady is disgusting. She should not go unpunished.
ALSO READ –
http://voiceformenindia.com/in-the-social/surat-traffic-police-not-issuing-challans-to-women-drivers/
http://voiceformenindia.com/in-the-news/domestic-violence-against-men-in-india-3-bengaluru/
Follow www.mensdayout.com on Facebook, Twitter & Instagram
We are now on Telegram. Follow Us For More Updates
Join our Facebook Group or follow us on social media by clicking on the icons below
Donate to Voice For Men India
Blogging about Equal Rights for Men or writing about Gender Biased Laws is often looked upon as controversial, as many 'perceive' it Anti-Women. Due to this grey area - where we demand Equality in the true sense for all genders - most brands distance themselves from advertising on a portal like ours.
We, therefore, look forward to your support as donors who understand our work and are willing to partner in this endeavour to spread this cause. Do support our work to counter one sided gender biased narratives in the media.
To make an instant donation, click on the "Donate Now" button above. For information regarding donation via Bank Transfer, click here.
Alternately, you can also donate to us via our UPI ID: voiceformenindia@hdfcbank