TMC MP Nusrat Jahan's story has taken a new turn after she refused to legally acknowledge her marriage to Kolkata based businessman Nikhil Jain.
However, today Jain has issued an official statement about the on-going marital discord where he has shared details from his side. Nikhil feels it is important to put out his clarification on his relationship with Nusrat.
As reported by Zee News, Nikhil wrote,
I proposed to Nusrat which she gladly accepted and we went for a destination marriage in Bodrum, Turkey in June 2019 followed by a reception at Kolkata.
Jain claimed that even though he devoted all this time to her, within a short period of time, her attitude towards him changed. He added,
Since August 2020 during the shooting of a film, my wife's behaviour started changing towards me, for reasons best known to her.
Nikhil emphasises that he had requested her to get their marriage registered multiple times but she avoided all his requests. Sharing more details into the same, he shared:
Later, on March 8, 2021, he filed a Civil Suit against her in Alipore Judges' Court for annulment of their marriage. Nikhil also shared details of the financial transactions, since he and his family have been accused of financial abuse of Nusrat. He quoted:
After marriage, to get her released from the heavy interest burden for a home loan, I had the same liquidated by transferring money from my family accounts to her account. Any money-transfer made by her from her account to my family account was repayments of the loan. The allegations made by her are all baseless and derogatory and devoid of truth. One need not find or create proof, the proof is always there, my bank statements and credit card statements are proof enough. My family has only given with both arms to her in the capacity of a daughter, not knowing, we would see this day.
Nikhil also added,
Since the matter is pending in court, I refrained from giving any statement about our personal life and even today I am unable to disclose the discord in detail. But her recent statements compelled me to disclose some facts.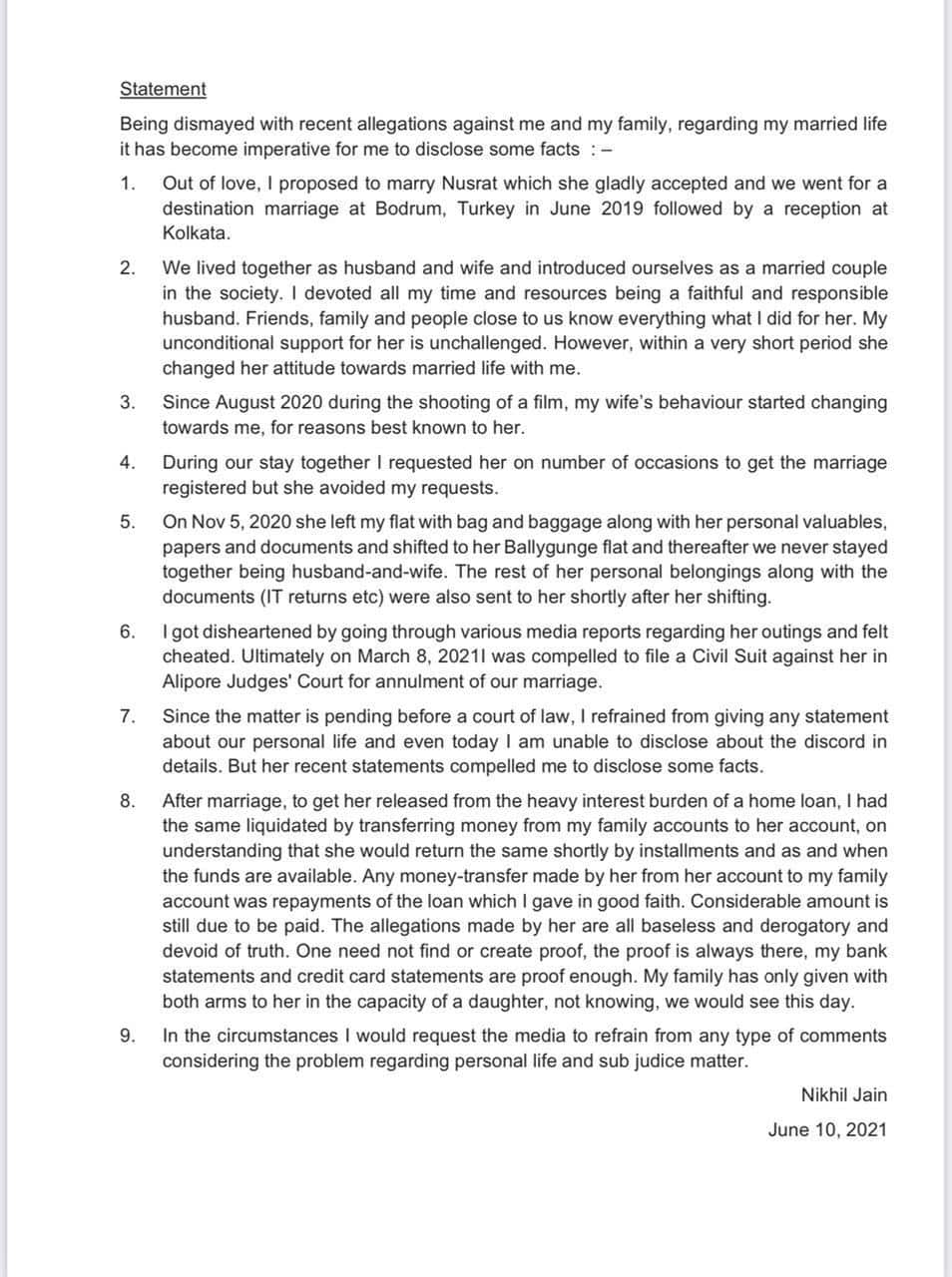 You May Wish To Share Your Views In This Case On The Below Tweet:
READ FULL STATEMENT ISSUED BY #NUSRATJAHAN'S HUSBAND |

"I Requested Her To Get Marriage Registered Multiple Times But She Avoided All Requests"

"To get her released from home loan, I had transferred money from my family accounts to her" – #NikhilJainhttps://t.co/2nQTDPQqWG

— Men's Day Out (@MensDayOutIndia) June 10, 2021
ALSO READ –
Join us on our Telegram, Facebook Group & Koo App
Join our Facebook Group or follow us on social media by clicking on the icons below
Donate to Voice For Men India
Blogging about Equal Rights for Men or writing about Gender Biased Laws is often looked upon as controversial, as many 'perceive' it Anti-Women. Due to this grey area - where we demand Equality in the true sense for all genders - most brands distance themselves from advertising on a portal like ours.
We, therefore, look forward to your support as donors who understand our work and are willing to partner in this endeavour to spread this cause. Do support our work to counter one sided gender biased narratives in the media.
To make an instant donation, click on the "Donate Now" button above. For information regarding donation via Bank Transfer, click here.