If you are a married man in India trying to seek divorce, be prepared for a lifelong fight without any resolution. Contested divorce in India may take a minimum of 8-10 years in the Family Court and if challenged could be easily two decades until the apex court gives its final verdict.
In the interim, men are compelled to pay maintenance to their estranged wives, despite several years of separation, no charges against men proven and without divorce. This is the standard practice followed as per Hindu Marriage Act, 1955.
Now, lets come to a unique case from Madhya Pradesh, where a husband paid total sum amount of the agreed alimony and then his wife withdrew her consent from divorce. Not just this, the wife has once again filed a new case of interim maintenance in the court.
READ ORDER | Wife Confirms Receiving Full & Final Settlement; Punjab & Haryana High Court Quashes Case U/s 498A Calling It Matrimonial Dispute
His Story
Ajay (name changed) got married to Anita (name changed) nearly 20-years ago. The couple has two minor children.
After 15-years of marriage, due to matrimonial differences the couple separated and the husband filed for divorce under the Hindu Marriage Act, 1955.
Alimony Settlement 
After multiple court dates for some years, the couple agreed to a settlement wherein the husband would make payment of alimony in parts and the wife would withdraw all her cases and both will sign the divorce papers mutually. Ajay was supposed to pay Rs 30 lakh during recording of statement and Rs 7 lakh after the cooling off period.
Shockingly, the wife took entire Rs 37 lakh from the husband in the court and then did not appear for final signing of divorce.
The husband was left with no choice but to once again approach court and file a case of cheating against his estranged wife. Accordingly, a registered notice was sent by the court to the wife. 
Despite this, the wife remained defiant and did not appear in the court. After the lapse of two to three court dates, the court rejected their mutual divorce application.
READ ORDER | Delhi High Court Quashes Section 498-A Against Husband After He Pays Rs 15 Lakh As Settlement
Family Court, Gwalior
Judicial Magistrate First Class has taken cognizance of the matter and admitted the case against the wife.

The Magistrate took note of the husband's complaint alleging that the wife took money from him in front of the court and later neither she nor her counsel turned up for final divorce.  
Advocate D.R. Srivastava who represented the husband in this matter filed a complaint, basis which the court took cognizance and registered the case against the wife.
Shikhar Dhawan's Divorce Is No Victory For Common Men Suffering Matrimonial Laws At Courts For Decades
Wife Files For Maintenance Once Again
Interestingly, after taking full and final amount as settlement, defaulting on the terms for divorce, the wife has once again approached the court seeking interim maintenance till the pendency of the new (contested) divorce hearing. This matter is scheduled to be heard towards the end of this month.
Husband to Voice For Men India
Speaking exclusively to Voice For Men India, Ajay shared:
In 2022, we had done an agreement on Rs 1000 stamp paper duly registered in Gwalior District court and filed for mutual consent divorce. According to the agreement signed by both parties, I was supposed to pay Rs 37 lakh to her within three months and she had agreed to withdraw all false cases under Section 498-A IPC, 125 CrPC and Domestic Violence Act, 2005.

However, after taking the entire money, she refused to sign for Mutual Consent Divorce and did not turn up for court dates. This is when I had to knock on the doors of court once again, where I had to re-file a fresh divorce case and a cheating case against her. The minute I filed this new divorce case again, she immediately filed for interim maintenance under Section 24 of the Hindu Marriage Act, 1955. 
With regards to the cheating case, Ajay added,
We all reply on stamp papers in the court. I filed a cheating case against my estranged wife in Feb this year, and the court only registered the same after a lapse of six months. The court is not even able to honour it's own stamp paper agreements.
DO WATCH (another case):
Can Wife Backout From Divorce After Receiving Alimony? | Bombay High Court | Voice For Men India
LEAVE YOUR COMMENTS BELOW:
#HisStory | Wife Takes Permanent Alimony, Backs Out From Divorce; Approaches Court Again For Interim Maintenance

▪️Husband had to pay Rs 37 lakh
▪️Wife was supposed to withdraw #498A, 125, DV
▪️Wife took money & did not turn up for MCD#VoiceForMenhttps://t.co/NPQ7ea6PZu

— Voice For Men India (@voiceformenind) October 12, 2023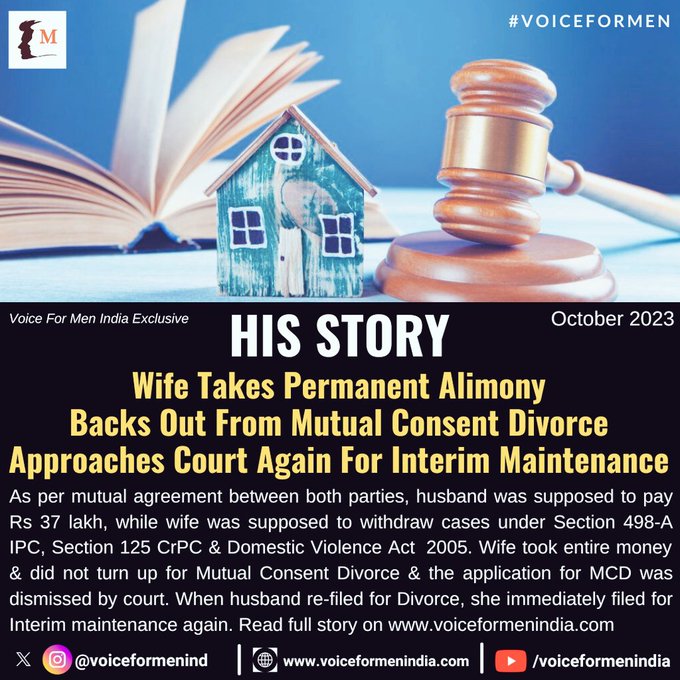 Join our Facebook Group or follow us on social media by clicking on the icons below
Donate to Voice For Men India
Blogging about Equal Rights for Men or writing about Gender Biased Laws is often looked upon as controversial, as many 'perceive' it Anti-Women. Due to this grey area - where we demand Equality in the true sense for all genders - most brands distance themselves from advertising on a portal like ours.
We, therefore, look forward to your support as donors who understand our work and are willing to partner in this endeavour to spread this cause. Do support our work to counter one sided gender biased narratives in the media.
To make an instant donation, click on the "Donate Now" button above. For information regarding donation via Bank Transfer, click here.
Alternately, you can also donate to us via our UPI ID: voiceformenindia@hdfcbank