A group of nearly 15,000 people were believed to have gathered at Friday's Bristol Youth Strike 4 Climate rally, churning up College Green and angering many.
Environmental campaigner Greta Thunberg spoke to protesters at the college ahead of a march through the city, warning "those in power" she will "not be silenced when the world is on fire".
Ironically, the combination of thousands of people and heavy rain turned much of the grass into mud, angering many who found Greta's rally as another stunt to promote her brand.
The organiser on the other hand said people had done their best in the muddy conditions. A fundraiser was also set up for repairs, which then resulted in calls for rally organisers to cover the costs.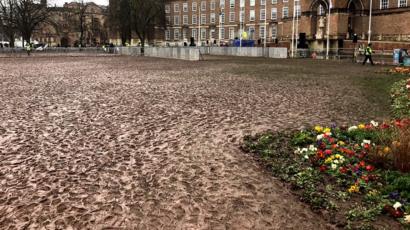 Jon Usher, head of partnerships of Bristol-based charity Sustrans, set up a GoFundMe page after the march ended, aiming to raise £20,000. By Sunday morning more than £9,000 had been donated.
ALSO READ –
Social media was prompt to erupt with their angry response to this mess. Some of the messages read as below:
Gavin Mountjoy commented on Facebook:
Oh the irony, hundreds of people turning up to talk about our planet dying end up destroying a green area.
Barrie Moore, also on Facebook, said:
The organisers of this march should be made to pay for the damage.
Another person tweeted:
Call themselves green campaigners and then create this mess without a thought for the feelings of others. Most of them probably came from outside of Bristol so don't care a hoot.
ALSO READ –
Bristol City Council, which is responsible for College Green, said it will examine the area this week.
Kai Damani, one of the event's organisers, said people had done their best in the conditions. He said,
When you look at College Green now, most of it is completely brown but where the flowers are is completely intact which does show that people do care about wildlife.
Bristolians are great ❤️ We will assess the damage next week. If there are any funds left over after repairs we will use it for wildflower areas across the city. Thank you @jonusher for organising.
(This is a legitimate fundraiser) #WeAreBristol ?????? https://t.co/YYDwS6IsiV

— Bristol City Council (@BristolCouncil) February 28, 2020
In another story reported from UK, Greenpeace took action against more than 95 Barclay's bank branches across the UK today. Greenpeace said that Barclays was one of the the biggest funders of fossil fuels among European banks – and asked it to channel funding into renewable energy instead.
Morten Thaysen, Greenpeace UK climate finance campaigner, said:
Barclays must stop funding the climate emergency, that's why we've taken action today. From floods to bushfires and record heat in Antarctica, the impacts of this crisis are staring us in the face.

Yet Barclays keeps pumping billions into fossil fuel companies at exactly the time we need to stop backing these polluting businesses.
ALSO READ –
A Barclays spokeswoman told Mirror Money:
We recognise that climate change is one of the greatest challenges facing the world today, and are determined to do all we can to support the transition to a low carbon economy, while also ensuring that global energy needs continue to be met.
ALSO READ –
http://voiceformenindia.com/in-the-social/great-thunberg-vs-boyan-slat/
http://voiceformenindia.com/in-the-social/greta-thunberg-nominated-for-nobel-peace-prize-for-the-second-time/
Follow www.mensdayout.com on Facebook, Twitter and Instagram
Join our Facebook Group or follow us on social media by clicking on the icons below
Donate to Voice For Men India
Blogging about Equal Rights for Men or writing about Gender Biased Laws is often looked upon as controversial, as many 'perceive' it Anti-Women. Due to this grey area - where we demand Equality in the true sense for all genders - most brands distance themselves from advertising on a portal like ours.
We, therefore, look forward to your support as donors who understand our work and are willing to partner in this endeavour to spread this cause. Do support our work to counter one sided gender biased narratives in the media.
To make an instant donation, click on the "Donate Now" button above. For information regarding donation via Bank Transfer, click here.
Alternately, you can also donate to us via our UPI ID: voiceformenindia@hdfcbank