A 38-year-old woman from Delhi was allegedly kidnapped by five men in Ghaziabad and gang-raped for two days. According to the police, all five men were known to the survivor.
One of the accused, identified as Shahrukh, has been arrested, the police added.
Over 1000 Nagpur Cops Spend Five Hours After 19-Year-Old Girl Files False Gang Rape Case Due To Tiff With Lover
Background:
On Tuesday, the Ghaziabad police were alerted about a woman lying near the Ashram Road that connects the satellite town to Delhi. The woman refused to be examined at a government hospital so the police took her to Guru Teg Bahadur Hospital and registered her complaint.
According to the police, the woman was returning to Delhi after a birthday party in Ghaziabad on Sunday and was dropped off at a bus stand by her brother. While she was waiting for the bus, a car approached the woman and five men dragged her into it, the police said. They took her to an undisclosed location and allegedly raped her.
DCW Issues Notice
Swati Maliwal, Chairperson: Delhi Commission for Women, has issued notice to the Ghaziabad senior superintendent of police asking for details of the accused.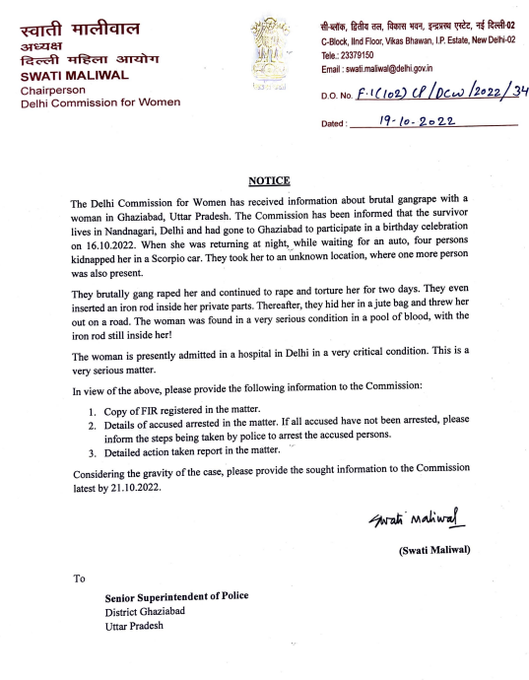 Maliwal also released a video narrating prima facie details that have been shared in the media.
DCW Chairperson said that the woman is in a "very serious condition with an iron rod still inside her when she was admitted". Maliwal added that "the rod was later removed with grave effort by the hospital authorities."
Watch Video:
हर दिन दरिंदगी, हैवानियत देख देखकर मन टूटता है। महिलाओं और बच्चियों की चीखें कानों में गूंजती हैं। क्या बेटियाँ ऐसे ही मरती रहेंगी? pic.twitter.com/dLz2IZooBc

— Swati Maliwal (@SwatiJaiHind) October 19, 2022
Statement From Hospital
However, the hospital has a different version where they have denied any internal injury to the woman. As per a report by NDTV, the hospital said,
No internal injury has been found till now.
Ghaziabad Women Allege Fake Gang Rape To Acquire Compensation From Government; Arrested
Statement From Police
Speaking with ANI, Nipun Agarwal, superintendent of police Ghaziabad, said,
It is being said that they (survivor and accused) have a property dispute and the matter is sub-judice. We're taking all necessary action.
Voice For Men India remains sensitive towards the victim until all details are clarified after thorough investigation. 
#Ghaziabad Gang Rape | "No Internal Injury Found Inside Victim's Body": Hospital

▪️@SwatiJaiHind: Vicim was admitted in serious condition with rod inside her

▪️Police: Accused & Victim have property dispute, matter subjudicehttps://t.co/xabcYAPHlp

— Voice For Men India (@voiceformenind) October 20, 2022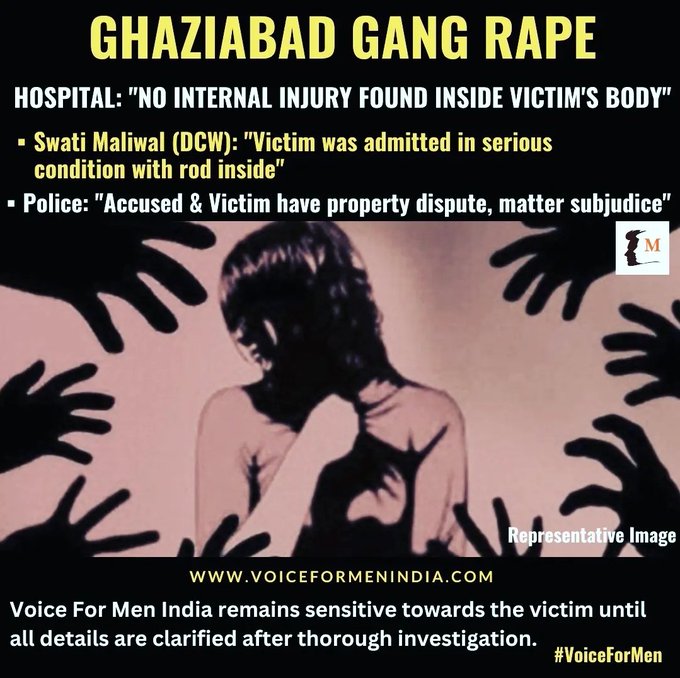 MUST WATCH:
Chandigarh University Case | Peepoye Akassh Gupta | Rankaj Verma Was Never Involved | Voice For Men
ALSO READ –
Delhi Shakur Basti Station GANG RAPE FALSE | Woman Wanted To Get Rid Of Old Husband & Marry Paramour
Delhi Woman Files False 'Bus Gang Rape Case' Because She Reached Office Late
Join our Facebook Group or follow us on social media by clicking on the icons below
Donate to Voice For Men India
Blogging about Equal Rights for Men or writing about Gender Biased Laws is often looked upon as controversial, as many 'perceive' it Anti-Women. Due to this grey area - where we demand Equality in the true sense for all genders - most brands distance themselves from advertising on a portal like ours.
We, therefore, look forward to your support as donors who understand our work and are willing to partner in this endeavour to spread this cause. Do support our work to counter one sided gender biased narratives in the media.
To make an instant donation, click on the "Donate Now" button above. For information regarding donation via Bank Transfer, click here.
Alternately, you can also donate to us via our UPI ID: voiceformenindia@hdfcbank