Rape and molestation charges are extremely horrendous in nature and when the same get allegedly misused by women, it is a big blot on our society. The larger issue in such cases is that word of the woman is given primary importance and despite the case blatantly seeming to be false, the police has to register her case.
While we have reported several such stories in our Alleged False Rape section, one more incident comes to light where an 18-year-old bright student has become the victim of such false charges. On July 25, independent journalist Deepika Bhardwaj shared an account of the occurrences that took place with this young boy, and how the same were framed into molestation charges by the woman.
ALSO READ –
The boy's private chat mentioned,
47-year-old lady in our building hit me twice on 13th and 14th March and so I called the police on the 14th, we went to the police station but both parties withdrew. On 19th March, she betrayed and filed fake case of molestation, I had all footages since my building has 5 CCTV cameras and so police did not arrest me. 

We also submitted all evidences and police is saying they can give B Summary report. So should I file case against the lady since I have all the evidence and I could not file the case before?
On asking him, why did the lady beat him, the boy replied,
I was playing badminton with my younger sister, brother. She has five cats and had told us to go. There are two videos. She attacked me again on 14th March, she pushes me hard and I pushed her back in self defense.
The boy also shares how he has recently fared extremely well in his JEE Mains, but now due to this unforeseen false charges, he is feeling suicidal. He said,
I got 99.6% in my JEE Mains 2020, but this case removed my focus from studies and made me feel like a criminal when I was completely innocent. I actually felt suicidal but my building CCTV had five cameras which revealed the truth. 

I am still in depression and cannot focus on studying for JEE Advanced.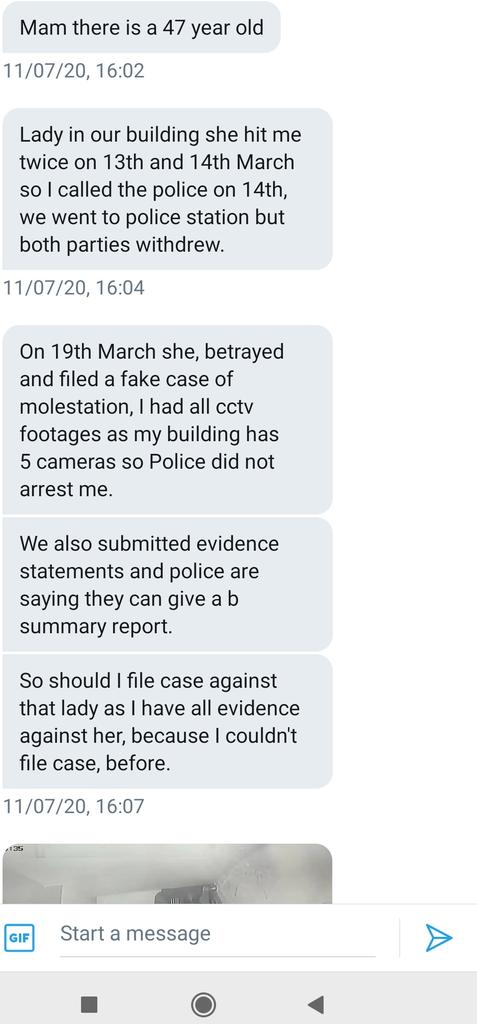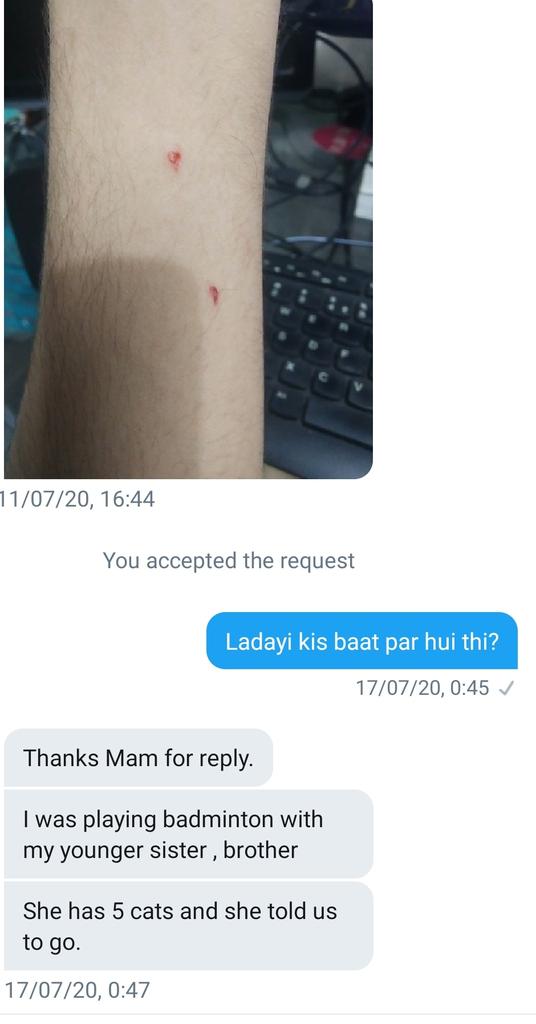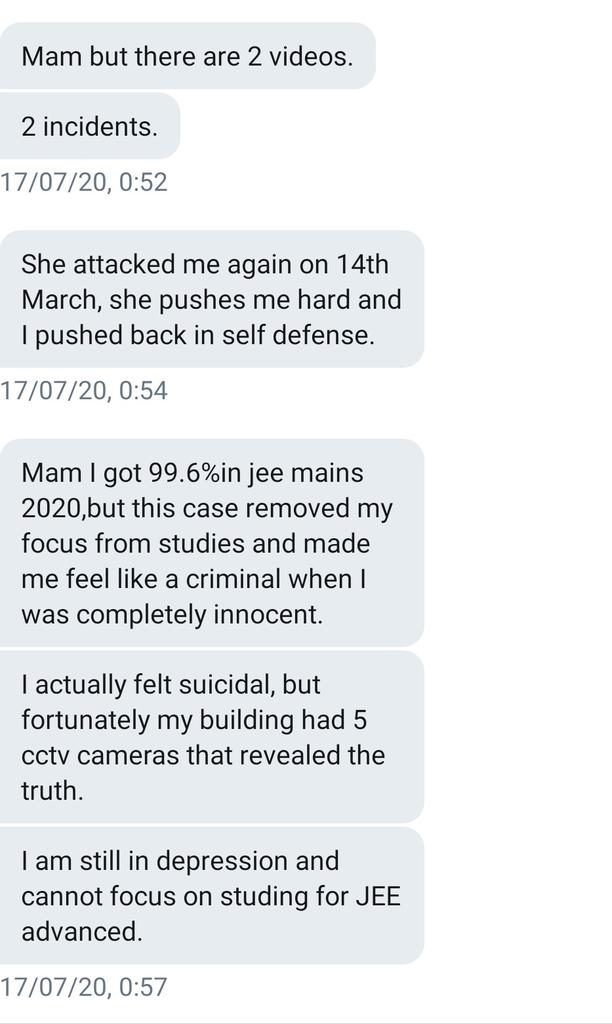 The videos clearly demonstrate how the woman had hit the boy first. Bhardwaj wrote,
Cops know very well that she has filed a false case. Entire incident is recorded on CCTV where it is she who's attacking this boy, scratching him as visible in photo. But they still registered FIR against him under 354. Entire society is fed up with this woman. Many complaints.

But no action on her by @MumbaiPolice ever. She intimidates everyone using a stick and with threat of false cases. Her cats have harmed residents, roam around everywhere creating nuisance. But no one can dare to do anything as she is violent & extremely abusive. Pathetic.

Since some people are raising questions on authenticity of case – here's CCTV grab from that day. She's literally choking the boy & he's trying to get out from her hold. Entire incidence is recorded. She then claims he molested her. If I put CCTV out, you'll feel so angry.
Adding further, Deepika said,
U'll understand how lopsided our laws & investigation procedures hv become in zest of laws granting justice to women when u get into situation like this. CCTV footage. Society Members testimony. Her assault on boy captured. BUT Her words that HE touched her wrongly TRUMPS ALL.
ALSO READ –
Lastly, she ends the matter stating,
Spoke to the IO of the case. He's clear – he won't file closure report because "ladies ka complaint hai".
As we mentioned at the beginning of this story, our women centric laws are so flawed, that there is hardly any scope for an innocent man or woman to present their side against the version of the woman. In most cases, ultimately, the alleged accused has to give into the demands of the false accuser and matters are settled amongst parties involved.
ALSO READ –
http://voiceformenindia.com/in-the-news/delhi-woman-false-gang-rape-bus/
We are now on Telegram. You can also join us on our Facebook Group
Join our Facebook Group or follow us on social media by clicking on the icons below
Donate to Voice For Men India
Blogging about Equal Rights for Men or writing about Gender Biased Laws is often looked upon as controversial, as many 'perceive' it Anti-Women. Due to this grey area - where we demand Equality in the true sense for all genders - most brands distance themselves from advertising on a portal like ours.
We, therefore, look forward to your support as donors who understand our work and are willing to partner in this endeavour to spread this cause. Do support our work to counter one sided gender biased narratives in the media.
To make an instant donation, click on the "Donate Now" button above. For information regarding donation via Bank Transfer, click here.
Alternately, you can also donate to us via our UPI ID: voiceformenindia@hdfcbank